FlashGet Parental Control Features
Limit Screen Time
An easy way to limit screen time for kids, monitor and track how much time they spend on their cell phones, and build healthy habits.
Available on: iPhone, iPad, Android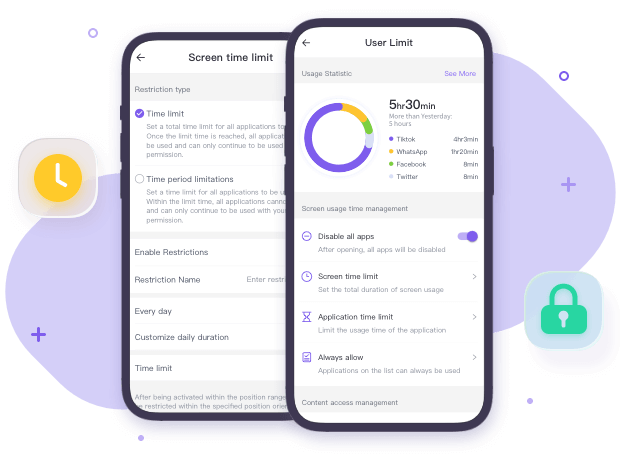 Unlock Your Potential to Manage Your Child's Screen Time
Know your children's screen use
The school went online during and after the pandemic, and many children began spending too much screen time learning and playing. Parents need to know their kids' usage in order to better manage their children's time spent on cell phones remotely.
Monitor the time children spend on their mobile device and intervene if necessary because not all screen time is valuable.
Discover your child's frequency of using apps, and understand their preferences.
Preventing children from spending too much screen time on social media apps in the digital world.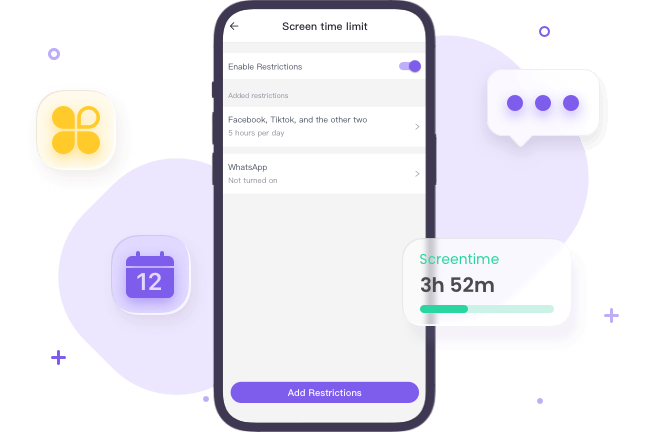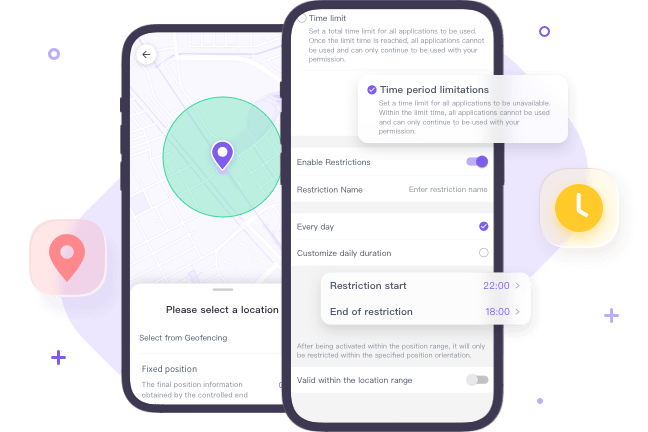 Set limits for Screen Time and location
Limit kids' time on screen and help them learn to build healthy habits and engage in more physical activity. Most parents have got to be responsible for limiting screen time. Ensure that kids are using their phones in the right ways.
Set a limit for a child's phone to reduce screen time, and lock the screen promptly to prevent your child from phone addiction.
Set specific times and locations remotely and build healthy habits, including setting app limits to certain apps with the App Blocker feature.
Utilize the Geofence feature to establish virtual boundaries around specific areas and lock the kids' phones to help them focus on their studies.
Encourage children to bulid healthy habits
Spending too much screen time may lead to sleep problems, behavioral problems, educational problems, destructive for kids' wellbeing, and even lead to mental health or depression issues. Family members should help their children building healthy screen time boundaries and habits.
Block selected apps or devices at a designated time of day to help children stay focused.
Set up Geofence to help you lock your kid's phone automatically when they enter or leave it.
Instead of banning, consider setting limits for children's screen and apps. Less screen time is about spending time doing fun things.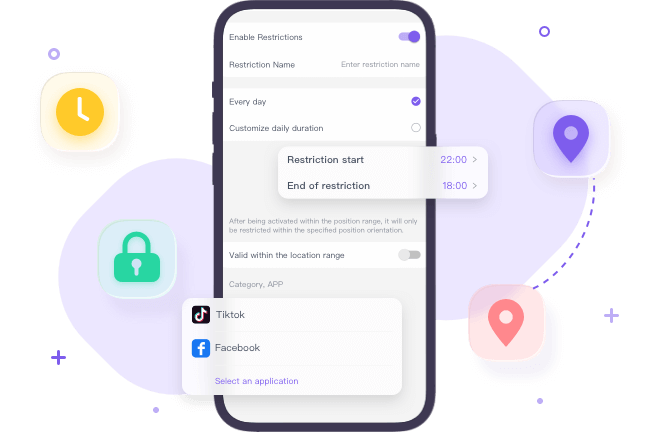 How to Manage Screen Time via FlashGet Parental Control?

Install
Install FlashGet Parental Control on parents' devices.

Register
Register a FlashGet account and then sign in.

Bind
Bind children's devices to parents' devices and connect them.
Why Do I Need FlashGet Parental Control Screen Time?
Generally, it is recommended that children under 18 months of age avoid any time on screen. Less screen time is best for child's age under two years old. While for older kids 2-5 years old, experts tend to recommend limiting screen time to one hour or less per day. So limiting screen time will contribute to children's motor development and lifelong health.
With time limits, parents can prevent their children from spending too much time on their phones, which may lead to negative effects, such as eye strain, sleep problems, behavioral problems, educational problems, and lack of activity.
In addition to setting daily limits, parents can also set specific times and locations during which their children use their mobile phones. It can help to ensure that their child is not using their phone when they shouldn't, such as during school hours or late at night.
Parents can encourage children to limit their social media and gaming time and balance other activities. Help children establish healthy screen use habits and consciously manage when, where, how, and what they use mobile devices.
Alerts and Notifications allow parents to receive notifications when their kid attempts to access a restricted app, when their child has shut down the mobile, or when the child attempts to modify the setting. Additionally, the parent can receive notifications about their child's location or suspicious online activity.