FlashGet Parental Control Features
Daily Usage
Check the Daily Usage to explore your kid's daily phone use.
Available on: iPhone, iPad, Android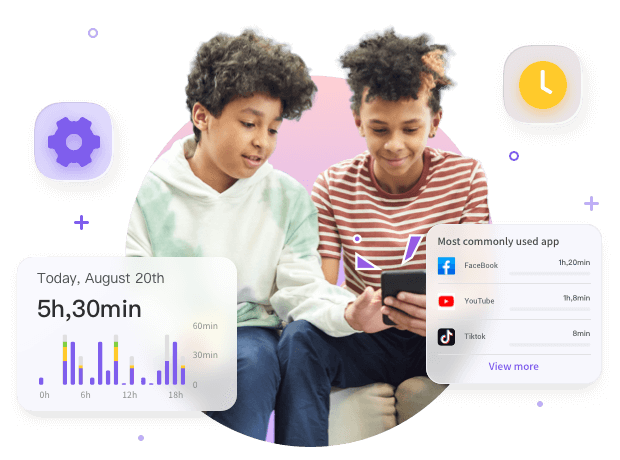 Track Your Kid's Daily Usage to Know Their Online Activities
Keep track of your child's phone usage daily
Monitor when and what apps your child uses;
Keep up with the application usage percentage and popular applications your child uses.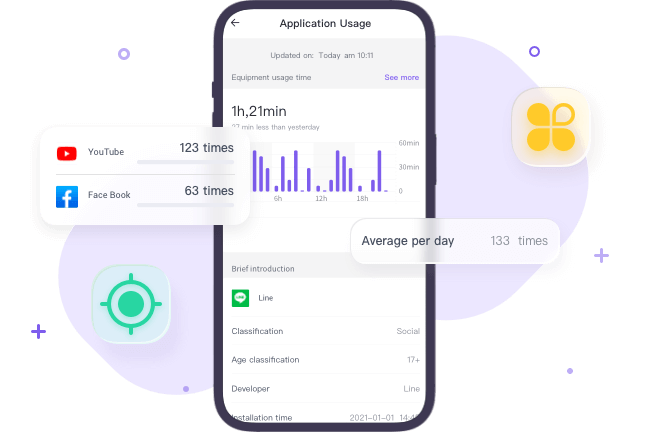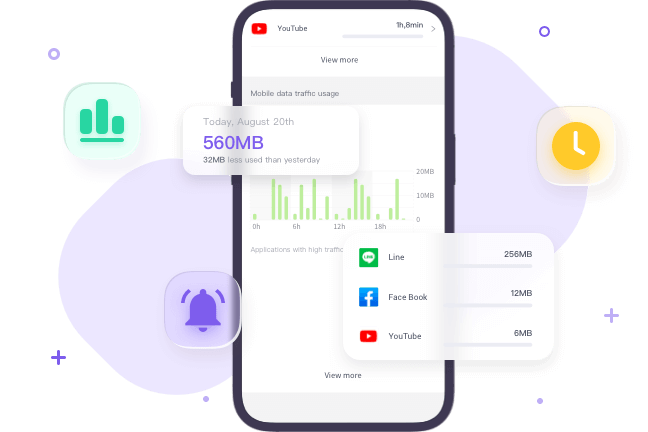 Monitor your child's online life each day
Analyze and read your child's daily mobile data usage;
Check your child's daily usage of screen time;
Know the notifications and mobile data usage throughout the day.
Keep tabs on the daily whereabouts of your child
View your child's daily movements by date;
Compare your child's daily activities to detect any abnormal behavior;
Set up a Geofence your kids often go to grasp their movements.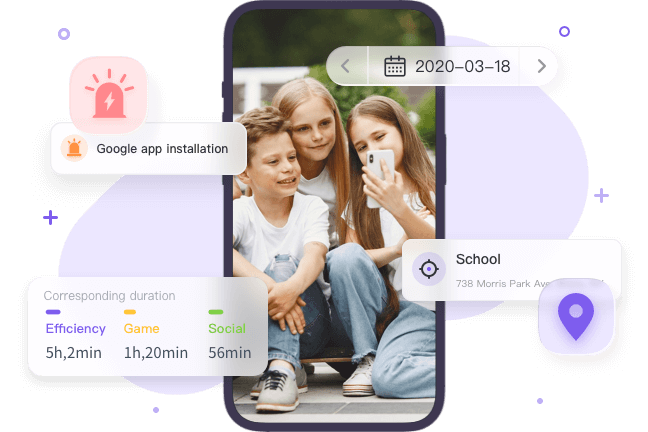 How to Use Daily Usage via FlashGet Parental Control?

Install
Install FlashGet Parental Control on parents' devices.

Register
Register a FlashGet account and then sign in.

Bind
Bind children's devices to parents' devices and connect them.
Why Do I Need Daily Usage in FlashGet Parental Control?
The Daily Usage feature offers parents a daily report of their kids' phone usage data, including screen time, app usage percentages, top-used apps, notification count, and data usage every day. The feature also provides location data, enabling parents to track their kid's location, behavior patterns, and fence-crossing frequency. Here are some reasons why the feature is essential for parents:
Monitoring screen time: As children spend more time on their phones, parents must know how much daily usage their children spend. This feature helps parents to better keep track of their kids' screen time and ensure they are not spending excessive time on their phones.
Tracking app usage: Parents can identify which apps their children use most by tracking their usage percentages and top-used apps. This data can help parents identify potentially harmful and inappropriate apps and take precautions to protect their children.
Managing Notifications: The feature can help parents keep updated with information and the number of daily notifications that children have received; this also helps parents to manage their kids' phone use during school hours and ensure they are not distracted by unnecessary notifications.
Managing Mobile data usage: The feature also offers parents mobile data usage they use daily. So parents reduce and manage their kids' mobile data usage.
Ensuring safety: The location data helps parents to ensure their kids' safety by tracking and updating their movements and behavior patterns.
FAQs
You can use parental control apps. There are many famous and reliable parental control apps available on the App Store and Google Play Store, such as FlashGet Parental Control; the daily usage feature can help you monitor your child's phone usage by providing detailed daily reports on your child's phone activity, including which apps they use most and for how long, how much time they spend on their phone, and who they communicate with. You can even check cell phone activity data usage for any date within 30 days.
The American Academy of Pediatrics (AAP) recommends that children ages 6 to 18 should be limited in their time using electronic devices. There is no specific time requirement for children to use screens, as it can vary depending on age, developmental stage, and individual needs. But parents who are concerned about their children's addiction to electronic devices can set up a screen time limit for the devices by using FlashGet Parental Control Daily Usage feature, including setting up a time limit for an app and blocking the app when the limit is reached, setting up Smart Schedule to block a chosen app or disable the phone during a particular time.
According to a report by App Annie, the average daily usage of cell phone use per user worldwide in 2020 will be about 4.2 hours per day, including time spent on various activities such as social media, messaging, video streaming, games, and other apps. But excessive cell phone use can harm mental health, sleep, and overall health. So that parents who are concerned about their kids' excessive use of electronic devices can set a screen time limit for their devices through FlashGet Parental Control Daily Usage feature and set time limits for some specific apps.