FlashGet Kids Features
Alerts and Notifications
Monitor your kids' daily behaviors and mobile usage activities with Alerts and Notifications, so you can stay connected and informed with your kids.
Available on: iPhone, iPad, Android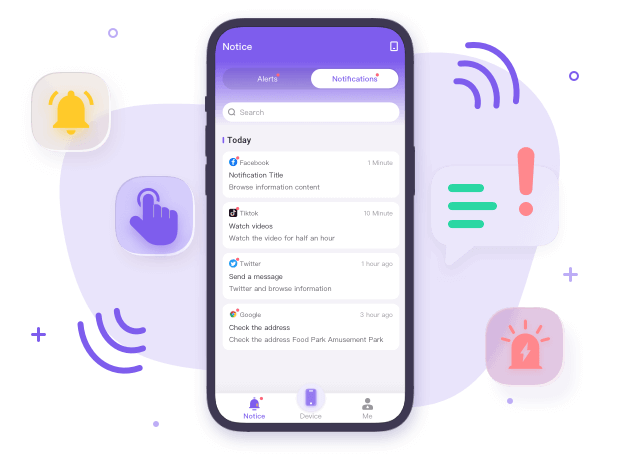 Receive Daily Activities With Alerts and Notifications
Grasp kids' daily activities through Notifications
Release your anxiety of constantly opening and checking the details of your child's phone use.
View the notifications received on kids' phones, including app notifications and text messages;
Know the apps the child often uses;
Gauge the child's app preferences from the notification content.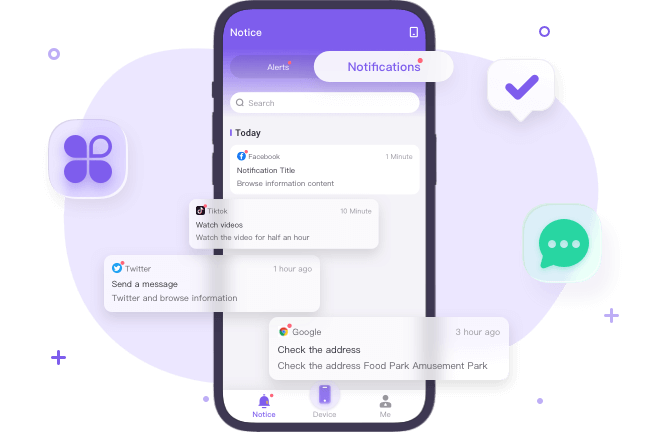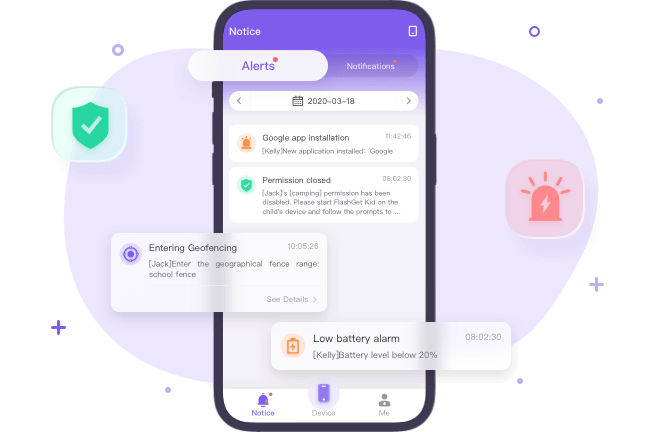 Operational Alerts on mobile
Receive operational alerts to monitor your kids' phone usage.
Receive an alert when the child's phone is turned on/off;
Get an alert when kids access inappropriate content.
Creates intimacy with your kids remotely
Remote interaction increases communication and feelings between parents and children.
Manage whether to allow and set access time periods when your child requests access to restricted content;
Generate a verification code to authorize your children to modify or delete permissions.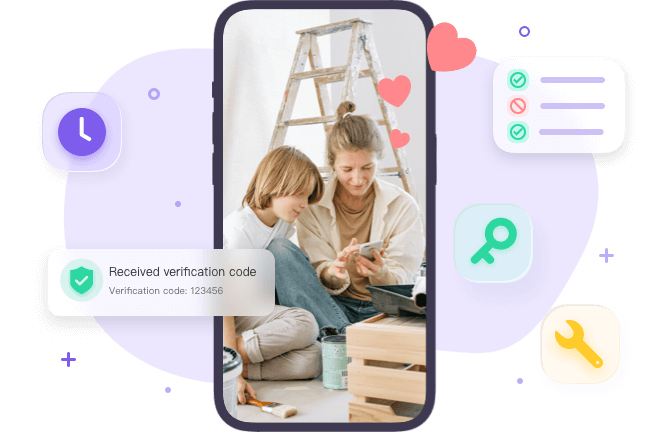 How to Receive Alerts and Notifications via FlashGet Kids

Install
Install FlashGet Kids on parents' devices.

Register
Register a FlashGet account and then sign in.

Bind
Bind children's devices to parents' devices and connect them.
Get a complete guide of FlashGet Kids Alerts and Notifications.
Why Do I Need FlashGet Kids Alerts and Notifications?
Alerts and Notifications allow parents to receive notifications when their kid attempts to access a restricted app, when their child has shut down the mobile, or when they attempt to modify the setting. Additionally, the parent can receive alerts about their child's location or suspicious online activity.
With Notifications, parents do not need to check their child's activity continually. When a change in their child's activity occurs, the system will send notifications to the parent.
In unexpected situations, such as low power mode in the phone or an accidental operation, the system will push a notification alert to the parent so that they can be aware of the situation in a timely manner and take immediate action.
Parents can also know their child's whereabouts and behavior through the content of the notifications.