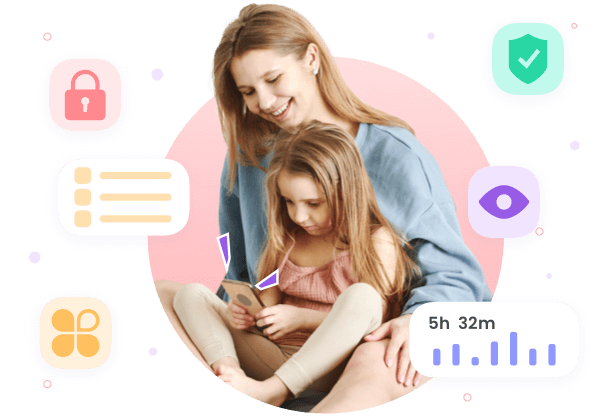 FlashGet Kids Safeguard Your Kids in Every Possible Way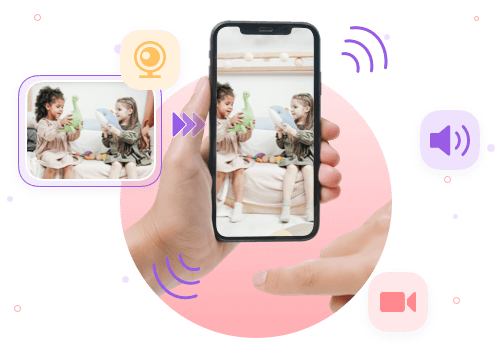 Monitor all activities in all aspects
Live Monitoring sees, watches, and listens to your kid's phone.
Anything you want to see and listen to from your kid's phone is now effortless. Live Monitoring, real-time monitoring technology, lets you see it all. You can explore the child's operating behavior, from browsing pages and downloading mobile apps to watching videos. And now Live Monitoring covers more. You can even stop dangerous operations when they occur without delay.
Remote Camera and One-way Audio help you witness everything as if you were there.
Activate the Remote Camera and One-Way Audio. See and hear the child's environment from your phone instantly. FlashGet Kids is made for you to protect against potential risks, not to mention conflict and traffic accidents. Turn on the ambient sound now. Assess their circumstances more accurately.
Remote Camera and One-Way Audio let monitoring go deeper. Monitor the sound of your child's mobile phone environment. Record the sound of the environment by recording features. And know more about the child's surroundings. Even One-Way Audio is another way to know your child's environment.
Screen Mirroring captures every moment that you missed.
Monitor the Screen Mirroring to stay updated on your child's activity. Capture screenshots of your child's phone screen in real-time through the system. Make your monitoring easier on your phone.
Notifications Tracker lets you engage your child's phone activity.
Receive the notifications from your child's phone. Monitor your kid's daily behaviors and mobile usage activities. Now, the notifications tracker gets even better. Tracking notifications on iPhone and Android devices only takes a tap. This is what FlashGet Kids frames. With notifications, connecting with your child is easy.
Location feature stays closer to your kids
Location Tracker tracks your kids anywhere, anytime.
Track your child in real-time. Understand where your child is. FlashGet Kids works to enhance location tracking technology. Parents can confirm their child's location with fast updates. Locate them when they're in danger, or identify and intervene if they venture into unfamiliar or dangerous places. Use FlashGet Kids to explore the Location Tracker more.
Location History creates the timeline and locations of your kids.
Check the activity history of the kids. Keep updated with your kid's daily activity locations. FlashGet Kids makes it more accessible. Even without checking the child's real-time location daily, FlashGet Kids can still help you discover your kid's whereabouts from the Location History.
GeoFence redefines and monitors kid's location.
Set up Geofence. Ensure your kids are in a safe place. Unlock GeoFence on FlashGet Kids. Set up an appropriate Geofence. You don't even need to monitor your kid's location constantly. Then you can know your kids are in a safe place. Even greater, when kids enter or leave the geofence, you can receive an alarm.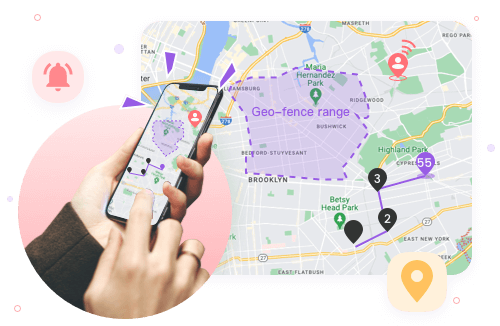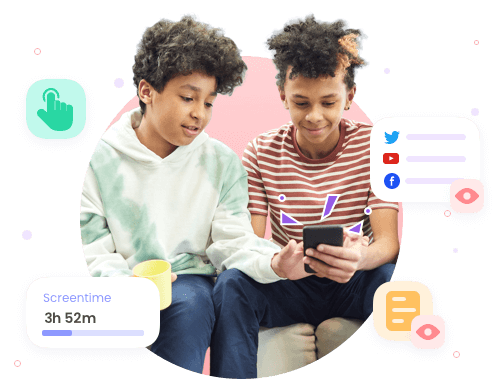 Management features push safety even further
Screen Time is right for your families.
Screen Time offers screen time limits and screen time management. See how much time your kids spend on their mobile phones, such as how much time they spend watching videos and how much time they spend chatting with friends. Parents can limit the time their kid spends on the phone with FlashGet Kids Screen Time Management.
App Blocker and Tracking App maximize app use. Offer app management and app-blocking services. Regulate specific apps according to your children's preferences. FlashGet Kids adapts to the way you like. Now, You can use App Blocker to set the time for children who like to play games. Set content restrictions for children who like to watch videos and use social media.
Manage your kid's phone use with Daily Usage.
Find your kid's Daily Usage. Explore your kid's digital habits. Track and monitor the apps kids use. FlashGet Kids makes Kid's phone usage customized. You can access and get reports on your kid's app usage to adjust the privacy settings. Even FlashGet Kids detects any suspicion that your kid's phone has.
Content filtering builds protection layers for your kids.
Customize your rules. Filter out toxic content. Level up your kid's safety. FlashGet Kids minds your kid's development. Now, you can block any content and websites. Adult and bloody websites and scenes won't be your worries. And surely, you can adjust your settings according to your needs.
Respond and sync with Alerts.
Detect potential dangers. Receive Alerts. Take precautions. FlashGet Kids gives you more possibilities to stay connected with your kids. When they access inappropriate content, Alerts will display on your phone.
Why Do You Need FlashGet Kids?

Protecting Kids from Various Dangers
With FlashGet Kids, you can keep your children safe from real-life and online dangers. Live Monitoring can call the Remote Camera of kids' phones, allowing you to view your child's surroundings from afar. One-Way Audio can help you feel and listen to your child's surroundings. Screen Mirroring is the one that makes you see what your child is doing on their phone in real time. FlashGet Kids possesses many important features to build one of the best parental control apps.

Ensuring Kids' Personal Safety
As one of the best parental control apps, FlashGet Kids can ensure your child's personal safety very Carefully. By Location Tracker, a location tracking technology, you can keep track of your child's whereabouts. You can also use Geofence to set a safe place for kids. You will get an alert when your kids enter or leave the designated areas. And Alerts and Notifications can help you keep up with any suspicious or concerning activities on your child's device, both in real life and online.

Developing Good Phone Usage Habits
FlashGet Kids can be the one app that helps your children cultivate and develop good habits when using phones. By setting screen time limits, you can limit the amount of time your children spend on their phones. The App Blocker builds up your child's well-being, which helps you to set restrictions on certain apps or social media platforms that your child accesses. Daily Usage lets you monitor your child's phone usage habits, thus helping you identify areas for improvement.
Easy Steps to Get FlashGet Kids

Install
Install FlashGet Kids on parents' devices.

Register
Register a FlashGet account and then sign in.

Bind
Bind children's devices to parents' devices and connect them.
What Parents Say

It's fab.
I am very impressed by the hard work and dedication by the team. This app has done a great job especially in the protection of family members. As a mother at the workplace, I always show concerns about my kids acts. This app allows me to watch my kids acts when they are surfing the internet, which helps me to protect them.
– Chloe

Terrific App
As a mother, I always feel concerned about safety problem, especially when my kid hangs out with their friends. But now I feel relieved and less anxious by Flashget Kids because this app can ensure my kid's safety. When my kid goes out, I will usually open the app to see where he is. This app has made it.
– Ashleyyy