"Controlling parents", this phrase sounds like a tyrant in your children's lives. But we don't mean you will make every decision for your children; we want you to have more control on your children's devices every day, with a parental control app. That's FlashGet Parental Control! In the information age, we want to offer you this high-tech tool to be an invisible bodyguard for your family!
Are "controlling parents" necessary in the online world?
Cell phones, pads, computers, and laptops are ubiquitous in our lives. For example, some girls love taking selfies, some boys like mobile phone games, and even an elder knows to call his family members. All these can't be torn apart from electronic devices, and our children grows up with this background. So, we give them the name Generation Z. This term means they are genuine digital natives.
Deep down, we know the Internet is the doorway that opens to the digital world. We're not supposed to completely shut it down. With FlashGet Parental Control, we hand you all the power to build a safe house to protect our children. That's being "controlling parents."
Exposed to the Internet, social networks, and mobile devices, we should know that not everything is prepared for children. Think about following questions:
Do we want our children to see malicious and salacious content on the cell phones?
Do we want our children to get hooked on video games?
Do we want our children to imitate indecent language and strong words?
Absolutely not. What's worse, potential risks also include online trolls, predators, and fraudsters. We should be a "controlling parent" to prevent our children for their growing up.
FlashGet Parental Control is ready with "controlling parents."
The real problems lie in the fact that our children with limited cognition and knowledge may not know how to control themselves on the Internet. Sadly, they're vulnerable and easy to get addicted to the online world by simply devoting too much time to the apps.
That's why FlashGet Parental Control comes into play in helping you control your children's devices to stop them from being disobedient little ones. We show some questions about a parental control app users may ask:
FlashGet Parental Control offers you an all-in-one solution to your questions. Next, we will explore what features we have in parental controls.
Parents can remotely activate their children's device camera to see the surroundings and open one-way audio to listen to the sound and voice around them.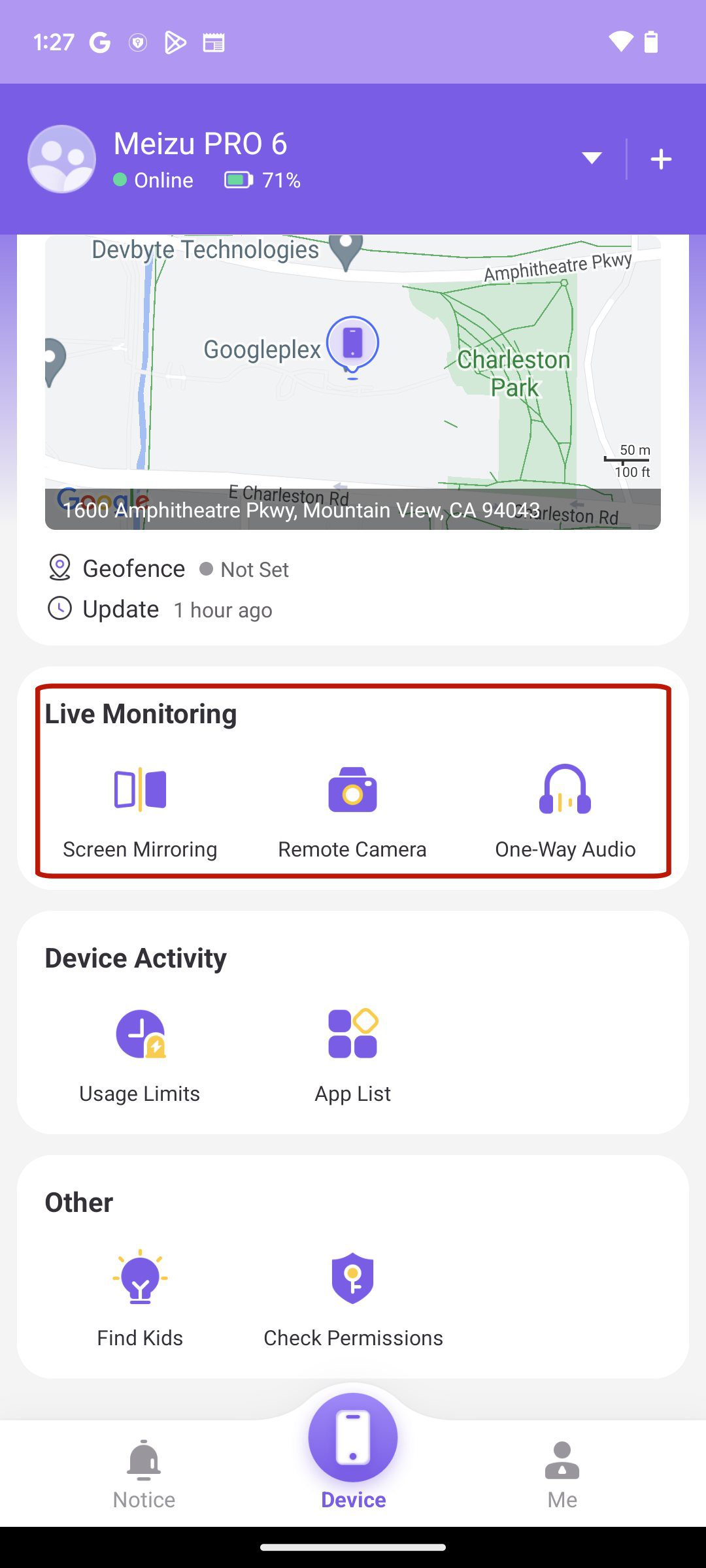 Don't worry, when you start Remote Camera and One-Way Audio, it won't have any notifications or alters on your children's phones, and it runs quietly in the background with a hidden app icon.
So, you can see where your children are and listen to what they are talking. Are they in the classroom or the library? Or are they having a party or going to some hangouts inappropriate for underage people? Then you may choose to rest on the sofa or call your children to leave where they are right away.
You might have seen some live spy camera apps. Surprisingly our parental controls have more than that.
Screen Mirroring
This feature provides real-time screen mirroring. Parents can open it to see what their children are scrolling through on the phone. If you find your children are misusing or overusing their phones, such as chatting in the classroom and playing games while teachers are giving their lectures. Then you can send your children a message to stop playing around with their phones and concentrate on lessons.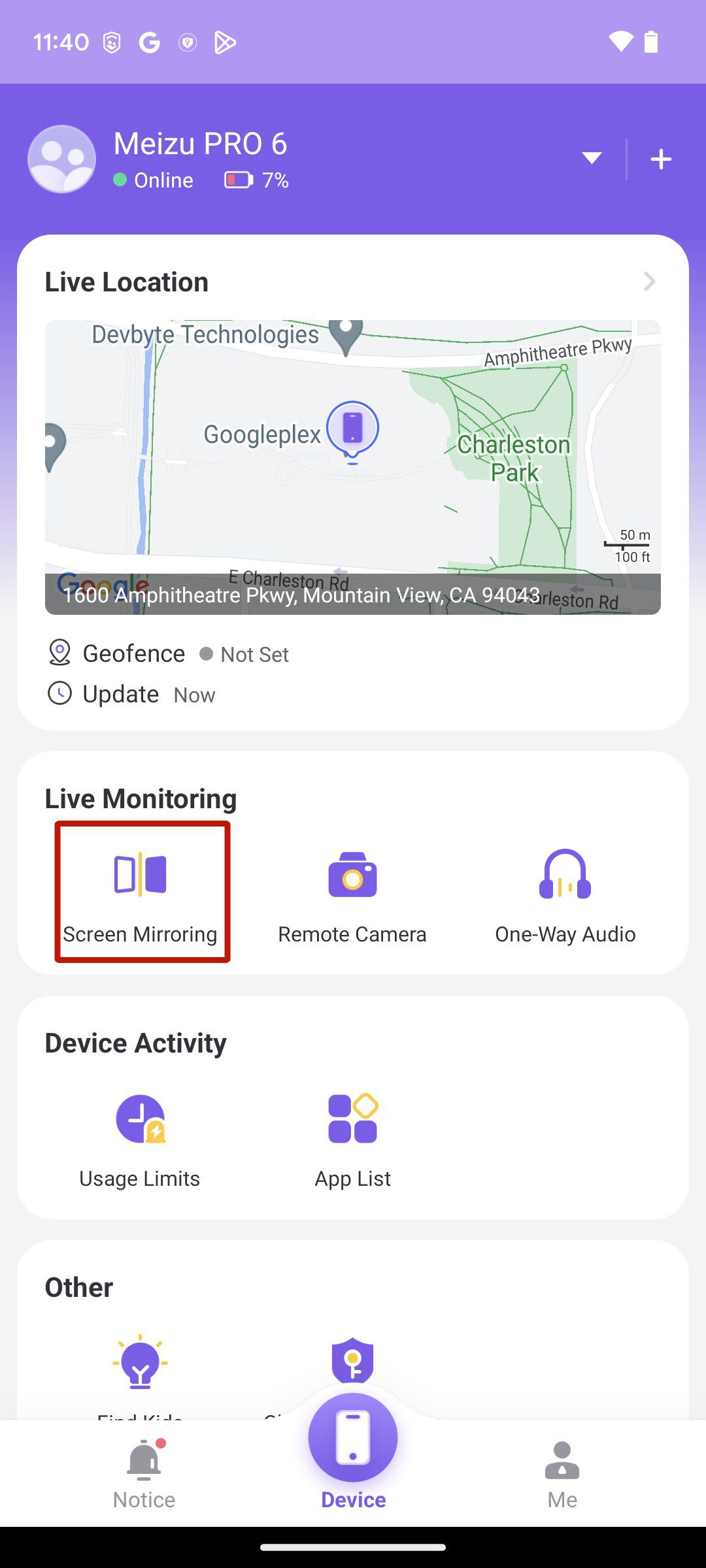 Location Tracking
Parents can track where their children are, as this feature automatically updates your children's real-time location on the map. This feature is like a small GPS tracker but more powerful.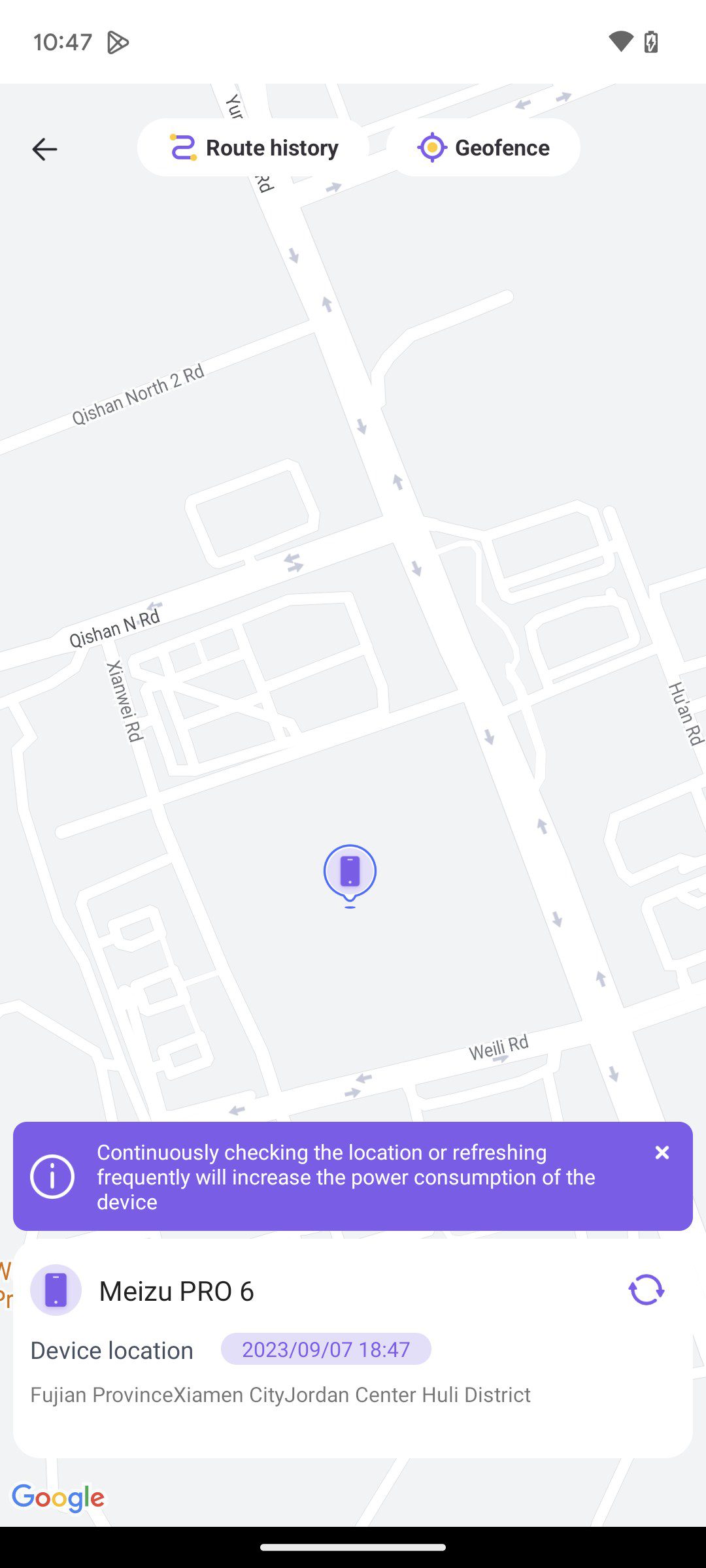 Route History provides daily and monthly location histories for your children. You can see where your children have been during their school days and vacations. For example, when classes are over, you want your children to go back home soon. Then you can open the app and peer at the map to see where they are.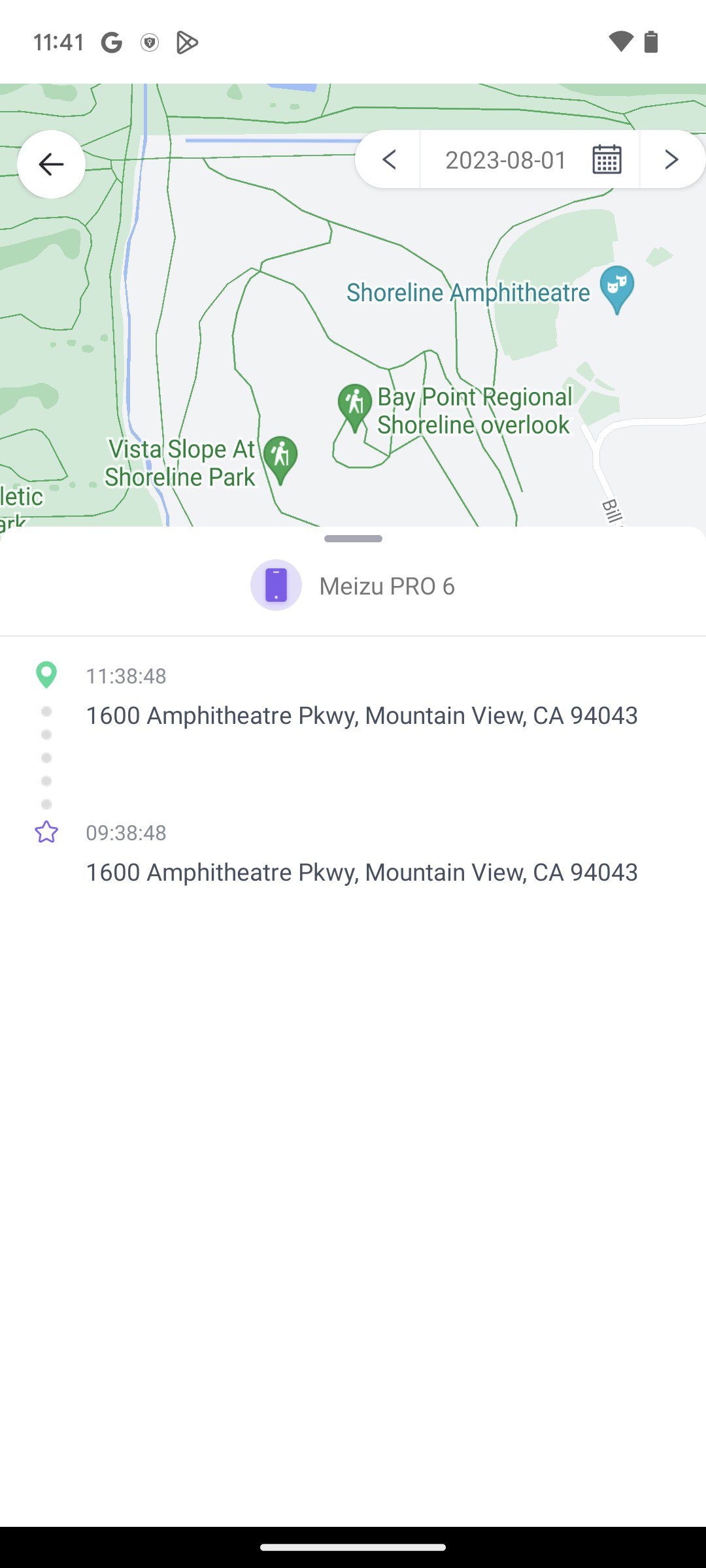 Geofence is another feature highly recommended. You can set restricted zones for dangerous areas and unfamiliar places. Alerts will be sent to you as your children enter or exit your pre-set Geofence.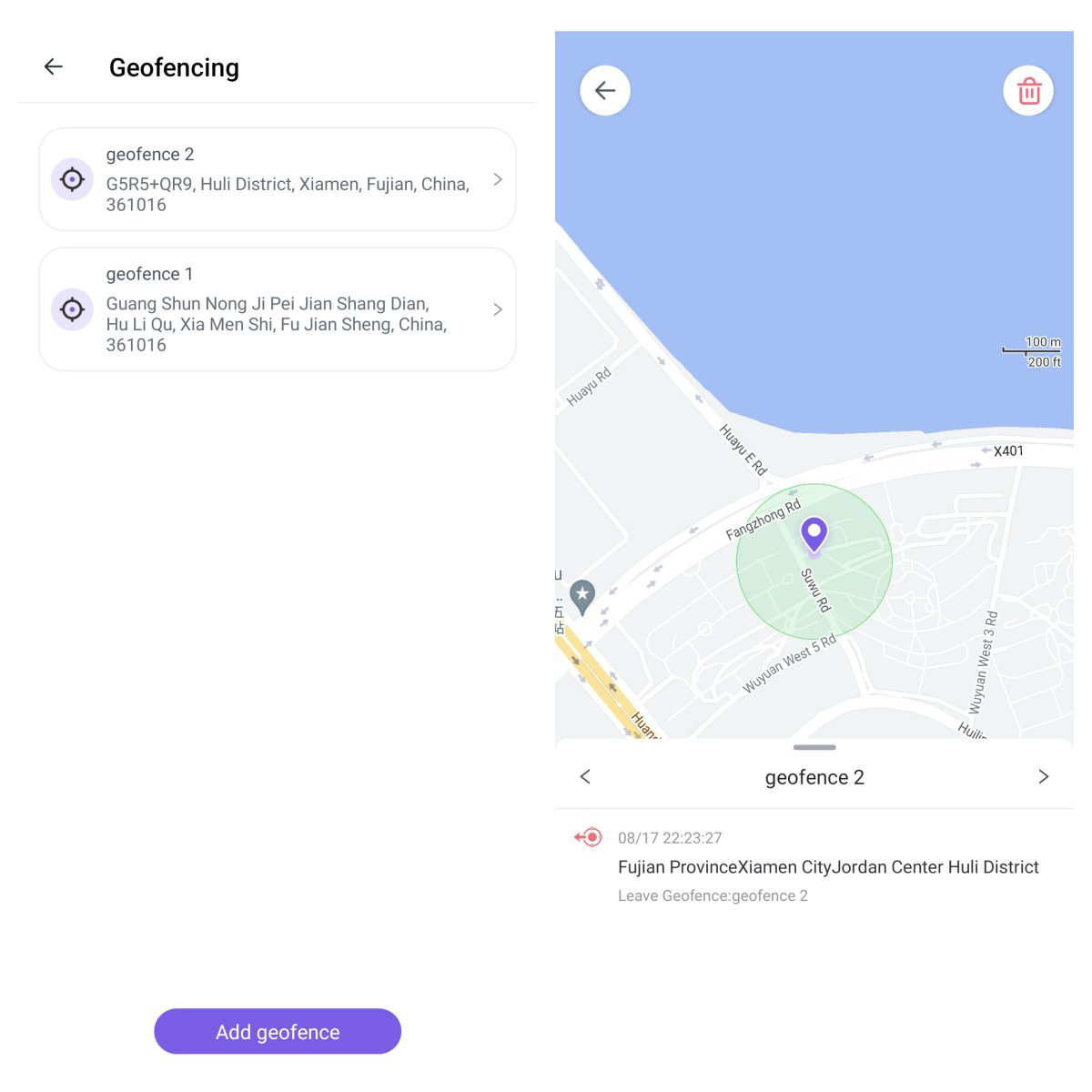 When holidays and vacations come, you don't want your children to go somewhere unfamiliar and dangerous, such as a desolated wood or an adult club. You can set Geofence in these areas. When your children walk into them, you will receive a red alter. Next, you can warn your children to turn back immediately.
Another good news is that if your children carelessly lose their phone, you can track lost cell phones on the map and go find it as soon as possible.
Any app activity on your children's device will be sent to your phone. Parents can block selected apps if they want. Simple, you can directly whitelist or blacklist some app and forbid newly installed apps. More precisely, you can set available time limits in every app:
You can grant 1-hour use for Chrome, Gmail, and Tiktok each day.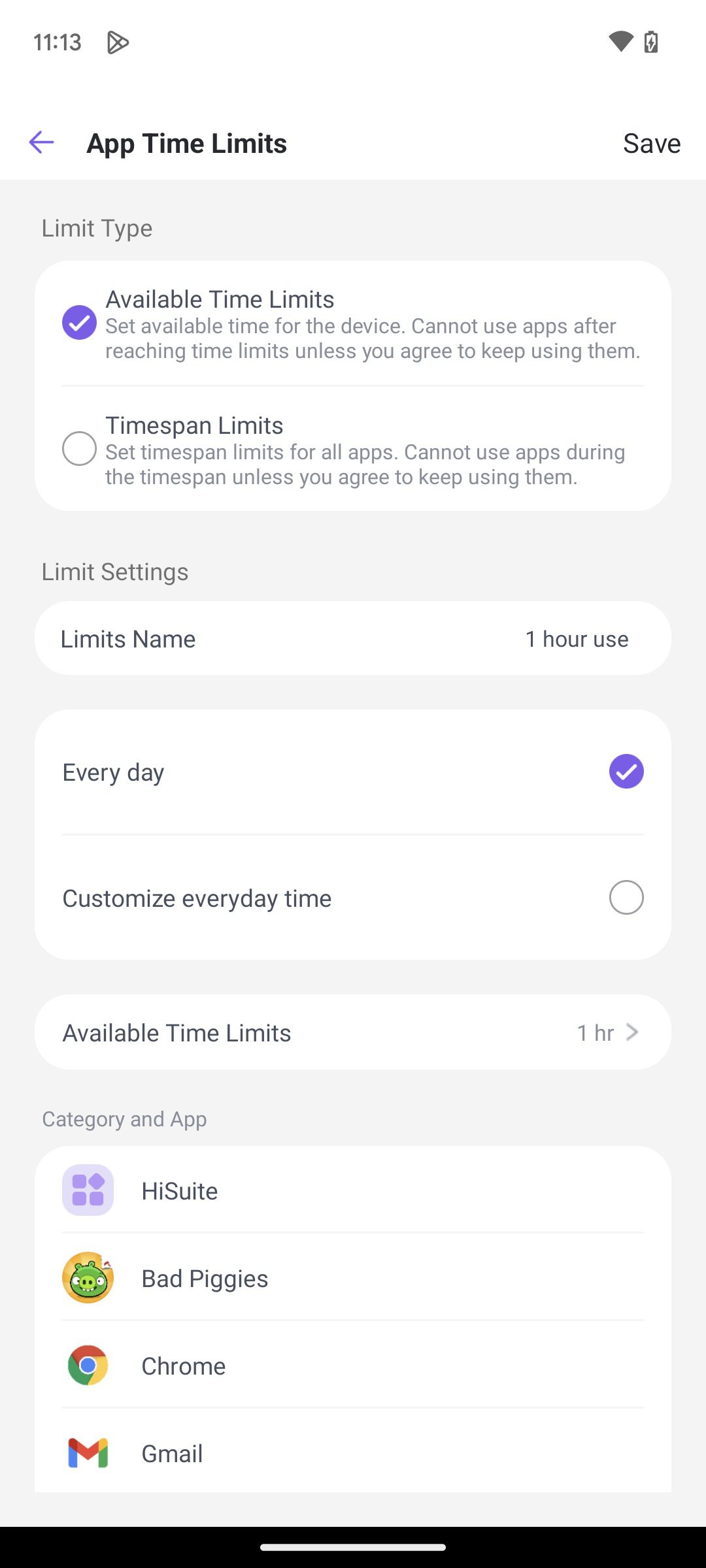 You can grant 1-hour use for Ins from Monday to Friday and 2-hour use from Saturday to Sunday.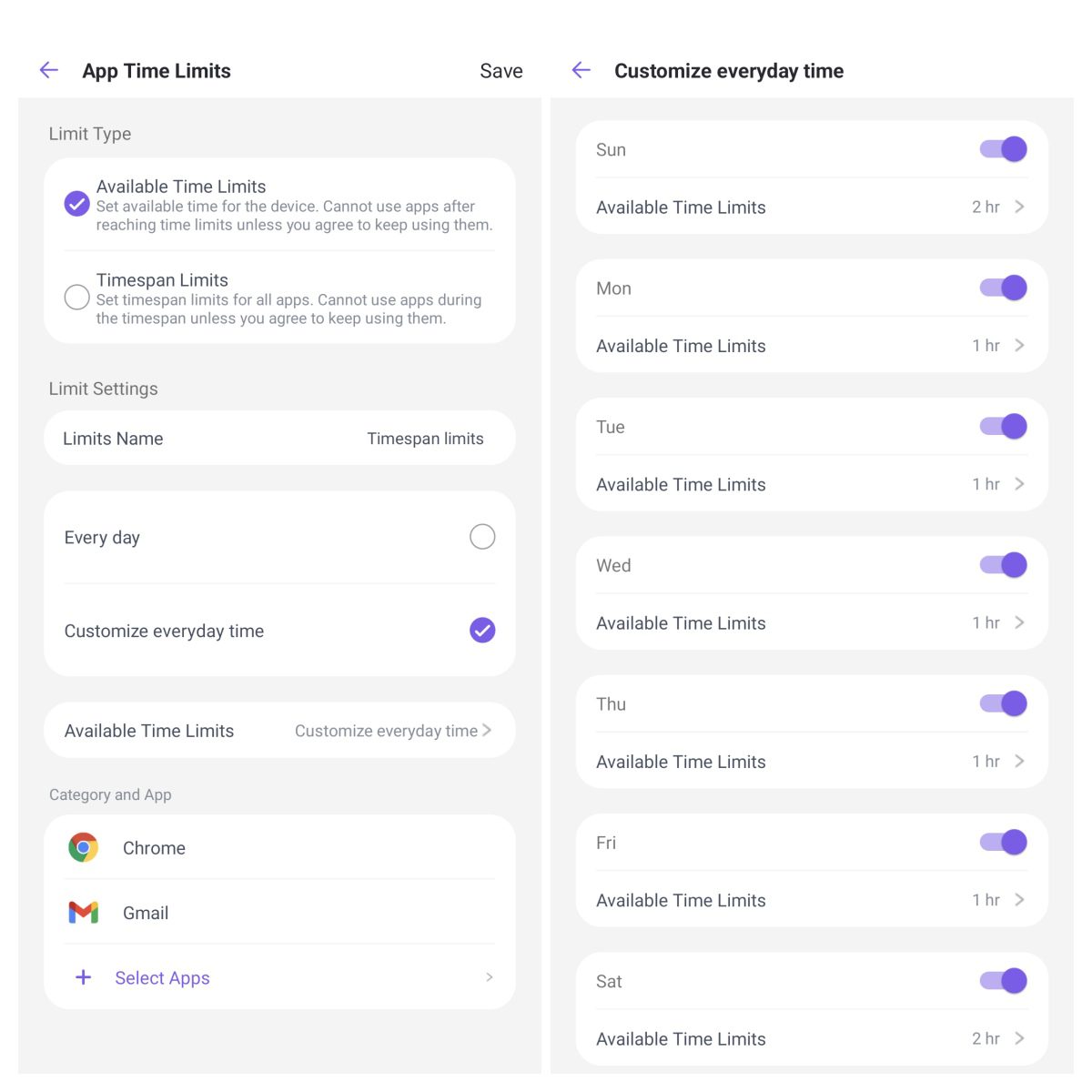 Or set "Timespan Limits":
Block use for some apps from 7 a.m. to 6 p.m. each day.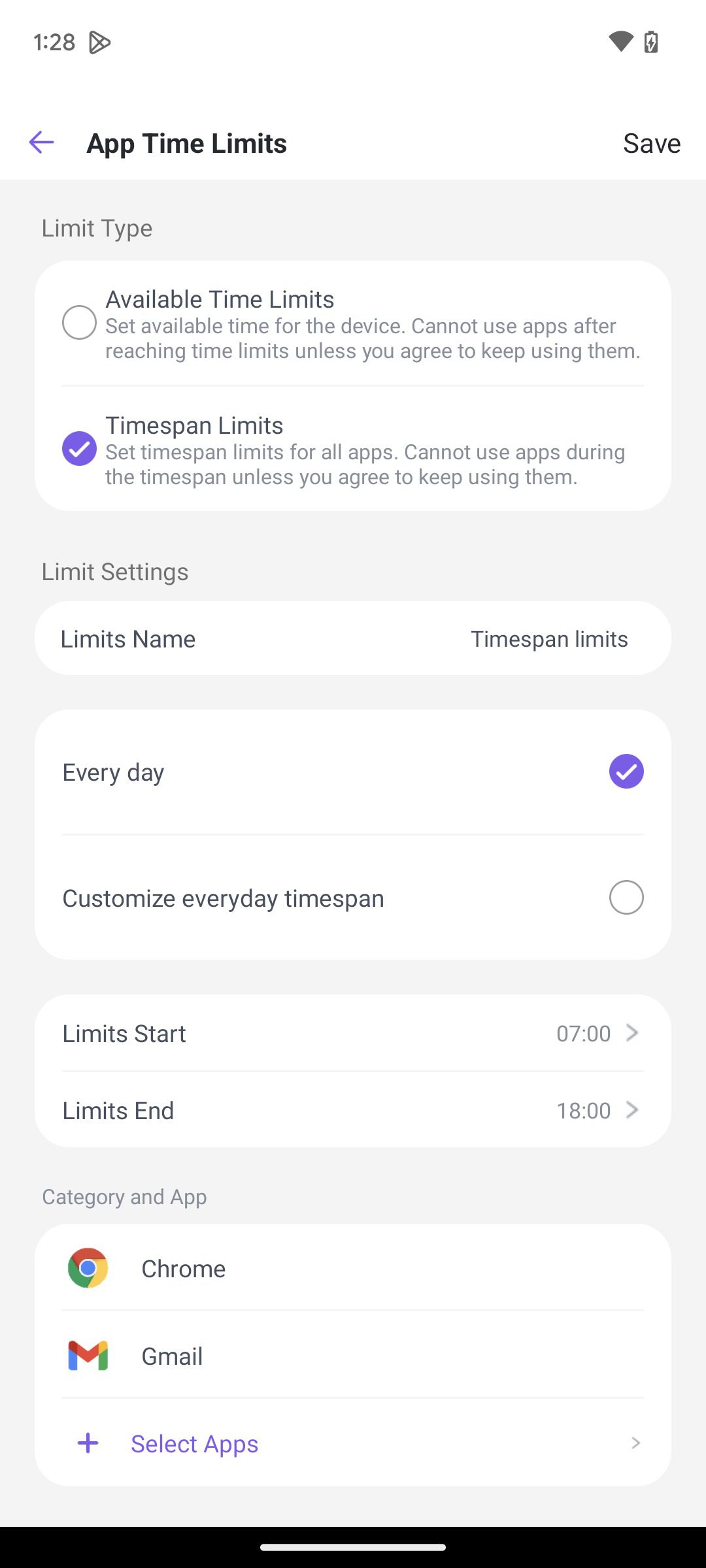 You can block use for some apps from 7 a.m. to 6 p.m. on working days and from 7 p.m. to 5 p.m. on weekends.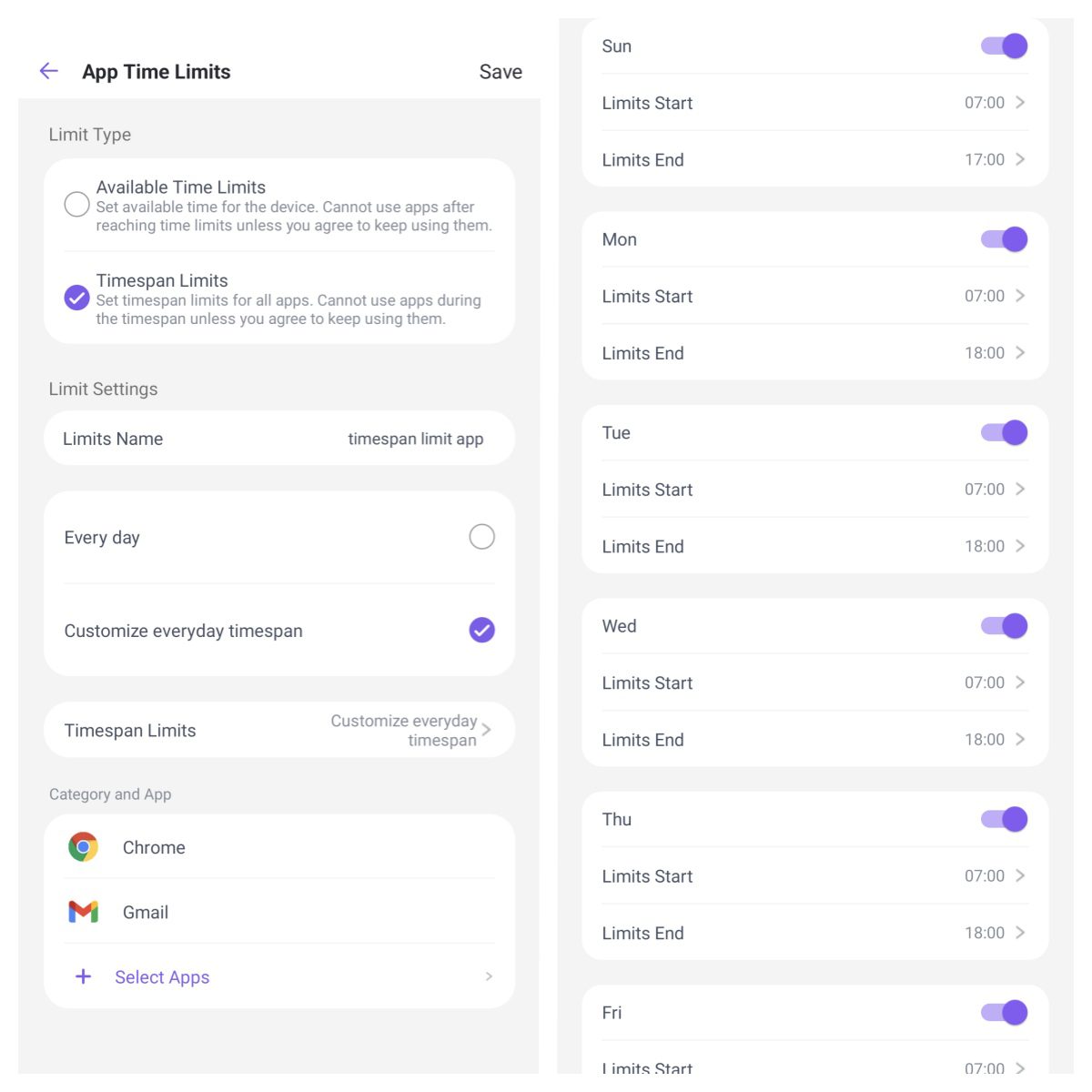 You can customize the whitelist and blacklist and the time limits in light of you children's habits.
Examples of App Blocker maybe useful to you
Why do we offer this app blocker more than app tracking? We don't want anything to interrupt our children's reading and studying. They should learn how to concentrate.
On school days, children are working hard on their academic performance. Some tools and apps should be allowed. When they are learning a foreign language, tools like Google Translate should not be blocked. Similarly, when they are learning math, the calculator can help them with addition and subtraction.
On the contrary, games like Call of Duty and Angry Birds should be banned in case they distract from schoolwork and waste time.
Social media like WhatsApp and Instagram should be blocked, too. When your children want to use the auxiliary tools on their phones, some notifications and chat bubbles will show up. This is disturbing, and your children may be led to these social media apps. So, you can block these apps, and pop-up notifications won't lead your children to something else. This is particularly useful when they are reading and looking for a word in the e-dictionary.
Screen time control
This feature is more than a screen blocker. Similar to App Blocker, you can set screen time limits:
You can set a 1-hour screen time each day.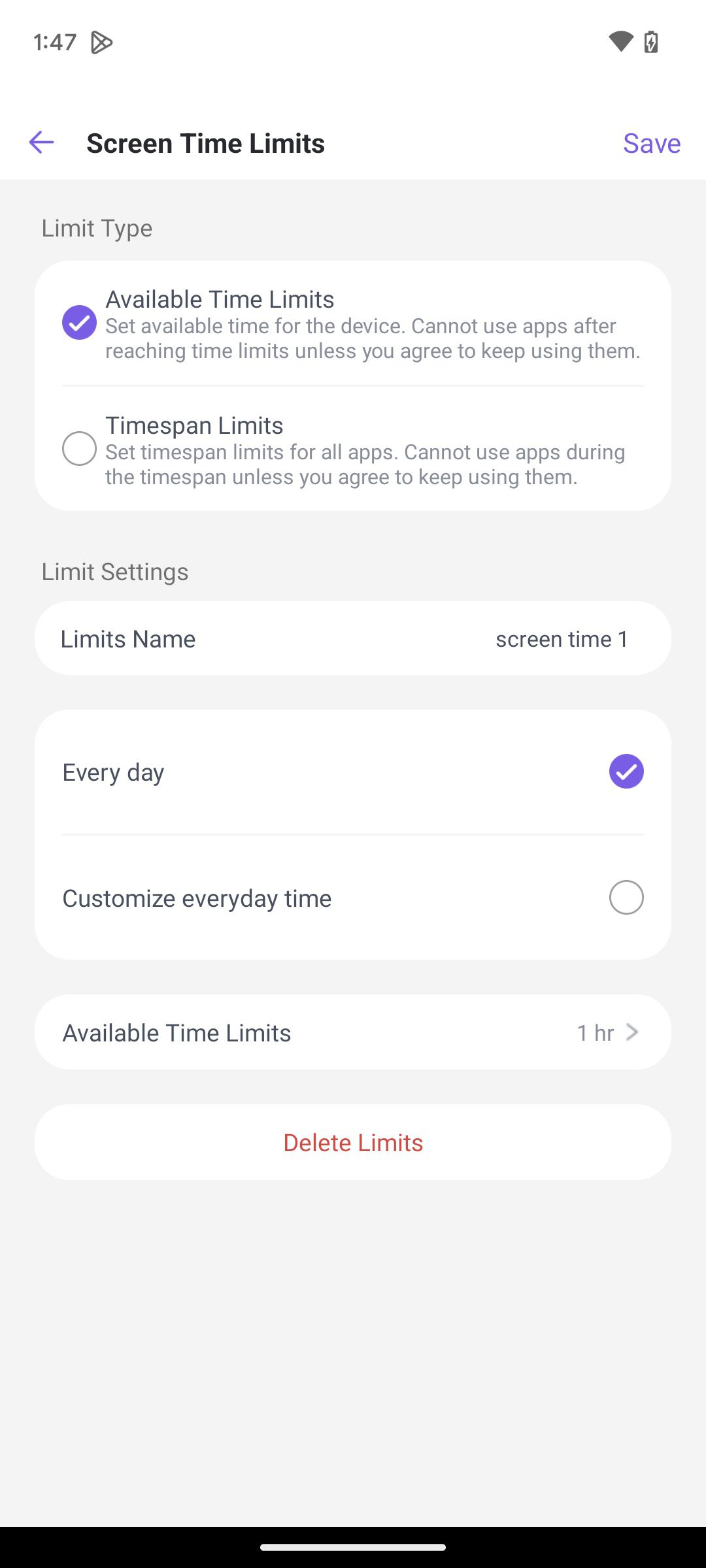 You can block the screen from from Monday to Friday.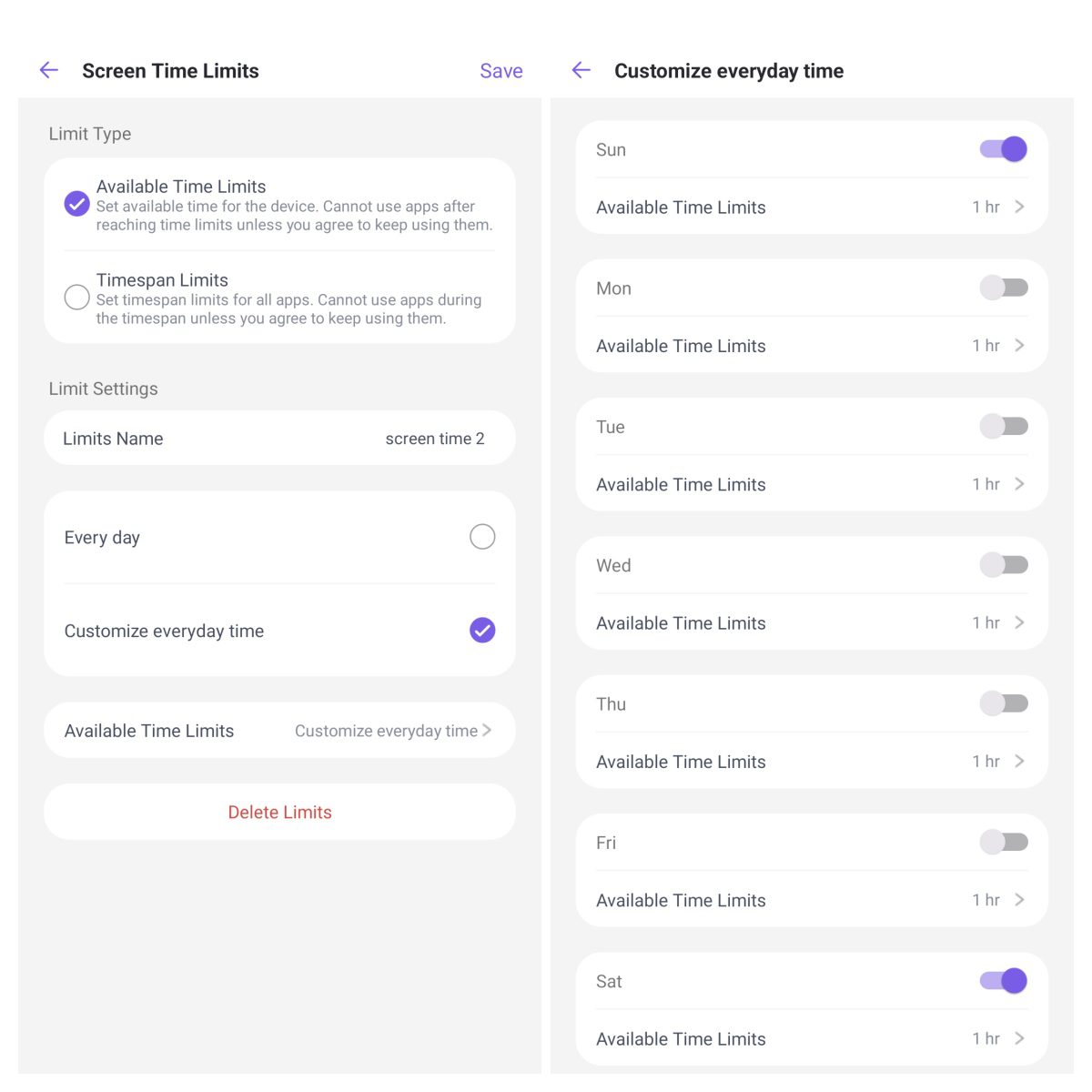 Or set Timespan limits:
Block use of the screen from 7 a.m. to 6 p.m. each day.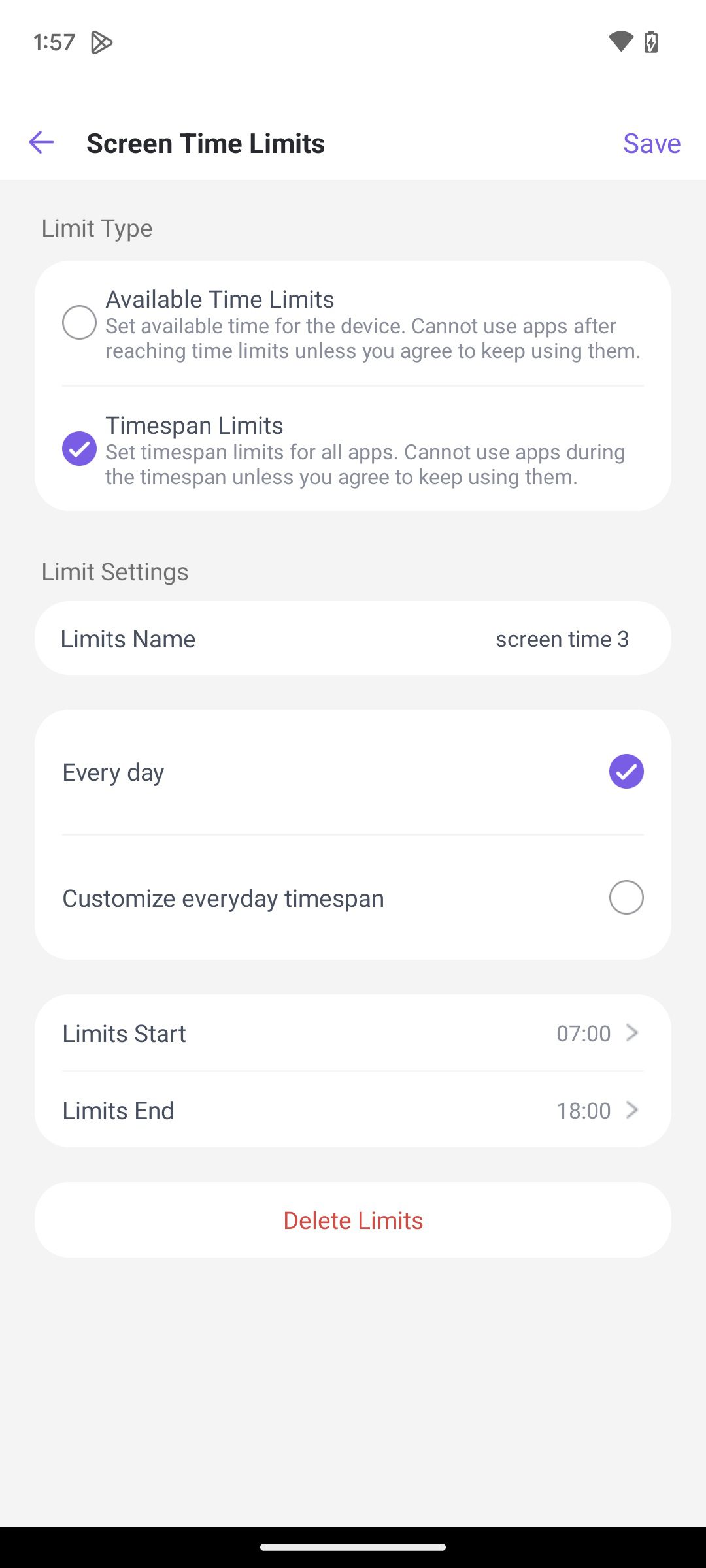 You can block use of the screen from 7 a.m. to 6 p.m. on working days and from 7 a.m. to 5 p.m. on weekends.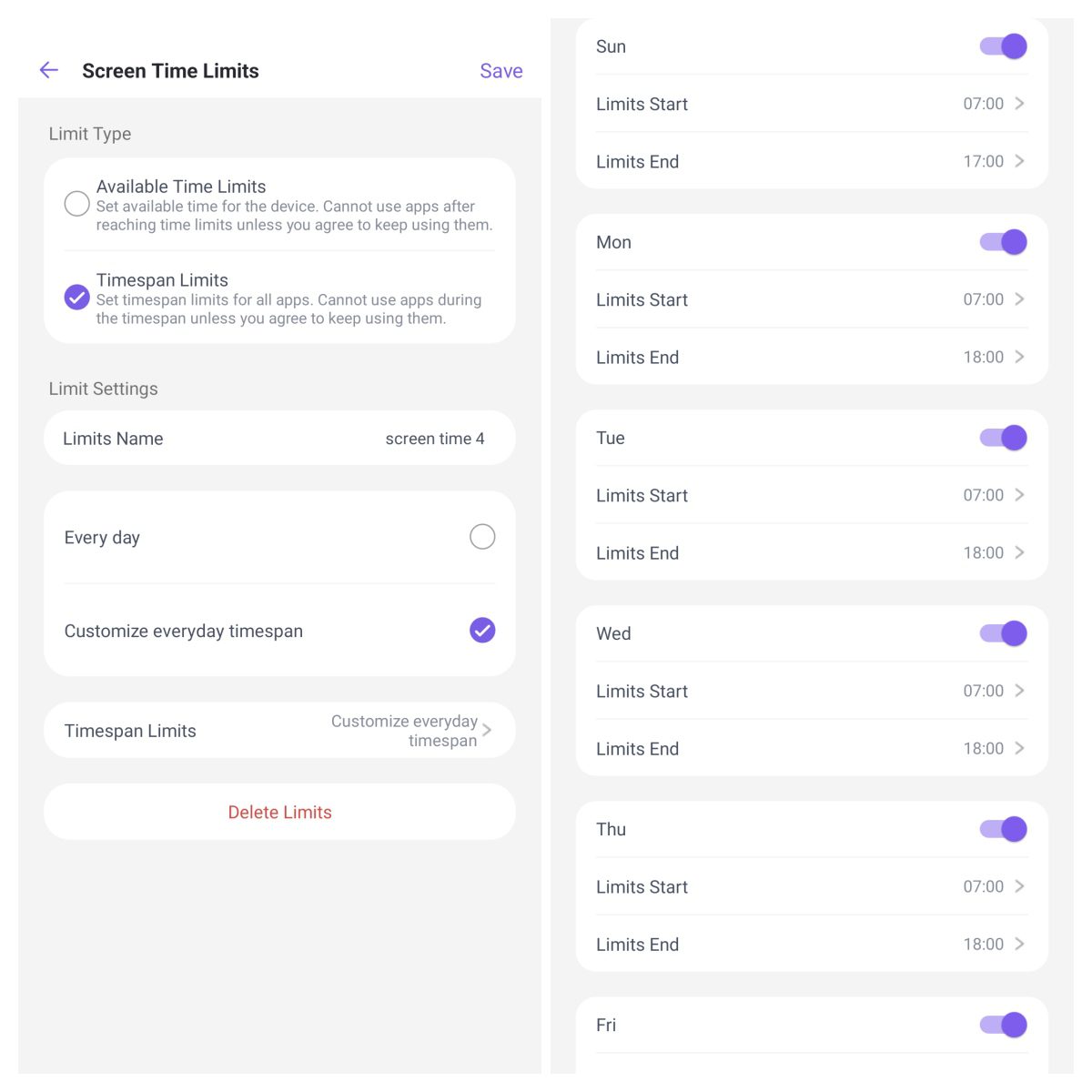 You can customize the screen time control in light of your children's habits.
Your children should go to bed at night, but they don't. All of a sudden, a notification is sent to you, and you find them still swiping their hands above the iPhone and opening some apps. At this time, you can block the screen or go to the children's room to remind them to go to sleep right now. Or it's school time, and you don't have much confidence in your children's self-control. You can block the screen, and your children won't be able to use their phones.
More parental controls are developing
Granular parental controls on cell phones are provided to help you control your children's app usage. Of course, FlashGet joins the rush in the online world and will never stop at any success. We are a team of richly experienced experts in cross-device monitoring and managing. More functions are in beta. Stay tuned!
FlashGet Parental Control now runs perfectly on both Android and iOS systems. No matter what you are looking for- Android parental control app, iPhone parental control app, or iPad parental control app, our product is always ready for your needs.
Your loved ones will grow up, not only in their height and weight but also in their cognition and maturity. Gradually, they began to understand the parental controls and why you seemed to spy on their phone. They will know your good wiliness in protecting them with the best parental control app. We kindly remind you not to forget to adjust the limits and options.
Are there any other ways to be "controlling parents"?
Not all of us are genuine digital natives, and some of us didn't get in touch with phones and apps when we were born. When we were young, there were no parental controls online, and we still get along well with our parents. The key to a happy family is actually your accompany with children. The lack of parental love and discipline will let children become reserved and develop a sense of loneliness. Children long for parental love and open communication, indeed.
Tips for offline "controlling parents":
Family chores with children.
Family travelling with children.
Exercise together with children.
Post-homework gaming and entertainment.
Let your child join a club according to their interests.
Don't always rely on schools to teach your children everything; instead, teach them some basic skills like cooking and cleaning. All in all, our children need our closer attention, greater care, and more love. Fortunately, with technological developments, parental control apps can help you and your loved ones stay connected on the Internet.
In fact the technology and parental control apps are just useful tools for parenting. And to tell the truth, the Internet is not all of our lives. Children need a certain degree of independence as they grow up and mature. And they will gradually understand what responsibility and self-discipline mean as they develop. You are the real sources of love and care for your children, and what we can do is ensure they are safe and sound on the Internet.
About us
Who are we? We are also a group of parents like you. We identify with you and shoulder the same parenting burden. With time flying, we have come a long way from protecting children through technological means. Now we turn our ideas into reality and create the best parental control app for parents like us. Our faith is to protect children and empower parents. Every family is precious, and we hope you have one happy family!
Have bright days with children!
FAQs