"Unblocked games for school" is a pressing issue that requires one to listen to both sides of the story to determine which way to go. Some argue that it's good for students, while others think it is not the right thing for students.
Generally, Unblocked Games World is an online platform that enables students to play blocked games. It works by maneuvering through gaming site website restrictions.
However, schools have a system restricting certain games so that students always focus on their learning duties more than anything else.
So, what are blocked games and unblocked games for school?
This piece will uncover all you need about blocked and unblocked games for school. Better, you'll know the best sites to implement all this and make it work.
Should I let my child play blocked game app?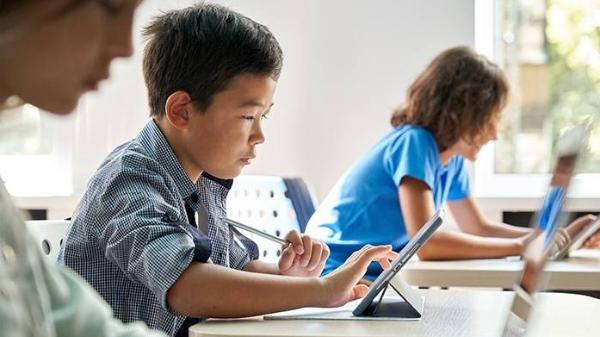 While you can or refuse to let your kids block game apps, it all comes down to a few factors. These factors will help you make sound decisions on whether or not your kids should have access to blocked game apps. Here is what you need to know:
Reason for block: You need to understand why the game is blocked in the first place to determine whether or not they should use the blocked game app. That means knowing if it's due to content or age restrictions.
Your kid's age: Certain games have age limitations and might not be appropriate for kids to participate in. Consider addressing this concern before making a decision.
Game content: Before making a decision, you should understand the game's content and if it's something you would let your kids have access to.
Reviews and feedback: To know more about the games, you should check the reviews and feedback to determine whether you should let your kids access this system.
Duration of play: This is another factor you should consider before deciding. That means you may have to implement time limits to ensure they spend just the right amount of time on the system.
Online interactions: There has to be a level of care for your kids on who they interact with online, especially on the chat or multiplayer function. This is an aspect that you need to check whether or not it functions correctly.
What are the best unblocked games for schools?
If you're looking for unblocked games for school, this section is for you. You'll learn all the fantastic unblocked games for school and non-blocked game sites. Below are worthy examples to help you make informed decisions.
🚀Best unblocked games at schools
Numerous cool games are unblocked in schools. Each game has its categories and is worth playing while in school. Here are some of them:
✔️The Dinosaur Game: If you're a dinosaur enthusiast, prepare to have your mind blown away with this fantastic game. You must take an infinite run-by guide to Google's dino and get to different levels and scores.
✔️NYT's Wordle: This game was introduced due to the pandemic boredom. It keeps you engaged with its solving demands and is one of the best games you can play in schools.
✔️Semantle: Semantle's God-level challenge will take your word guessing to the next level. David Turner's closest-word chase has become a 2022 phenomenon, providing unfettered gameplay and mind-bending enjoyment.
✔️2048: Navigate the mind-bending 2048, a clever numerical trip. Several variations take days or months to overcome.
✔️Symmetry Artist: On this limitless website, combine art and arithmetic. Make 1,735,603,200 unique creations and see your amazing designs develop.
✔️Spent: This game helps you experience single-parent living first-hand to spark your imagination.
✔️The Oregon Trail: The legendary adventure of the Oregon Trail will bring back memories. Face dangerous rivers, go on animal hunts, and recreate pioneer tribulations. Ensure your survival when traveling to Oregon.
✔️Quick, Draw!: Show Google your drawing skills and move to the next steps. Simple shapes show off your creative prowess or childish scribbles.
✔️Neon Flames: For those looking for artistry games that excite you and can be played at school, Neon Flames is just what you need.
✔️SuperCook:If you're a cooking enthusiast, then the SuperCook is a suitable game for you. It helps you prepare some of the best delicacies using limited supplies, which makes the whole experience fun.
✈️Best non-blocked game sites
So, now that you already know the unblocked games, it's time to go through non-blocked game sites. Here are some of them:
✅Boredbutton.Com
Boredbutton is an incredible website that offers numerous random games that will blow your mind away. It aims to clear boredom that is sometimes experienced in schools.
✅Google Games
While it's a Chrome extension and not a website, you can include it in the browser and access unlimited exciting games.
✅Unblockedgames666.com
UnblockedGames666.com is a prime site for unblocked games. It has an extensive library and a diverse selection of fun to play.
✅Unblockedgames24H
This is also another great site you can use to enjoy excellent games while in school. It has numerous exciting games, such as Pokemon, Minecraft, and Happy Wheels.
✅Hoodamath.com
All the maths geeks also have a good option for games when they use the Hoodamath website. While it is widely underappreciated, it has fantastic elements to help students grasp certain concepts.
✅ Unblocked Games
Unblocked Games is the best option if you're looking for a Google site with numerous games. You only need to head over to their homepage and have access to their vast collection.
✅ Mills Eagles
This is one of the best-unblocked gaming websites, providing a variety of exciting alternatives for school play.
✅Unblockedgames333
UnblockedGames333 is a great place to get your school gaming fix. Enjoy a wide range of free games, including popular titles such as Happy Wheels, Run 2 and 3, and Halo.
✅Armor Games
Another impressive gaming site is Armore Games, which has incredible options. It has a lot of classic games in different genres, and it also keeps adding to its collection.
What are blocked games at school?
Certain games are restricted in schools for various reasons. One of the reasons revolves around them being addictive and time-consuming. Here are some of these games:
Fortnite: Fortnite is a well-known battle royale game with a multiplayer mode, bright visuals, and fast-paced action.
Minecraft: A creative sandbox game that lets users construct and explore block-based virtual worlds.
Roblox: Roblox is an online gaming and entertainment hub with a wide range of user-generated content.
League of Legends: League of Legends is an online multiplayer combat arena game with high competition.
Clash of Clans: Clash of Clans is a mobile strategy game that involves building a village, training troops, and battling other players.
Candy Crush Saga: A famous smartphone puzzle game, players match colored candy to advance through levels. It's an addictive game, so most schools prohibit it.
Online Casino Games: Gambling games are prohibited in schools as well as other institutions around the world.
What is unblocked games world?
It's a gaming platform that provides users access to unlimited games that schools or other institutions block. It's a way to kill time by playing your favorite game without worrying about restrictions. The best part is that they have unlimited gaming options that will blow your mind away.
Games in the unblocked games world
Certain games and those that aren't excluded from firewalls are banned for a reason. While it is debatable whether such games should be banned, they still help kill boredom. Here are some of the games in the unblocked game world:
2048
Slime Road
Google Doodle Games
Chess
Sudoku
Happy Wheels
Slope
Tank Trouble
Run 3
Pac-Man
Some of them, like puzzle games, can help students improve through challenges. So banning them wholly isn't the right solution as they are less destructive.
How do you block go games and 66?
If you're wondering how to block Go games and 66, then this section is just what you need. With the step-by-step process, you will be in a position to implement this technique with a breeze. Below is what you need to know:
Block go games
Google Family Link allows you to set up adequate content limits to guarantee that your kid interacts with age-appropriate internet material. This contributes to creating a more secure and appropriate digital environment for them.
Open Google Family Link and select "Controls" under your child's name.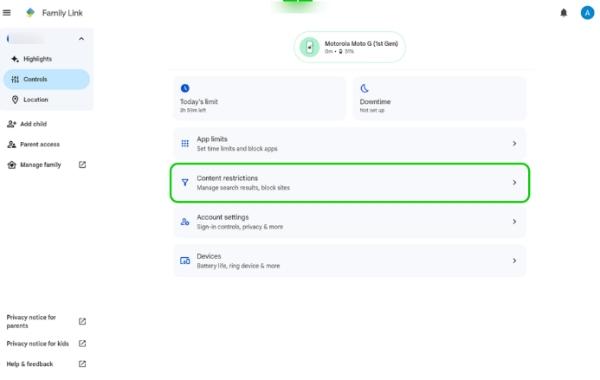 Now select "Content restrictions."
Pick the Google service to customize.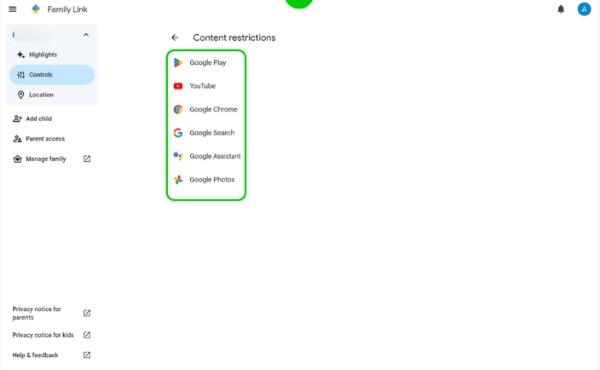 You can now implement "Filter explicit websites" and "Approve or block websites.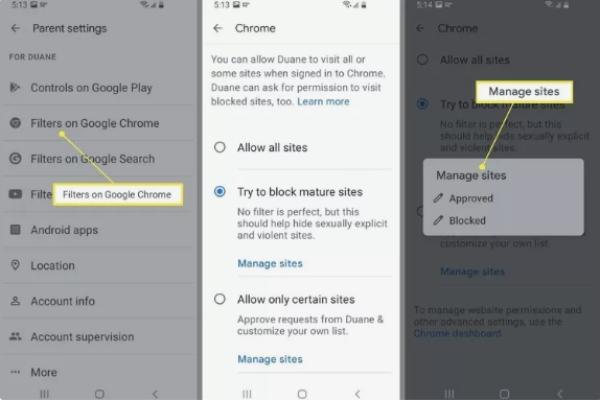 Add Go Games' URL to the blocked list and save changes.
Block 66 games
Google Family Link allows you to control your kid's browsing habits as a parent, ensuring that it is appropriate for their developmental stage and your family's beliefs. Blocking access to websites like 66 Games helps your kid maintain a focused and safe online environment.
Go to "Controls" for your child's account to access Google Family Link.
Now click on "Content restrictions."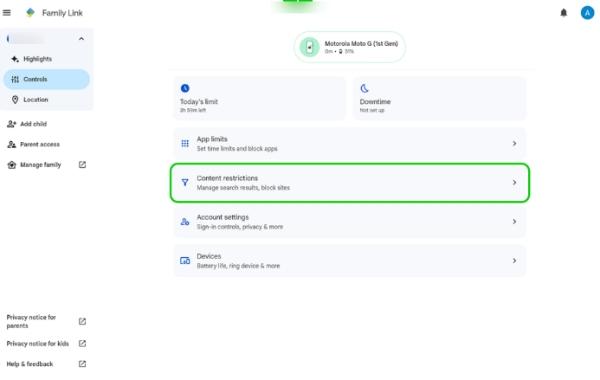 Choose the appropriate Google service.
From there, enable "Filter explicit websites" and "Approve or block websites."
Now block access to the site.
How to monitor and restrict games on FlashGet Parental Control?
FlashGet Parental Control is the answer if you're looking for the best method to monitor your kids and restrict gaming elements, apps, and websites. It has incredible features that will make it easier for you to manage your kids. Here are its key features:
App Blocker: FlashGet Parental Control allows you to gain access to all the gaming apps and websites and grants you the opportunity to block them.
Screen Time Limits: You can set daily and weekly screen time limits that kids should follow. After that, they will not be able to access games.
How to monitor your kid's phone via FlashGet parental control?
1. Download the Flashget Parental Control app from their official website on the parent's device.
2. Register the Flashget account and sign in to access the features.
3. Download the Flashget Kids app on your kid's phone. Then, bind the app with the one you downloaded on the parent's phone.
4. Access the live monitoring and game restriction features from the menu on your device.
FAQs