Are you looking to implement parental control Google Family Link on your kid's device but don't know how to? If this is you, you're in the right place. Technological advancement and the availability of information (good or bad) means parents must step up to protect their kids.
The technological world is fast-paced. So the methods used to work back then in ensuring kids have a safe online presence, which may need to be more efficient today. That means you need to change tact and find an efficient way for kids to have digital involvement. And what better method to implement than Google Family Link?
So, in this piece, we'll unveil everything you need to know about Google Family Link and how to use it in a few simple steps. You'll also learn other efficient ways to protect your kids that will be useful to you. So let's get started.
What does Google Family Link app do?
Google Family Link is not only a straightforward and flexible parental control program, but also it seeks to provide kids with a secure online environment.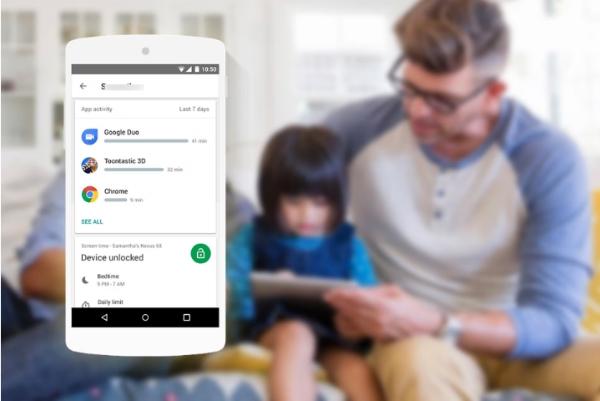 It gives parents detailed control over their child's iOS or Android smartphone. And it also enables them to keep track of, handle, and alter numerous facets of their online activities.
Since Family Link offers a secure connection between the parent's Google account and the child's device, this app allows parents to monitor and actively participate in their child's online activities.
Parents may use Family Link to monitor their child's app use, implement sleep restrictions, and set daily screen time limitations to promote a healthy balance between digital engagement and other activities.
Why parental controls on Google?
Guarding your kids from the harsh digital world is an excellent sign of great parenting. One way to do this is through sufficient apps like Google Family Link, which has incredible features that will assist you in protecting your kids. But why do you need parental controls on Google? Here is why:
Screen Time Management. Parents know that if you leave kids to their own accord to make their own decisions, they might spend the entire day watching videos and surfing the internet. So, parents must implement screen time features using Google Family Link by setting screen time limits as a countermeasure.
Content Filtering. While the internet has numerous educative and informative material, it also has many other content that might need to be better for your kids to consume. That means you need to use parental controls on Google to filter specific ranges so they cannot access them. This can be blocking websites or restricting search and downloads.
Online Safety. The internet is a vast space, so kids need to approach with caution. With great parental controls on Google, you can follow up on your kid's online activities, including who they talk to and their conversations. On top of that, you can also track their live location to ensure they are safe.
What are the benefits of Family Link?
Internet Safety. The internet is a vast space. So you need to do everything within your power to protect your kids against potential harm. You can limit access to certain websites or block them entirely.
Screen Time Management. If you want to control how much time your kids spend on their devices, Family Link is your best friend. This app has all the capabilities and commands to ensure you monitor your kid's digital presence.
App and Content Restriction. If your kids constantly check inappropriate content or are addicted to a specific app, you can restrict them using Google Family Link. That means you can also block the most destructive apps to their well-being.
Digital Ground Rules. With parental controls such as Family Link, you can effectively set up boundaries on kids' devices. This can be managing app downloads, sleeping schedules, and monitoring device usage.
Tracking and Monitoring. Google Family Link allows you to track and monitor your kids to ensure they are safe. It also can be checking the type of apps they use regularly, the websites they visit, how much time they spend online, and who they talk to.
Family Link key features
Google Family Link is a complete parental control solution. And it can give parents the means to provide their kids access to a secure and caring online world. Thanks to its user-friendly design and robust functionality, this program allows parents to monitor, control, and direct their child's internet interactions efficiently. Below are some of its key features you need to know:
Time Limits. Set precise device and app usage durations, promoting responsible screen time habits.
Web and App Filtering. Control access to websites and app installations, ensuring a safe online experience.
Activity Reports. Gain insights into your child's digital behavior, screen time, app installs, and usage.
Scheduling. Establish device usage schedules to prioritize essential activities.
Location Tracking. Stay informed about your child's whereabouts in real-time, enhancing safety.
Pro
It is easy to use.
It has free.
It has excellent performance.
Cons
Limited features
Basic web-filtering
| Key features of a parental control app | Family Link |
| --- | --- |
| Content Filtering | ✅ |
| App Blocking | ✅ |
| Location Tracking | ✅ |
| Geofencing | ❌ |
| Screen time management | ✅ |
| Message Monitoring | ✅ |
| Screen Mirroring | ❌ |
| Price | Free |
| Compatibility | Android & iOS |
How does Google Family Link work?
Parents now have complete control over their children's internet activity thanks to Google Family Link. The intuitive interface enables setting daily screen time restrictions, controlling app access, and blocking URLs for a safe online environment.
While comprehensive activity reports provide helpful information on screen time and app use, real-time location tracking gives peace of mind. With the help of Google Family Link, parents can confidently direct their child's digital development while promoting a secure and enjoyable online environment.
How do I use Google Family Link?
Follow these simple steps to set up a new Google Family Link account and begin ensuring a safer and more responsible digital experience for your child:
Create a Google account by visiting the Google account signup page
Download the free Google Family Link app once you have an account.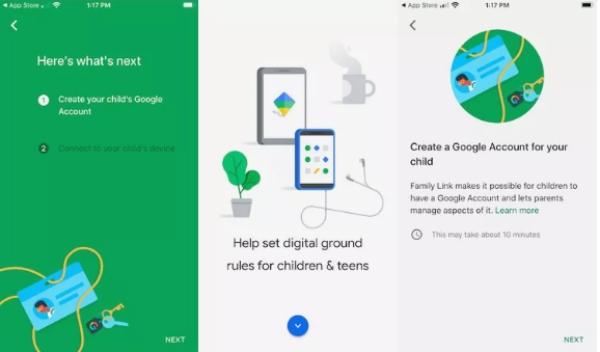 After downloading the app, please open it and follow the instructions. You can create and link a family group with your child's account.
How to add people to your family link account?
Each user in your account must have a Google account to use Family Link. And it can allow for seamless integration with your own Google account.
Create your child's Google account and provide credit card information to finalize the setup.
Download the Family Link app on your child's device and sign in using their account credentials. A notification will confirm the successful linking of your child's device.
Sign in to your child's device with their Google account. And your device will notify you when the linking process is complete.
Follow the same steps for each child you wish to add to Family Link.
What happens when a child turns 13 on Google Family Link?
When a kid turns 13, they can upgrade to a full-fledged adult Google account, giving them unlimited access to games, applications, websites, and films. Google emails parents to inform them that their child's account has graduated. Parental monitoring of the kid's account ends once the child takes control of it and is now solely responsible for it.
Conclusion
Since Google Family Link is a trustworthy and straightforward parental control solution, it enables parents to regulate their child's online activities efficiently. It can also promotes a secure and nurturing online environment with features like screen time restrictions, app screening, content management, location monitoring, and activity reporting.
On the other hand, FlashGet Parental Control provides sophisticated geofencing tools to define virtual borders for outdoor safety and timely alerts, ensuring parents keep aware of those looking for more features.
It also includes analytical screen time analysis, which helps parents encourage better gadget habits in their kids. Therefore, adopting FlashGet Parental Control gives parents a complete toolkit for proactive and safe digital monitoring, enabling them to provide their kids with a happy and well-rounded online experience.
FAQs