What does Life 360 track? The Life360 app has gotten much attention and interest, generating a slew of reviews delving into its functioning and capabilities.
With its promise of improving family safety and communication, many people have tried to learn more about what the app can measure and provide.
Life360 presents a complete picture of family interactions in the digital age. It from real-time location monitoring and historical movement insights to geofencing capabilities and driving behavior analysis.
This piece sheds light on the many facets of Life360's monitoring capabilities. And providing insights into how it enables families to balance safety, connection, and privacy.
What does Life 360 do?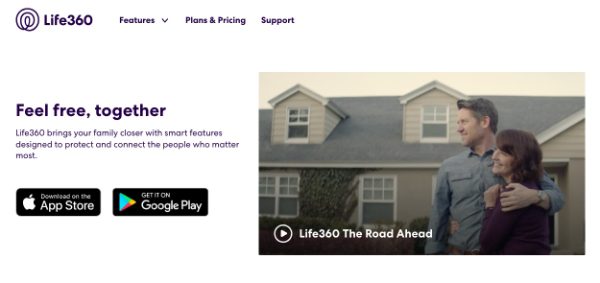 In the middle of the complexity of contemporary existence, Life360 appears as a powerful and all-encompassing answer. It designed this fantastic family safety and communication tool to bridge the gap between the search for emotional closeness and physical distance.
It emerges as a digital ally, deftly addressing the changing dynamics of familial ties in a connected world. Fostering connectivity. Weaving a tapestry of security through every digital interaction
What does Life 360 track?
Life360 is a location-sharing and family safety app. It records different elements of a user's everyday life to offer an entire perspective of the locations and safety of their family members. Here are the essential elements of what Life360 monitors:
What data does Life 360 track?
Here are some of the multifaceted dimensions that Life360 empowers users to track effortlessly. Encapsulating a spectrum of vital aspects that resonate with the modern fabric of family life:
1. Real-time location
The core of Life360's dynamic feature is real-time location tracking, which uses cutting-edge GPS technology to painstakingly track and report family members' most recent geographic locations.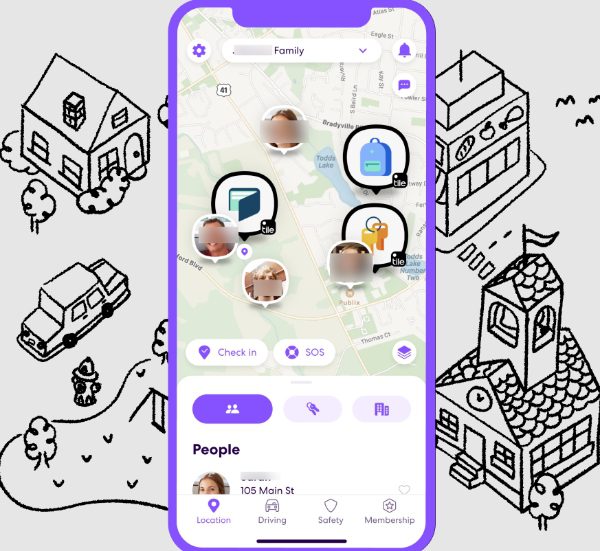 This feature bridges geographic gaps and promotes a feeling of virtual intimacy by providing users with an instant and interactive visual depiction of their loved ones' current whereabouts on a map.
Beyond its technical power, real-time monitoring captures the spirit of contemporary family connectedness while allaying fears, facilitating planned get-togethers. And fostering ties through a digital thread that knits the fabric of togetherness in today's fast-paced world.
2. Driving behavior
Life360 can closely monitor several driving behaviors, including speed, sharp accelerations, and hard brakes, among other driving patterns. This feature is intended to encourage and teach safe driving behaviors. It is beneficial for monitoring novice or young drivers and developing a culture of cautious and responsible driving habits.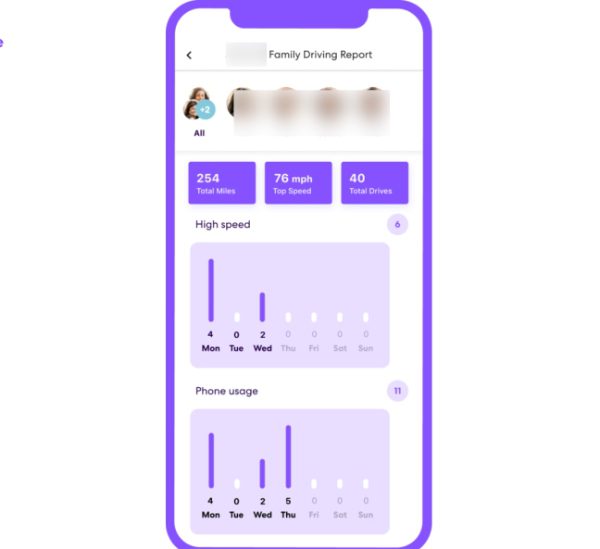 3. Geofencing
An essential feature of the program is geofencing, which enables users to create virtual borders, or "geofences," around specific locales. Through this capability, people get fast notifications anytime their family members cross the boundaries of these designated zones. Increasing awareness and allowing efficient tracking of their travels within specific geographic regions.
4. Location History
The family members' historical mobility patterns are painstakingly recorded by the Location History feature. This information creates a thorough and chronological timeline showing the family members' geographical trajectories.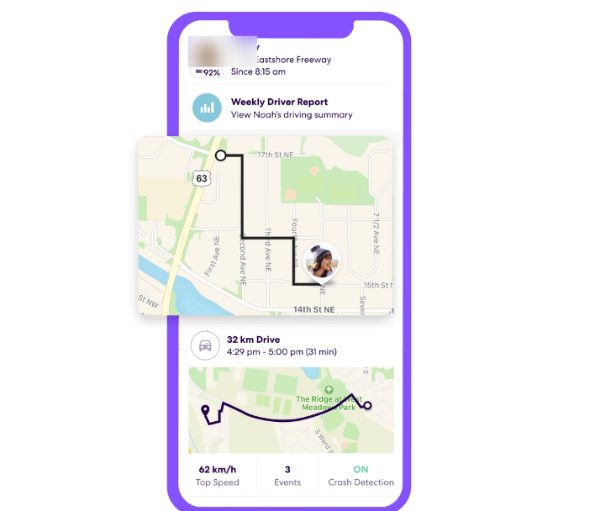 This feature gives a priceless window into regular routines, famous locations, and exploration, giving users subtle insights into their loved ones' earlier experiences and activities.
By providing such a thorough history record, the software improves users' abilities to see patterns, comprehend tastes, and eventually create a greater understanding of the forces that influence their family members' life trajectories.
5. Messaging
Family members may conveniently communicate with one another inside the Life360 app's UI thanks to the seamless integration of messaging and communication features.
It improves coordination and guarantees that family members stay informed and connected even in the middle of their diverse schedules. It does this by facilitating timely communication and enabling the transmission of essential information like arrival timings and current statuses.
6. Lost or stolen phone
The app's lost or stolen phone tracking feature uses location tracking's strength to provide a tactical method for recovering lost or stolen devices. This function offers consumers a possible lifeline by allowing them to locate lost or stolen property and, maybe, enable its successful recovery.
Using this technology, the app provides a glimmer of hope in the face of such sad events, enabling people to take preventative action in retrieving their priceless belongings and lessening the related suffering.
What can life 360 user see?
Depending on their app version and privacy settings, Life360 users may access various functions and data.
Users may often check family members' whereabouts in real-time on a map, examine location history, set up and maintain geofences, and message and communicate with others in their selected circles.
Additionally accessible are emergency features that provide additional safety and confidence, such as panic buttons and notifications.
The amount of information exchanged among circle members may be influenced by privacy settings, and the specifics that users may see may differ between the free and premium versions of the service.
What can parents see on life 360?
Parents who use Life 360 have access to a wide range of tools that have been carefully crafted to meet their top priorities. This app helps them safeguard the safety and well-being of their children in a world that is becoming more linked to the volume of information exchanged by those in the circle.
1. Balancing privacy and insight
It's critical to realize that the combination of privacy settings and the particular subscription plan parents choose intimately shapes the range of information that is accessible to them. This complex balance, which upholds privacy and individual liberty principles, is painstakingly adjusted to provide parents with a harmonic fusion. This gives them significant insights into their children's life while concurrently respecting and defending their unique personal limits.
This delicate balance highlights Life360's unwavering commitment to upholding the fundamental values of personal space and discretion and promoting transparency and connectivity.
2. Immediate responses in emergencies
Life360 appears as a dependable light of preparation during critical times, ready to provide its assistance. Parents can react quickly to unanticipated circumstances by integrating panic buttons and immediate alerting techniques, extending a crucial lifeline.
This immediate and direct communication channel develops into a vital conduit, enabling parents to provide immediate aid and steadfast support when their children need it.
3. Facilitating communication
Life360 provides seamless communication between parents and kids, fostering a culture of open dialogue. This function makes it simple to negotiate plans, carry on conversations, and send information via text messaging.
This component is crucial for strengthening family ties and promoting ongoing and meaningful participation. It also makes logistical planning easier. Life360 is a cutting-edge technology that bridges geographical gaps and fosters a link that depends on constant communication in a world where digital interactions happen quickly.
4. Location history insight
With the flexibility for parents to customize alerts to their unique needs, Life360 adds a customized touch. Thanks to this personalization, they can get warnings specifically suited to various events, including arrivals, departures, and even life-threatening circumstances.
This fine-grained degree of customization highlights the app's adaptation to the many rhythms and preferences that characterize each family unit and improves its functioning.
By smoothly integrating this function, Life360 ensures that the communication of updates is in perfect harmony with the particular dynamics of each family. This leads to a smooth and pleasant interchange of information.
5. Customized notifications
Parents can create custom notifications inside Life360, giving them the capacity to get alerts catered to various situations, from arrivals and departures to urgent situations. This clever feature gives the app a higher level of flexibility and ensures that it syncs up with the unique contours of each family's dynamics and personal preferences.
Life360 promotes an atmosphere where information flow harmoniously suits the family's unique rhythm. It gives parents the freedom to choose the precise times they desire to be informed, further solidifying the app's position as a vital and intuitive tool for contemporary family life.
More about Life 360 app
Key features
| Key Features of A Tracking App | Life360 |
| --- | --- |
| Location History | ✅ |
| Geofencing | ✅ |
| Driving Reports | ✅ |
| Real-time Location Tracking | ✅ |
| Lost or Stolen Phone Tracking | ✅ |
| Batter Drain Monitor | ❌ |
| Compatibility | Android and iOS |
| Price | Free, Gold ($14.99), Platinum ($24.99) |
Pros and Cons
✅ Pros of Life 360
✔ It enhances family coordination and safety.
✔ It encourages responsible driving habits.
✔ Facilitates communication during emergencies.
✔ Offers insights into driving behaviors and habits.
? Cons of Life 360
✖ Potential for Over-monitoring and strained relationships.
✖ Possible distractions for drivers using the app while driving.
What does Life 360 show?
Users of Life360 may see a dynamic, comprehensive map of their family members' locations. The program provides a direct view of the whereabouts of loved ones by graphically presenting real-time location updates on a map.
Through location history, it also illustrates historical mobility patterns, allowing one to comprehend everyday activities and routines in the past. I clearly display geofencing notifications to users, which inform them when family members enter or leave designated zones.
Driving habits, including braking and speed, are graphically shown to promote safe driving. Families may communicate and share updates via the app's message and communication tools Panic buttons and alarms take center stage in an emergency, enabling quick communication and action.
Conclusion
Life 360 is an app that provides a secure and reliable way for families to track each other's location. Through its features, such as real-time notifications, location history insights, and customized notifications, Life360 gives parents the confidence to know that their family members are safe. The intuitive user interface allows families to set up and customize alerts tailored to their needs quickly.
You can also use the FlashGet Parental Control app to help you manage family life in the digital age. It has location-tracking features and extra tools including screen time management, that may be useful in taking care of your kids.
FAQs
Users of Life360's free edition may access all the necessary location-sharing features, including real-time location monitoring for family members, location history, the ability to set up virtual limits using geofencing, and rudimentary messaging for in-app conversation. Users may get notifications when family members enter or leave designated zones. The free version also increases awareness and safety. Limited access to emergency feat is also offered by the free version.
Life360's paid edition, sometimes a premium or subscription plan, includes several extra features not found in the free version.
Expanded location history, improved driving behavior analysis, collision detection with emergency response warnings, unrestricted access to emergency services, roadside assistance, driver reports, and extended family circles are some of the premium features that may be available.
Paid plans often provide a more thorough and robust experience, catering to those looking for sophisticated safety and communication functions for their families.