Netflix is a world-famous entertainment app with over 1+ billion downloads. It has a collection of all the famous movies and web series, including its own collection of films. However, as Netflix is a great way of entertainment, it is also one of the biggest addictions if abused. And if you are one of those parents who want to save their kids and are searching for how to block Netflix, then you are at the right spot.
In this blog, we will discuss how to restrict Netflix apps and websites from iOS, Android, Windows, routers, and so on. We will also suggest the best parental control apps that you can use instead of built-in features. These apps will be free to use with many advanced features like location tracking, remote camera access, etc.
Why should we block Netflix?
Netflix is no doubt a great app, with 3600+ movies and 1800+ web series. Well, that's a lot, and it would take about 3+ years (8 hours a day) to watch movies alone. While for web series, it would probably take a decade.
The films are great, just like everybody else, they were my only companion in the worst months of my life. In my depression days, films let me dream beyond the stars and encouraged me to do more. However, I got addicted to them. Whenever I tried to do anything, I got lazy, bored, and depressed again and returned to Netflix/Amazon Prime/online movie sites. And that's how I wasted three whole years of my life. I am not saying watching movies is bad. Actually, they are a great way of learning about psychology, society, business, the universe, and much more. However, if left unchecked, they can ruin you or your kid's life.
So, if you want yourself or your kids to stay focused in life, become social with other people, and get real-life experience, then you should block all social/entertainment sites like Netflix. And only allow them to use these from time to time.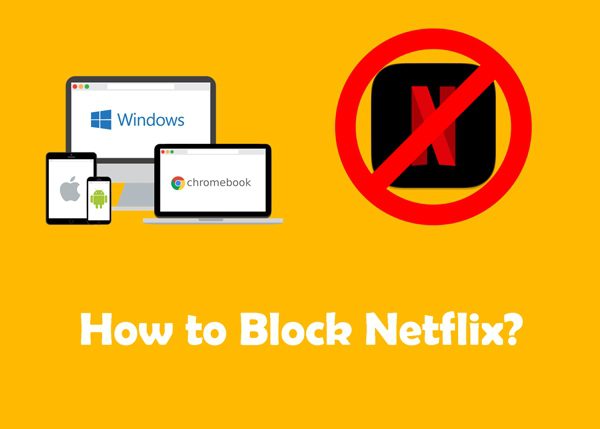 How to block Netflix on iOS?
When it comes to iPhones and iPads, you already know that installing and using third-party apps is not an option unless you jailbreak (crack software) your device. But that will put it at risk of hacking and malware, not to mention loss of warranty.
So, the best way to block Netflix on your iOS phone is by using Apple's built-in Screen Time feature. This method is free to use and works without a glitch.
Use Screen Time to Block Netflix on iOS
Screen Time has App Limits, and it can limit apps to only 1 minute of use every day. That is basically a useful tool for self-control. Well, Screen Time is not the best option when it comes to app blocking, but it is the only option for iOS users, which you can use in the following way:
1. Grab your iOS device > Go to the "Settings" icon and click on it.
2. Now, in the settings menu, scroll down until you see the "Screen Time" option; choose it.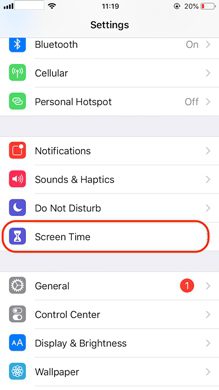 3. In the Screen Time option, if you are entering it the first time, enter all your details. Select whether you want the iPhone for yourself or your kids.
4. Once you set up the Screen time initial stages, you will see many options > choose the "App limits" option.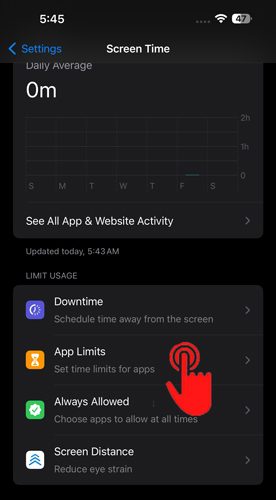 5. Once in the App Limits menu, see below, and you will find the "Add Limit" option; click on it.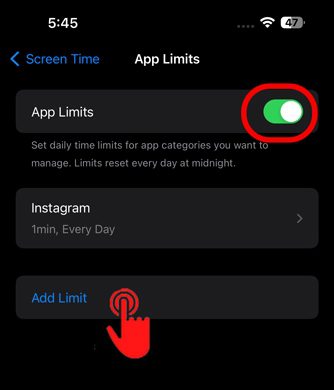 6. In the next stage, Apps categories will be shown > Click on the arrow next to "Entertainment" > a drop list will open > choose Netflix from that list and then click on "Next" (at the top right corner).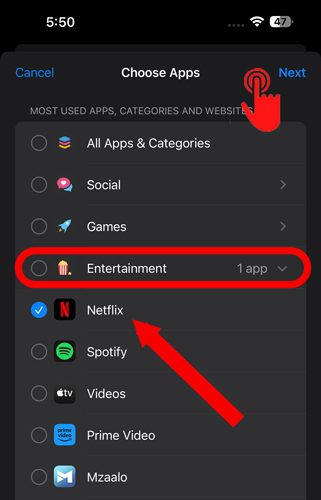 7. In the next menu, the iPhone will ask for a daily usage limit and set the clock to just 1 minute > In the same menu, toggle on the option "Block at the end of Limit" and finally, clock on Add at the top right corner. That's it; now Netflix will switch off after 1 minute of use every day.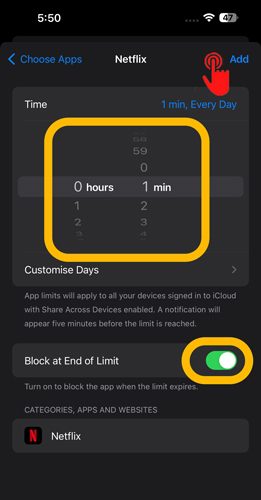 How to block Netflix on Android phones?
When it comes to Android phones, there is no built-in parental control/blocking software that you can rely on. However, as you know, Android phones allow installation of all kinds of 3rd-party apps. This means you can get hundreds of different blocking apps to choose from.
Some of those great blocking apps are Google Family Link, Screen Time, Action Dash, and so on.
Use the Google family link on Android phones
Google Family Link is a semi-built-in software because it is pre-built in the kid's phone. But you have to install an app on the parent's phone. You can follow the below steps to block Netflix with the Google Family link:
1. Open the Google Family Link official website.
2. Now, find "Control" panel and click it.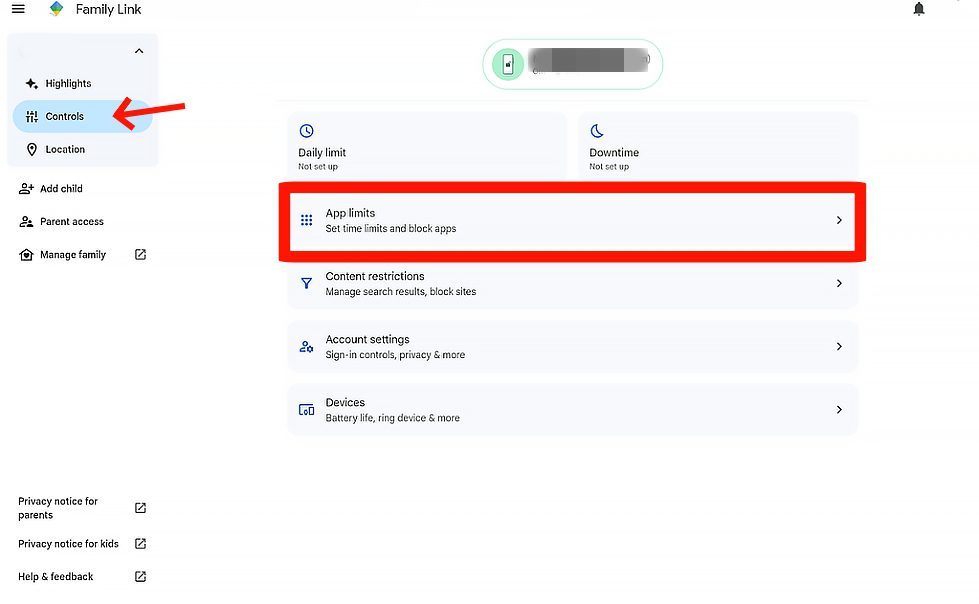 3. In the Google main menu, scroll down until you find the "App Limits" option.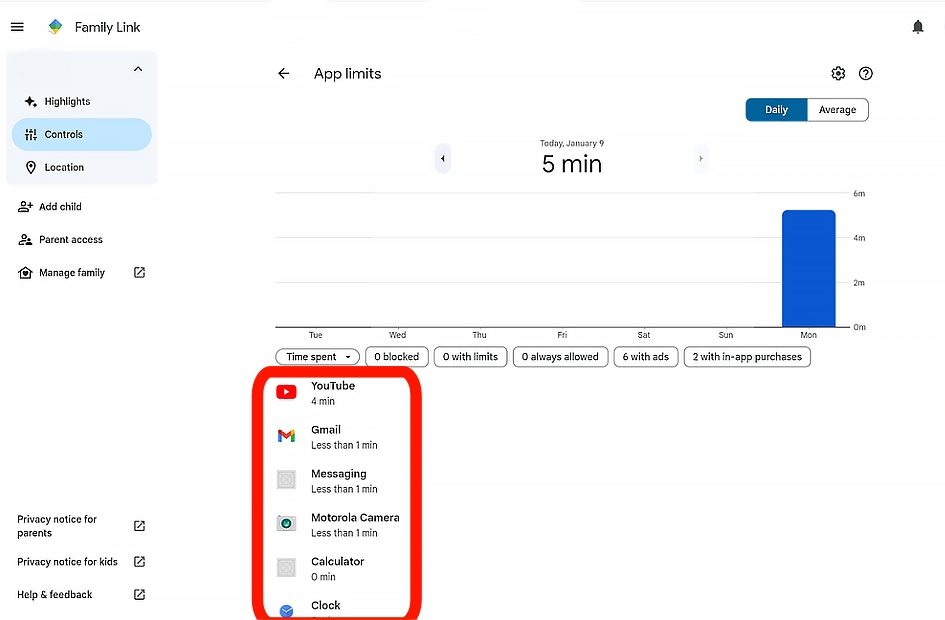 4. In the "App Limits" menu > scroll down to find "Netflix" and tap on it > a pop-up window will appear> choose the "Block" one. That's it; Netflix is permanently blocked on your kid's phone until you unblock it.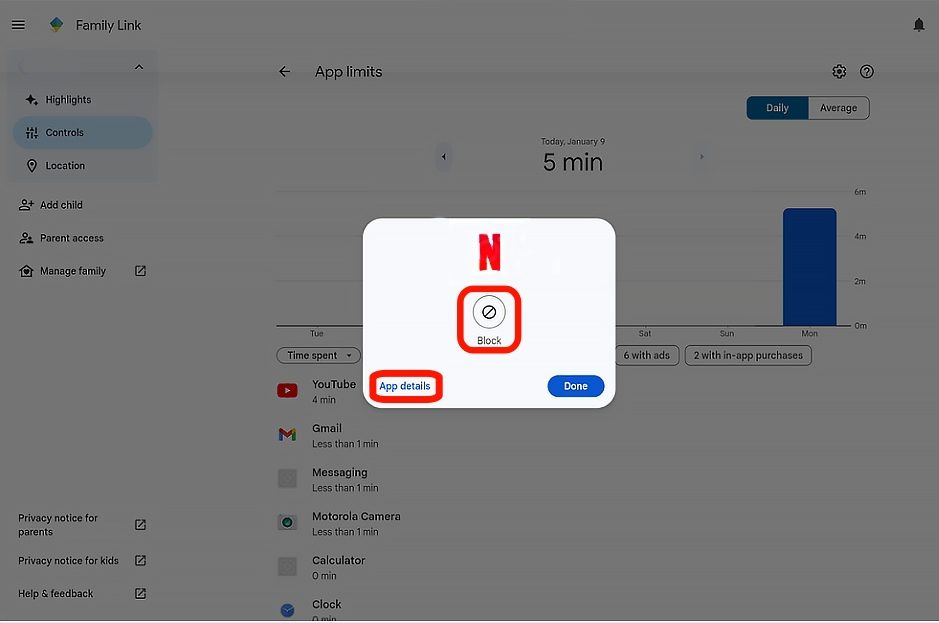 How do you block Netflix in a website browser?
Blocking the Netflix app on the phone is one thing, but what about your Netflix website on your PC? Blocking a website is way more complex than an app. Because even if you block a website on one browser, your kid can install another.
So, when blocking a Netflix website, ensure that you prohibit the installation of other browsers on the PC. And then you can block Netflix from within a certain browser; we will discuss 2-kinds of browsers here:
How to block Netflix on Edge?
How to block Netflix on Chrome?
How to block Netflix on Edge?
Edge is a web browser developed by Microsoft and is always pre-installed in a Windows PC.
Microsoft Edge has fewer users than Chrome. But as it is pre-installed, so restricting Netflix is very necessary on it. Follow the below step-by-step procedure:
1. Open your Edge browser on the PC.
2. Now, open the Microsoft Edge "Add-on Website" page and search for the "Block site" keyword.
3. When the "Block Site" page is open > click on the "Get" option.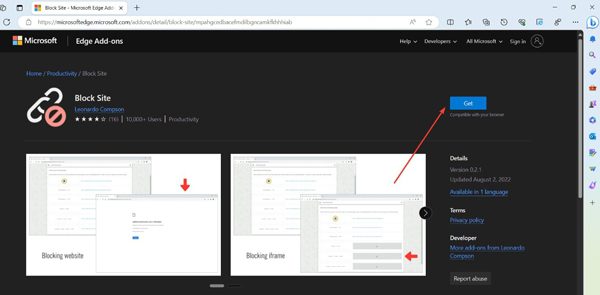 4. Once the add-on is installed, you will be directed to a page where you can enter the URLs of the website you want to block > go to the Netflix page, copy URLs, and enter it there. That's it.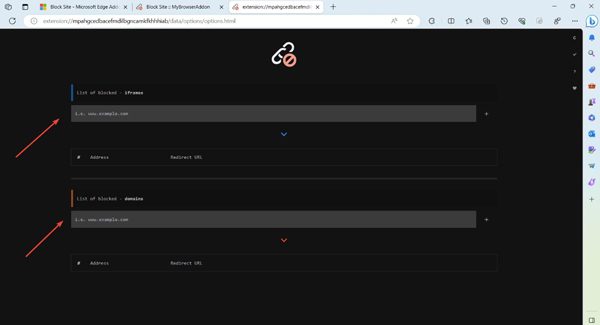 How to block Netflix on Chrome?
"Chrome is a browser developed by Google and is a no.1 web browser for both phones and PCs."
Google Chrome browser doesn't have any built-in feature to block a website. But there are many other ways you can use to block Netflix's website, and one of those is via the "BlockSite" extension.
1. Open your PC's Chrome web browser and go to the "BlockSite" website.
2. On the BlockSite website > click on "Add to Chrome," then a new page will open, and there, choose "Add to Chrome" again > then a Pop-up menu will appear > tap on "Add extension."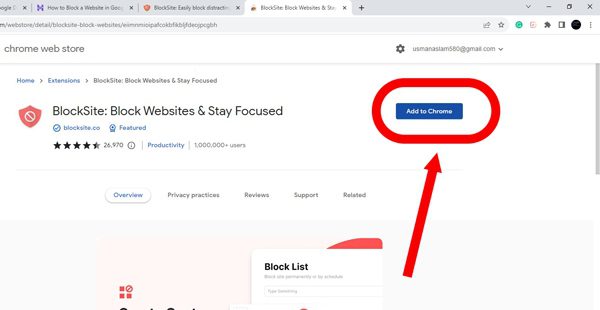 3. Get back to the Chrome search box and open the Netflix website.
4. When on the Netflix website, see at the right, an irregular shape icon will be there, which is named Extensions; click on it.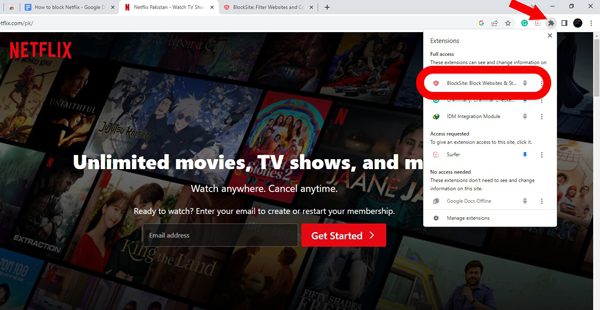 5. Choose the "BlockSite" option from the Extensions drop-down list, and then a new window will appear with an option to "Block Netflix" > choose it. That's it.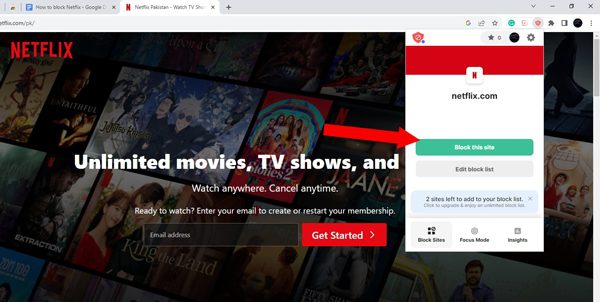 How do you block Netflix on the router?
You know kids always find a way to bypass blocker apps on the phone or PC, like by installing other browsers or opening Netflix via a bypass address. However, to make sure that they don't use Netflix in any way, it is recommended to restrict Netflix directly from your home router, which you can do in the following way:
1. Open any browser from your PC or phone.
2. Go to the URLs search box and enter the IP address of your router (it differs from brand to brand). You can find the IP address at the back of your router or its box.
3. Now, enter the username and password that you have put in during the initial setup.
4. In the router settings, search for the website blocking/parental control feature (its location depends on brand to brand). For example, on a TP-link router, enter its settings page and click on the "Access Control" option from the left side menu.
5. Now, go to the Target option, and then there will be 3-options there, and you have to select:
Mode: URL website
Description: Block website
Add URL Address: Enter "Netflix URL address"/or any other website.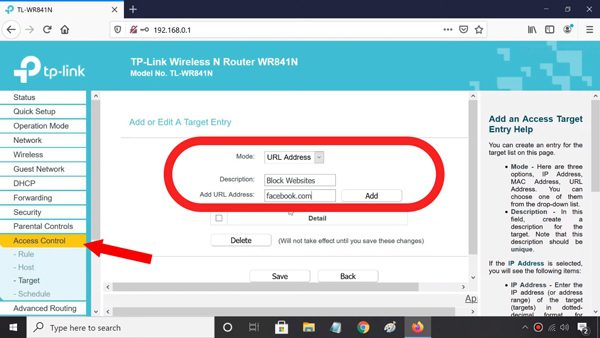 Step no. 6) Click on the Rule menu option under Access control and "enable the Internet access control option" > choose the Allow option line beneath it.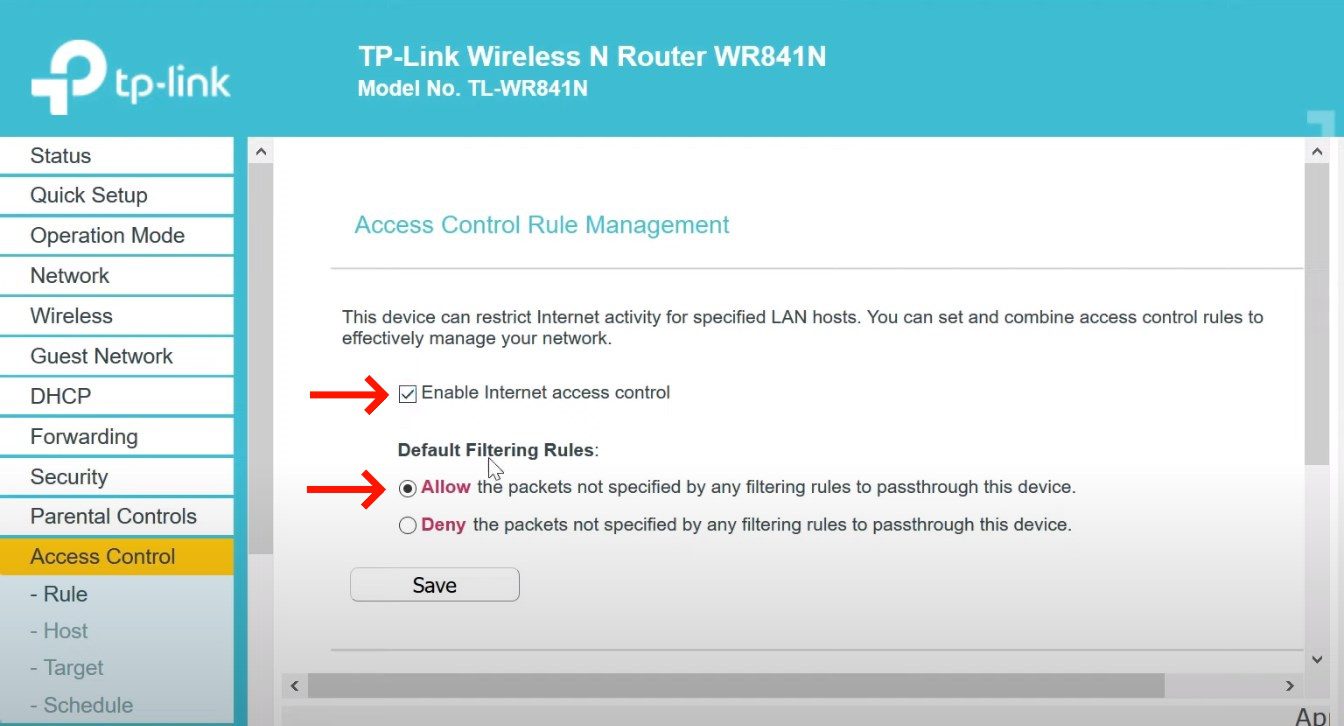 Step no. 7) Then, finally, click on the "Add New" option > in the next menu > write "Block Website" in the description, and then in the Target and Schedule field, select the "Block Website" option. That's it.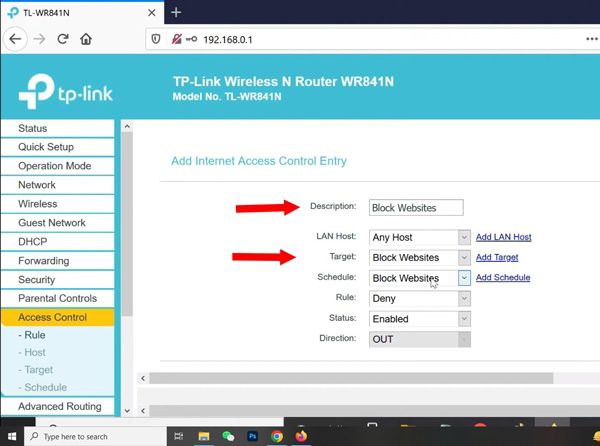 Block Netflix with parental control apps
"As the name suggests, Parental control apps are designed in such a way that they give access to kids' phone apps, location, websites, and everything else from anywhere in the world."
Some routers and mobiles don't have a built-in app or website-blocking feature. So, in that case, you can move on to using Parental Control apps:
FlashGet Parental Control: The best Netflix blocker app
FlashGet Parental Control is a top parental control app that allows you to block/allow new and old apps, including Netflix. One of the best advantages of this software is that you can manage the usage time of Netflix or any other app. In this way, your kids get the right amount of fun and study. Besides that, you can track location, access camera/microphone, and even screen mirror your kid's phone display on your mobile. Moreover, with FlashGet Parental Control, you can filter internet content as well as prohibit a single website.
Other parental control apps
When it comes to Parental control apps, these some apps are at the top of the list:
Net Nanny is the world-leading filtering and blocking app for iOS, Android, Chromebook, Macbook, Windows, and Kindly operating software. You can block any restricted Netflix (app & website) with it easily, or you can set a daily usage limit. Besides that, you can also manage other apps, allow or restrict new app installation, and track the location of your family anytime.
Screen Time is another great website to prohibit Netflix apps and websites from your kid's devices. This app is the art of the "Screen Time Labs" corporation. By using it, you can also limit the daily use time of any app, including Netflix or browsers. This app also has advanced AI filtering, which will automatically filter harmful content. From scrutinize the search results, you can save your kids from the adult world. Using this app, you can also access your kid's phone content, such as Whatsapp, chats, and other apps.
Bark is one of the famous parental control apps focusing on 3-main aspects: (i) Monitoring, (ii) Web-filtering, (iii) Screen-Time. With monitoring, you will get real-time SMS and app notifications from your kid's phone. Besides, with Web filtering, you can restrict or allow websites. Moreover, with the Screen Time feature, you can set limits to the daily usage of apps or even the whole phone. The Bark is also packed with AI background detection software, which will read all chat/text or search in secret and inform you if it caught anything suspicious.
Final words
With so many methods on the table, you are probably confused about which one to choose. Well, you can never be too sure, and it is best to add multiple blocking walls by using a built-in feature and then a parental control app. Plus, the benefit of this app is that you can always see what your kids are searching for or installing. Finally, you can also block Netflix directly from the router, which will ensure that your kids aren't able to access it with any browser. But blocking Netflix on most routers will also block it from all other devices of your family, which is not ideal if you have adult kids. So, stick to built-in features and parental control software like FlashGet Parental control.
FAQs