Bark Parental Control is a popular parental control platform that protects children from accessing explicit content, online predators, and cyberbullying. The platform achieves this by monitoring a wide range of online activities such as the child's text messages, screen time management, email, web filtering, and social media activities. Once the platform detects potentially harmful content, it sends a notification to the parent via a text message or e-mail for push notification. From a technical perspective, the Bark app provides parents with various tools to monitor and manage children's online activity in real time. In this article, we will explore some of the key information that Bark Parental Control offers.
What is Bark Parental Control?
Bark Parental Control is an application software. It enables parents to monitor and manage the digital activity of their children's devices, such as tablets, computers, and smartphones. Bark app uses machine learning algorithms and artificial intelligence to analyze and detect potential issues in social media platforms, and text messages, among other online activities, that may insinuate online predators, cyberbullying, self-harm, or drug usage. As mentioned, that app includes features such as monitoring social media activities, and text messages, setting screen time limits, internet usage, and filtering explicit content. The platform alerts the parents once it detects potentially hurting content, and the parent can immediately access the dashboard to review the severity of the report and take the necessary precautions, such as managing settings.
How to use the Bark Parental Control app?
Step 1: Download and install the Bark app on your device.
Step 2: Sign up and create an account: You need to sign up for a Bark Parental Control account on their official website or directly on the app. You need to provide your email address and password when creating an account.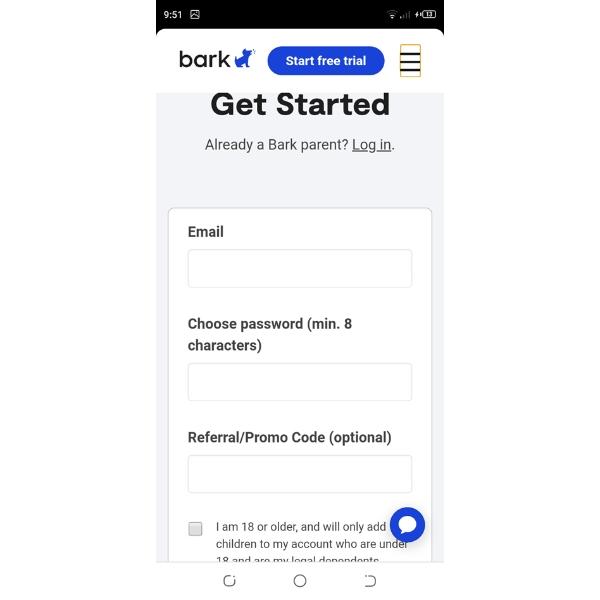 Step 3: Link up your child's device. The next thing after creating an account is connecting your teen's device to the newly created account. You can achieve this by downloading the Bark Parental Control app on the teen's device and logging in using your account details.
Step 4: Customize the settings. Once you finish linking your child's device, you can now proceed and customize the setting according to your needs. For instance, you can set filters to block certain content you don't want your child to access, restrict access to apps or websites, and even set alerts for specific phrases or keywords.
Step 5: Monitor your child's online activity. Bark Parental Control allows you to monitor your child's online activities on their devices. The platform will help flag any potentially concerning content or recurrent behavior, such as suicidal ideation, cyberbullying, or online predators.
Don't fail to respond to alerts. When the app flags various concerning behavior or content, you'll immediately receive an alert. From that point, you can consider taking action to address the issue immediately. You may consider talking to your child, seeking professional help, or even blocking the source of the content.
What can parents see on Bark Parental Control?
The Bark Parental Control app helps monitor a child's online activities and reports the findings to the parent. Parents can then take the necessary actions, such as blocking inappropriate content or cyberbullying. The app is designed to monitor a wide range of social media platforms, emails, messaging apps, and other popular social media platforms and online activities. Below are the various items that parents can see on the Bark Parental Control app:
Social media activity
Bark Parental Control has the ability to monitor social media platforms. Instagram, Facebook, Twitter, Skype, and other social media are what they monitor. Also, it provides parents with timely alerts once the app detects potential signs of self-harm, cyberbullying, and other suspicious online behavior.
Text messages and emails
The app also allows parents to monitor their children's text messages and emails. In doing so, parents can ensure kids are not communicating with online predators or getting exposed to explicit content.
Web browsing history
Parents can see the web browsing history from Bark logs since the app can track and monitor websites that children visit, record the accessed content, and block access to harmful content
YouTube and video streaming
The app can monitor the child's YouTube and other video streaming services to ensure that children are not spending too much time online.
Screen time management
Bark app allows parents to set limits on the amount of time that children can spend on their devices and monitor their usage patterns.
Ideally, Bark Parental Control is one of the most effective and powerful Parental Control tools that help parents keep their children safe online. However, it's important to note that monitoring should be done in a respectful and non-intrusive way.
What benefits can Bark Parental Control offer?
As a powerful and comprehensive parental control tool, Bark Parental Control offers a wide range of solutions that all come with various benefits to parents and guardians. Some of these benefits include but are not limited to the following:
Pros
Comprehensive monitoring. Bark can monitor a wide range of digital activities such as text messages, emails, and social media, among other online activities.
Advanced alert system. Bark includes an advanced alert system that sends signals to parents in case of potential problems probably facing the child.
User-friendly interface. Generally, the Bark app is straightforward and easy to use. The user-friendly interface allows you to easily manage your child's device and app usage.
Cross-platform compatibility. The app is designed to work across multiple devices and platforms, such as Windows, Android, iOS, and macOS devices.
AI-based monitoring. Bark uses artificial intelligence and machine algorithms to analyze content and flag potential issues.
The app monitors a wide range of online activities, giving parents a comprehensive view of their children's online behavior.
The app offers parents timely and actionable insights as well as tips on how to advise on how to address concerning content and conversations.
Bark's customer support is available 24/7 and helpful to any of your needs.
Cons
Limited Free Version, which is limited and does not support most features offered in a paid version.
Monthly Subscription Fees can prove to be expensive for some families
Some parents claim that the app reports false positives. Where the app flags harmless content as concerning, resulting in unnecessary stress and anxiety.
The app's monitoring is invasive since some children may feel uncomfortable, especially knowing that their parents are constantly monitoring whatever they are watching online.
Compatibility issues as some users have reported that the app is not compatible with certain apps or devices.
Bark Parental Control vs. FlashGet Parental Control
Both Bark Parental Control and FlashGet Parental Control are effective parental control platforms that can help you in monitoring and manage your children's online activities. However, the two apps have a number of differences, as shown in the table below.
Description
Bark Parental Control
FlashGet Parental Control
App Features
The app is designed mainly to monitor and alert parents in case of potentially concerning online activities including cyberbullying, sexting, and online predators. Besides, the app also helps in filtering suspicious apps and websites and also time management.
Besides offering similar features, 
FlashGet Parental Control also includes device management tools such as remote control and data. backup. Besides, the app could help you in blocking inappropriate apps and notify you when your kids are in danger.
Compatibility
Bark Parental Control works on both  iOS, Android, and Amazon devices.
FlashGet Parental Control works  on iPhone and Android devices.
Ease of Use
The app is user-friendly and easy to set up.
The platform is user-friendly and easy to set up but many users find FlashGet's interface more intuitive and straightforward.
Pricing
Bark Parental Control includes monthly or annual subscription fee, with a discount for annual plans.
FlashGet Parental Control comes with a free trial period, after which you can purchase a monthly or annual subscription.
Objective
Focuses on trust and privacy over spying.
Besides focusing your child privacy and trust, the app has advanced features such as panic button, live monitroing, app blocker, and more.
Bark and FlashGet Parental Control are two parental control apps that have some outstanding features. However, from the table, FlashGet could stand the test of time, particularly, due to its live monitoring features. Such advanced capacities help you to easily manage your child's online activities. How much time they spend online, and view your child's location in real-time are all their merits. FlashGet Parental Control App is particularly designed to stay connected with your child and alert you in case of actual and potential concerting online danger. The App won't raise false alarms when there's no potential danger that would otherwise become a nuisance.
Is Bark Parental Control worth the price?
The app offers international-standard parental control features. It has excellent customer service, and easy-to-use and offers an unlimited number of multiple connections. Bark can monitor photos, texts, videos, and over 30 social media sites and apps. Besides, Bark includes an app and web filtering, location tracking, screen time management, and activity reports making the app a very effective parental control app.
As to the subscription, Bark has a pricing plan. Paying $14 per month fully enjoys their app features. Compared with FlashGet Parental Control, you can enjoy the premium version for only $2.49 per month. Therefore Bark Parental Control may be expensive in some ways.
Trust and privacy of the child over spying are what Bark looks for. And many of the app features are now very functional compared to those offered by its competitors. FlashGet Parental Control is one that respects your privacy and tries to build trust with parents who are using it. This is where we take root.
In summary, Bark seems to have a competitive pricing plan, and its philosophy may be right. But if you compare it to FlashGet Parental Control, it's inevitable that FlashGet Parental Control far outweighs Bark Parental Control.
Closing thoughts
Bark is a great app, and many users praised it in 2023 for its effective and reliable features that help parents monitor and manage their teens' online activities. The app uses machine learning technology and advanced algorithms to detect potential risks and alert you in case the child is in contact with inappropriate content or behavior online. However, the app has its own demerits, and that's why many parents prefer to use FlashGet Parental Control since it is a relatively affordable option yet offers advanced parental control features. An excellent parental control app should enable you to block inappropriate websites and apps, screen time control, and location tracking. Such an app is ideal. If you're looking for a simple yet easy-to-use solution for monitoring and managing your children's activities, it will be your safety purpose.