This piece will help you identify what available Epic Games are as well as how you can set up the Epic Games parental controls to ensure your kids has a safe online presence.
As we know, Epic Games is an incredible space for games looking for fun and excitement. It releases great games every year, which makes kids even love it more. However, spending too much time playing games can negatively affect kids. So Epics Games decided to create the Epic Games Parental Control app that you, as a parent, can use to regulate your kids' access. So without further ado, let's jump into how to set up epic games' parental controls.
What popular games does Epic Games Inc. have?
Epic Games have amazing games that not many kids and young adults can resist. While there's a growing concern from parents about the constant usage of these games, there's no doubt that it's an exciting space that most kids would want to be part of. Here are some of the most popular games on Epic.
Fortnite
Fortnite, a battle royale game that has swept across the globe, is considered one of the most popular games in the world. Players are dropped onto a mysterious island and engage in a thrilling battle to emerge as the last person standing. Players can construct various structures throughout the game to protect themselves from adversaries and gather resources and weapons.
Rocket League is an interesting game that can be found in Epic Games that incorporates both supersonic cars and soccer boosting its fast pace encounter. It provides gamers with an exclusive option of playing around with their cars through competitors and obstacle arenas with the sole hope of emerging victorious. It's an intense game that will keep the screen glued for hours. Moreover, its amazing challenges elevate the game to the next level.
Grand Theft Auto V is a real-world game available on Epic Games that delves into the dark and dangerous world of Los Santos, where players follow the lives of three unique characters. With a wide range of missions to complete and the opportunity to engage in high-stakes heists, players can explore the vast city on foot or behind the wheel of an array of vehicles.
Fifa 23 is another incredible game you can access on Epic Games that's exciting and entertaining. Its numerous challenges, such as the Champions League, World Cup, and modified tournaments, can make kids spend an entire day on the screen. Moreover, this game allows users to start a career mode where they can play as the manager controlling a team or begin a player career mode to track their development based on the goals they score, assists, blocks, and saves they make.
The effects of Epic Games on kids
Even though games offered by Epic Games can be enticing for the younger generation, there are negative and positive takeaways. This means that restraining your kids from playing it completely wouldn't be that impactful, as there are real-life lessons and positive takeaways they can have from interacting with Epic Games.
Positive effects of gaming
1. Socializing
While gaming might have its challenges, one certain thing is that it improves the socializing skills of introverted kids. It allows young gamers to interact with other gamers while enjoying the game's features. This can also help them develop a team player mentality through multiplayer sections where they play with friends and strangers. Moreover, it can also be a handy tool for extroverted kids to develop their speaking and reasoning skills from other people's perspectives worldwide.
Through engaging in Epic Games, a child's cognitive faculties, namely attention, memory, and problem-solving skills, may undergo improvement. Such games necessitate rapid decision-making and quick thinking, amplifying the child's logical and creative capacity. This is quite a helpful aspect as, over time, kids will interact with other gamers and other people in their daily lives, so having cognitive skills will come in handy.
We all feel down sometimes or face numerous challenges in life that might lead to stress, anxiety or worse, depression. Playing exciting games offered by Epic Games gives kids a second chance to smile and live a positive life to help calm their stress levels. This means that gaming significantly impacts kids who need a couple of hours to unwind from their constant challenges and be lively again.
Negative Effects of Gaming
1. Bad Grades
Even though gaming can be a way to unwind and reset yourself from life challenges, it can be a detrimental cause of poor school grades when overused. Playing games will lead to laziness, pending homework, and a lack of concentration in class. It might start with a few subjects or units, but with time, it will generally lead to poor academic performance.
Some games largely promote violence, and kids playing these games only make them pick up on these habits and try to transfer them to the real world. This is a dangerous risk as no one wants to have a violent kid who is not in control of his emotions and thoughts. Additionally, you dont want to be called to school that your kid violently assaulted another kid over an argument or a disagreement.
Games such as Fifa 23 can lead to gaming addiction, automatically negatively affecting your kids. This means they'll be glued to the screen, especially when you're out for work, and they're home alone. Addiction will also mean neglecting duties and responsibilities and sidelining their academic performance and homework.
You can see that there are positives to playing Epic Games; however, the negatives outweigh the positives. Negatives like poor academic performance cannot be compared to the positives outlined, so you must set up epic parental control. In the next section, you'll learn the proven ways to have parental control in place to protect your kids.
How to set up Epic Games parental controls?
If your kid is constantly on their console, it's time to set up epic game store parental control. A parental control app will help you regulate the amount of time they're on their game and block other features that you find destructive.
Features of the Epic Games store parental control
Social Permissions – The Epic Games parental controls have social permissions feature to help you manage your child's social interactions online. This setting demands that you put in a PIN request for your kid to send or accept friend requests when playing Epic Games.
Purchasing permissions – This feature helps to prevent unauthorized payment when using the Epic Games account. It forces the user to use a PIN when buying games from the Epic Games Store.
Content and Access Permissions – These two permissions enable you to determine the new games your kid can access based on their ratings. Some games contain mature language which may interfere with your kid's mental health.
Playtime Reporting – This feature tracks and provides a report on the amount of time your kid spends playing Epic Games.
Setting up Epic Games parental control app
Now that you know some of the features of Epic Games Store parental control, here's how you can set it up:
1. The first step is to head over to account settings and launch it.
2. Next, you need to login in or sign in to your account.
3. Now, move to the parental control tab to proceed.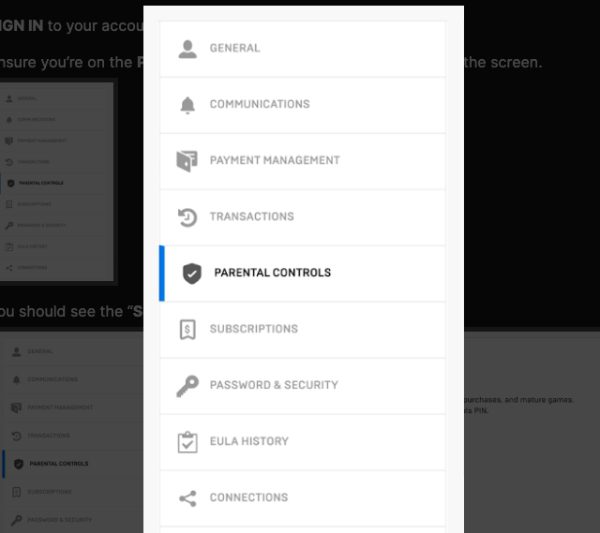 4. You'll come across the password section for parental control and enter the pin. From there, you'll have management options.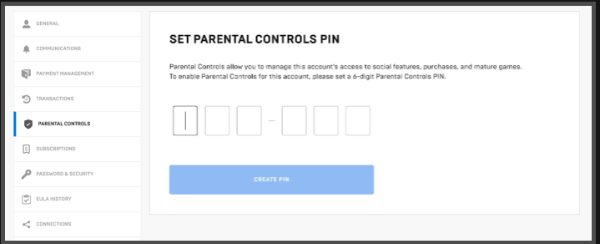 5. Now, you can place your parental restrictions. You'll have the chance to filter the language, have a tracking report, authoritarian of certain games, and much more.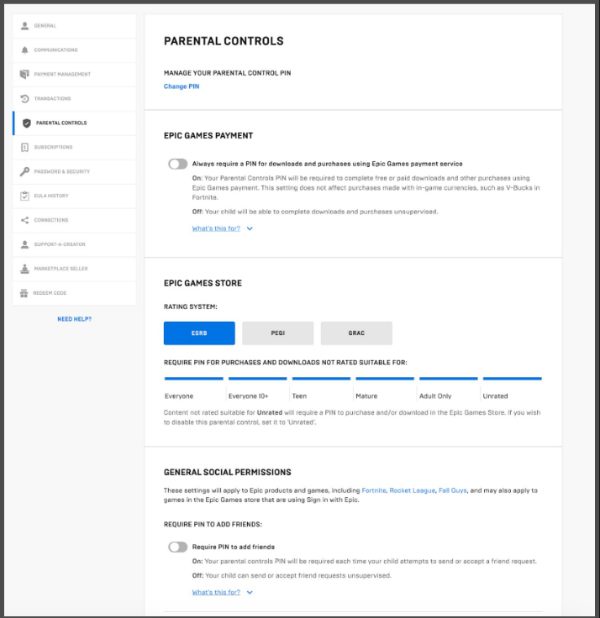 How to turn off Epic Games Store parental controls?
Now that you already know how to set up epic parental control, it's time to have a clear grasp on how to turn it off. Turning it off might come later when you believe your kids have improved. It will be when you believe they have become responsible and can manage and regulate their playing time and who they play with. Let's have a look at how you can turn it off:
1. Launch the Epic Game Store.
2. Move to the username and launch the account.
3. Move to the PARENTAL CONTROLS displayed on the menu.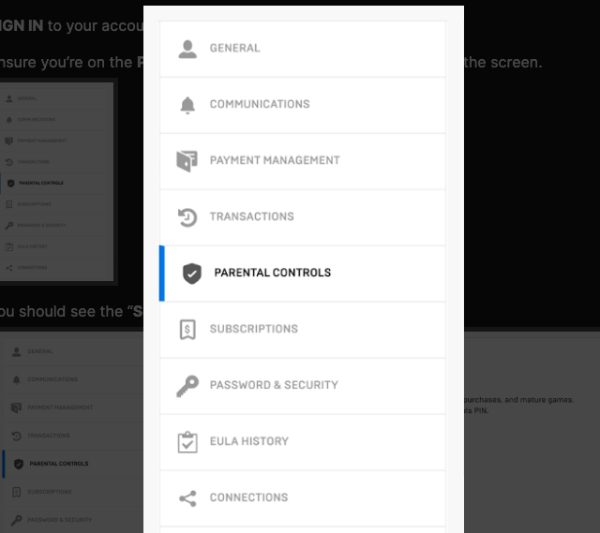 4. You'll be required to insert your pin used previously on the account.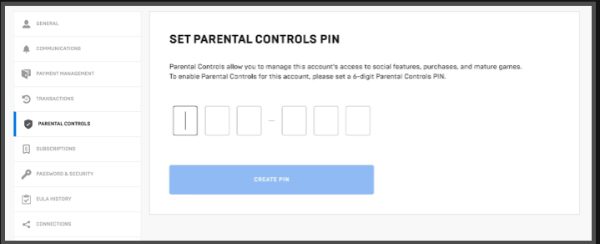 5. Now manage the controls you had initially set to deactivate them and reset them.
Use FlashGet Parental Control to explore more for your kid's safety
FlashGet Parental Control is a feature-rich program designed for parents and households. The program enables caregivers to remotely watch and regulate their children's online presence on their devices or consoles. The extent of remote access is separated into numerous aspects to improve children's safety while keeping everything under their control.
If you're wondering how to setup FlashGet Parental Control, then here are steps to help you out:
1. The first step is to download the FlashGet Parental Control app from their website, the Google Play store, or the App Store.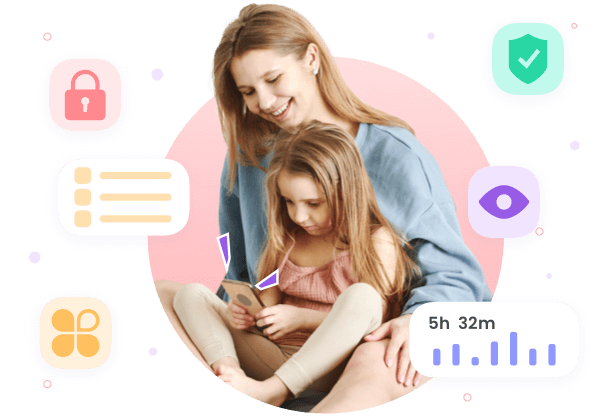 2. Launch it by moving to the signup section and establishing an account. Alternatively, you can sign in or log in with an existing account.
3. Once you're in, you can use the authentication code.
4. After inserting the code, you can tweak the setting and set up parental restrictions such as time limit, app blocking, etc.
5. Now you can monitor your kid's online and gaming presence for their well-being.
Main features of FlashGet Parental Control
Now that you know how to use FlashGet Parental Control, it's only right that you also learn some of the key features that make it popular:
1. Time Limit
Simply regulate your kid's phone schedule without having to get into a long argument with them or follow them up and down. You may configure daily screen frequency and app limitations and even deactivate all applications instantaneously. This will help restore discipline to your kid and ensure they become responsible humans.
Parents may examine the real-time position of their kid's gadget using a map or navigate to the Routing Records to observe the device's past location changes. You may use Geofencing to establish a region and receive notifications your kid's device enters or exits it.
The remote monitor feature enables parents to access videos and images their kids have been using at any given time. You also get to hear the audio acquired from your kid's phones, giving you absolute control over all their activities.
As your kid's smartphone gets app text alerts, you'll receive information about whether your youngsters use improper applications. This is an incredible feature that all parents should take advantage of to ensure they monitor their kids effectively.
By using FlashGet Parental Control, you'll receive conclusive on your kid's daily activities on their devices. It also gives you a weekly feature which helps monitor the frequency of how your kid uses certain apps or plays certain games and how much time they allocate to it.
Why should parents consider using FlashGet Parental Control?
FlashGet Parental Control is a useful feature that all parents should take advantage of and manage their kids. The best part is that it's compatible with numerous devices, which provides many monitoring options. Here are some of its major benefits:
Helps parents receive a daily and weekly report of their kid's online presence.
Parents can track their kid's live location and know the places they visited.
Enables parents to monitor their kid's online activities remotely.
Helps parents filter certain sites or games that might be detrimental to kids' growth and development.
Help parents implement time limits on how long their kids should spend online.
Parents can receive notifications on their kid's gaming or online activities.
FAQs