Epic Games is a well-known video game publisher, best known for their Fortnite, Gears of War, and Unreal Tournament series. In addition, Epic Games is responsible for the development of the Unreal Engine, a powerful and widely used game development engine. Not long after the Epic Store came up, parental controls for Epic Games were launched as a countermeasure to prevent kids from developing online addictions. So, kids need Epic Games parental permission to play on Epic. Meanwhile, Epic rolls out a package of games suitable for kids.
In this blog, we will explore Epic Games parental controls and how to get better at online parenting together.
Parental controls for Epic Games launching for kids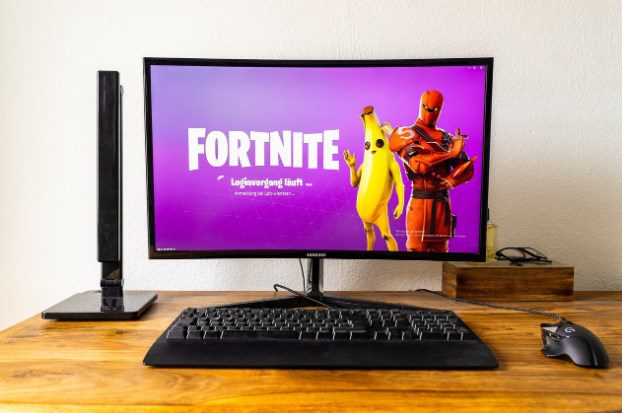 Why does Epic attract so many young players? The games sold on the Epic Games Store include not only Epic Games' own titles, but also the Epic Games Store sells not only Epic Games' own games but also games from other developers. Moreover, the Epic Games Store often provides free games, which attracts a large number of low-budget players.
In the era of the Internet, games have become an important form of entertainment for many children and teenagers, but at the same time, games also face some potential risks and challenges. Except for game addiction, children might face online trolls, cyberbullying, and Internet fraud because there are adult players online. Some games are designed for adults with explicit and shady content, blood, and gore.
For so many reasons, Epic Games launched parental controls to protect the interests and safety of young users. In the next sector, we will explore what this system has.
Parental controls for Epic Games: Multi-direction restrictions
Epic has been constantly improving the gaming experience and creating a convenient and effective platform for players who love gaming to enjoy. I'm extremely happy with the quality of the games and experiences and the great service provided. From games like Call of Duty and Fortnite to Cyberpunk 2077, nothing has been less than incredibly exciting for me.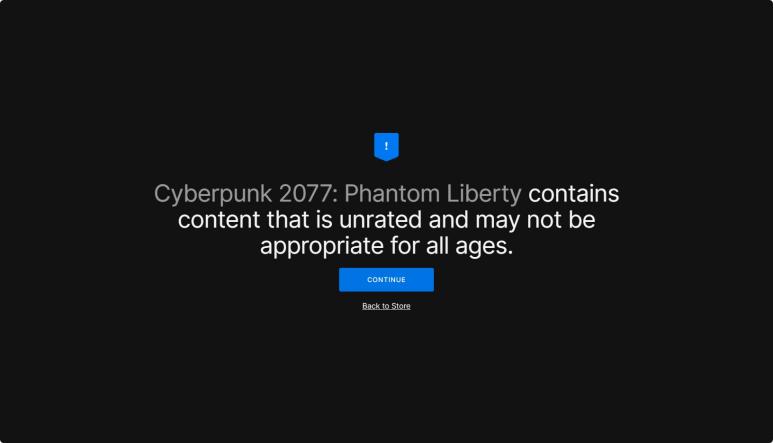 When you open a game and a pop-up alert is sent to you, you'd better read it before adding it to your library because it may not be suitable for your child to play. Like Cyberpuck 2077, its age rating is "unrated", which means it's not suitable for teens.
How do I turn on or off Epic Games parental control? You can read our guide and follow the steps.
Epic Games' Parental Controls provide parents with a range of tools and options to monitor and manage their children's in-game activities. Some of the key features are described below:
Parental controls for Epic Game Store and purchasing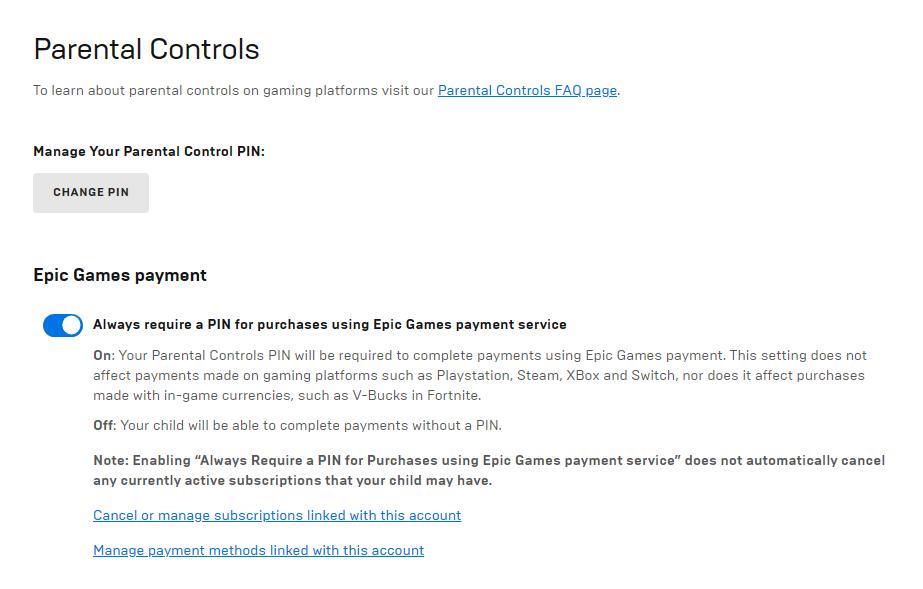 First, you need to create a six-digit PIN. We advise you to turn on the requirement for Epic Games payment. As soon as you open this feature, if your child wants to make a purchase, you can choose to allow or reject it.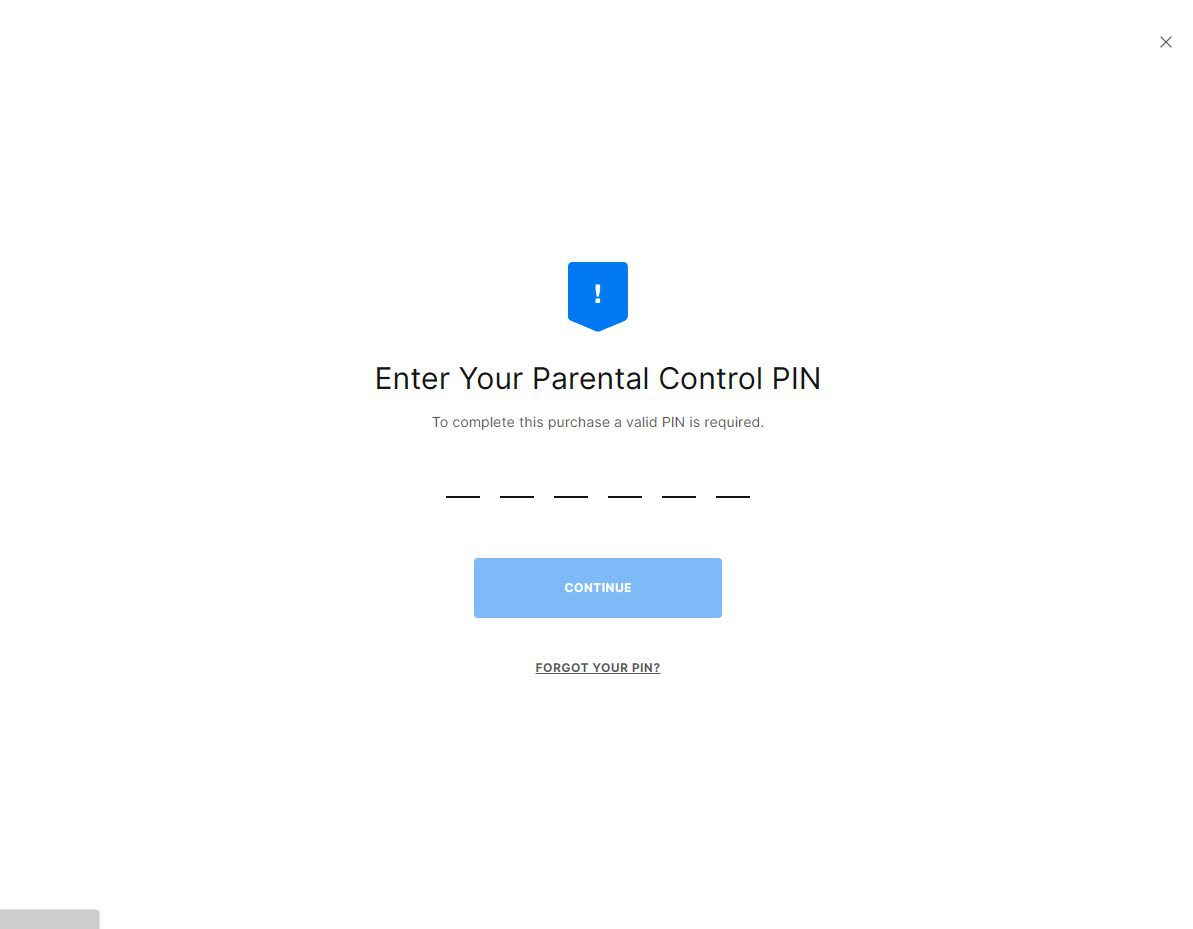 This is a highly recommended feature for parents worried about their children's game consumption.
Parental controls for the Rating System
Currently, Epic Games parental controls support three categories of age rating: ESRB, PEGI, and GRAC.
Epic Games is so incredible that the rating system almost includes every age rating of kids in different regions. For the most part, parents can adjust the age rating for their kids.
But the three categories are not independent. When you slide to "Mature" in ESRB, the age rating will slide to "PEGI 16" in PEGI and "GRAC 15+" in GRAC automatically.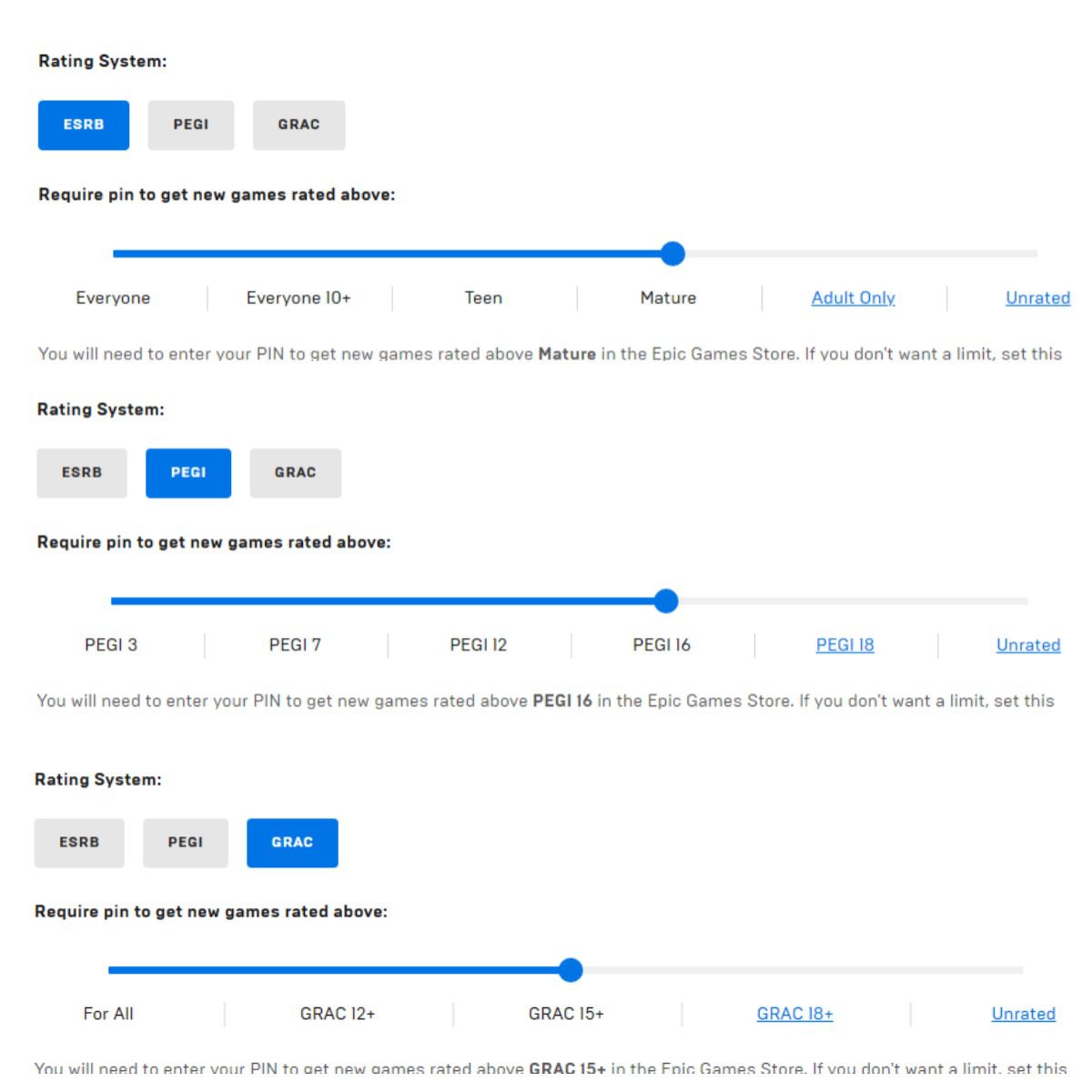 Parental controls for adding friends

When you open this feature, when your child wants to add a friend in Epic Games, your PIN is required, or the invitation will be canceled. If you don't want your child to add unknown players, make sure to enable this feature. Additionally, it can be an edge tool to protect your child from online trolls, fraudsters, and phishers.
Parental controls for the voice and text chat
If your children have several good friends to play with, we suggest you turn on "Friends Only" instead of "Nobody". Some players may type and say some abusive words in the game. Our children can easily fall victim to those in bad moods. If you want a pure environment for your child, just turn on "Nobody".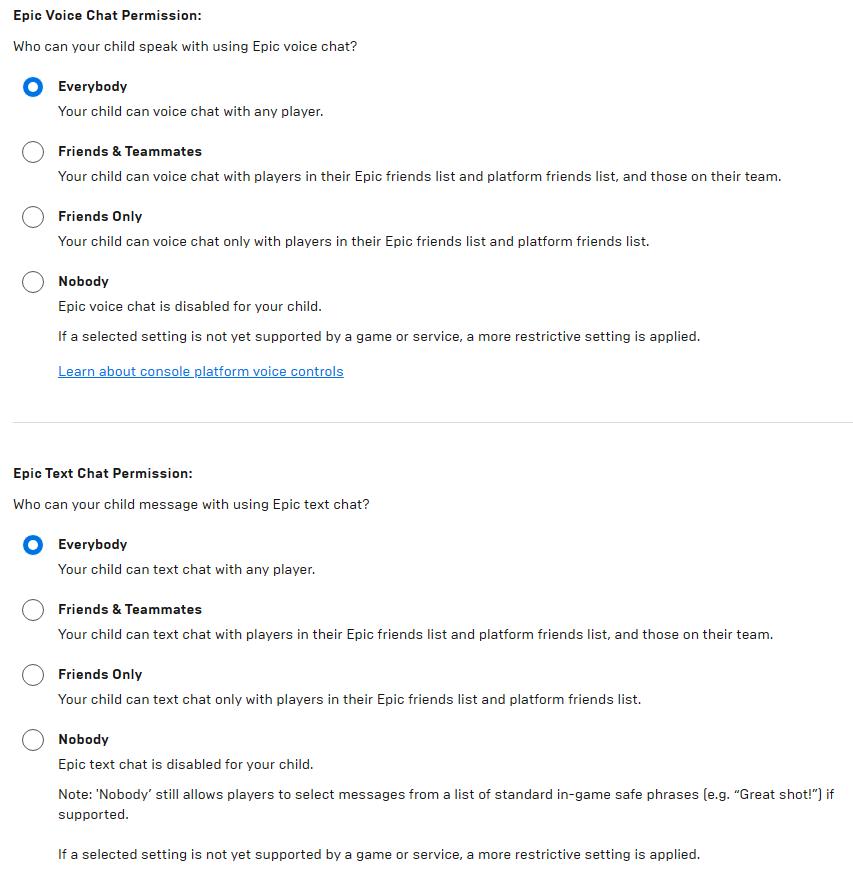 Additional permissions
If you don't want your children to imitate some indecent language and strong words, you can turn on "Filter out mature language in Epic text chat".
As for the Playtime Tracking Report, if you child binge on Fortnite, you'd better open the blew button to receive weekly reports from Epic. Every Tuesday, Epic will send you an email letting you know how many hours your child is spending on Fortnite. If you find your child devoting too much time on online games, you should make a more reasonable schedule for your child to get rid of game addiction.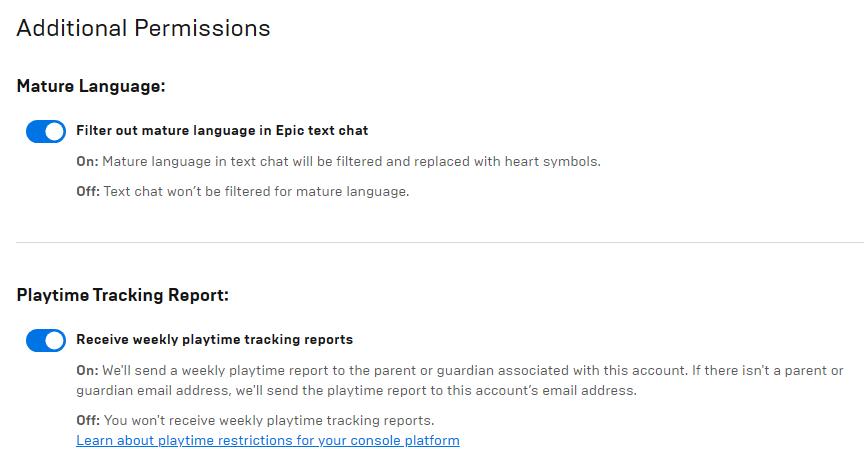 Pros
PIN required for Epic Games payment
Limitations on adding friends
All-in-one age rating system
Restrictions on voice and text chat
Content filtering in mature language
Weekly game time report
Cons
No time limits
No parental controls in offline mode
The age rating categories can't be adjusted independently
No parental control over games on relative platforms like EA and Uplay
Parental controls for Epic Games: Expect to see more protection
Overall, Epic Games' parental controls provide some convenience in helping parents manage their children's gaming activities, but there are some potential flaws and limitations. Parents should understand these flaws and rely on comprehensive family education, communication, and supervision to ensure that their children have a safe and healthy experience with the games.
Epic Games should grant parents more controls
Currently, the Epic platform does not roll out the time restriction function in parental control. As far as game addiction is concerned, in future upgrades, I hope Epic can offer time restriction features that allow parents to block games on school days. Time limits can prevent kids from staying up late and causing sleeping problems.
Epic has a holistic rating system but there is a fly in the ointment. Parents can not set respective rating degrees. Sometimes, a game's age rating is different in different rating system. This could cause confusion if parental unintentionally adjust age rating.
Wanted: Controls on offline mode and cross-platform content
Epic does not only sell games of its own but also games from other platforms like Rockstar, CD Projekt Red. When you start cross-platform games, you need to install another platform. Cross-platform games are not under the complete control of Epic. So, some craftier kids may find a way to bypass Epic Games parental control. Besides, offline mode is not under parental control, which means if the child switches from online mode to offline mode, he may find the circumvent under Epic Games parental control. So, I suggest that Epic launch offline parental control or invest in third-party parental controls.
In the voice and text chat, some photos, videos, and links may contain inappropriate content for kids. Also, it's arduous work for Epic developers to judge all content. So, mature language filtering is not foolproof. In the future, I hope Epic can invest in AI-powered filtering and deal with this problem in a more feasible and convenient way.
Flashget Parental Control as supplementary tools
As for supplementary tools for Epic Games parental control, you can invest in parental control apps on your cell phones. Most parental control apps like Bark, Circle, and MMGuardian have their own features, including screen time, Internet pause, app blocker and usage report, content filtering, etc. One of the renowned parental control apps is FlashGet Parental Control for its stability, multifunction, and cross-device operation.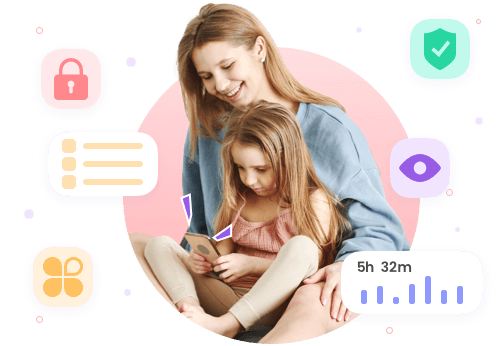 Screen Time
FlashGet Parental Control can set screen time on kids' devices. Parents can customize the limits. In this way, the children will not be able to use their cell phones during dinner, school days, or outdoor activities.
App Blocker
FlashGet Parental Control offers a list of installed apps on kids' devices. Besides, parents can whitelist or blacklist some apps in light of family time. For example, parents can block mobile games, social media apps, or apps not suitable for kids.
Alerts and Notifications
If kids are attempting to open a blocked app, the alert will be sent to parents' devices automatically. Parents can receive notifications from the kids' devices' push service and see what the kids are watching.
Except for these features, FlashGet Parental Control provides other robust parental controls, including location tracking, Geofence, and screen mirroring.
Apart from parental controls for Epic Games: Enjoy play with your children
At the beginning of the blog, I mentioned that there are plenty of family-friendly and multi-player games. If you want your children to blow off the superfluous energy and have fun at the same time, why not find a game to play together as family time? Both parents and children can relax themselves and promote understanding. Isn't it a good way to communicate?
Please note that when purchasing and playing a game, its age rating and content description should be read carefully to ensure that it is appropriate for your child. All games should be used under the supervision of a guardian.
Epic Games recommended for parents and kids
Untitled Goose Game: This is a game about a naughty goose who spends his days relaxing in a small village, with a fun and imaginative plot for parents and children to explore and solve puzzles together.
Slime Rancher: This is an adventure game in which the player takes on the role of a Slime Rancher on a remote planet, capturing and raising a variety of Slimes. The game involves elements of exploration, strategy, and management, making it a good choice for developing children's thinking skills.
Journey to the Savage Planet: This is a colorful and imaginative exploration adventure game. In the game, players will take on the role of a space explorer who is tasked with studying a new planet that doesn't look so friendly. The game has a colorful design that attracts the attention of many children and parents.
Rocket League: This is a car soccer game where parents and children can compete at the same time and is a great way to promote emotions.
All of these games offer the opportunity to teach and have fun with their unique drawing style, colorful game scenes, and interesting game play, and are definitely suitable entertainment for parents and children to share. Of course, we must admit there are many other wonder games for family time.
Final words
Truth be told, without the Epic Games platform, kids may not have been able to access so many great games and enjoy such a service. Epic has introduced kids to new cultures, broadened their horizons, and enriched their lives.
Epic Games have accompanied us for a long time, and I can still remember laughing together with our friends and teammates. I would like to express my deep appreciation for the services and platforms Epic has provided.
Once again, I would like to express my sincere gratitude to all of the Epic Games parental control team members, including developers, designers, technical support, and all those who aspire to provide the best parental controls. I look forward to new upgrades in the future and a more fantastic gaming experience.
FAQs about parental controls for Epic Games