In the ever-evolving digital landscape, ensuring the safety and well-being of our children online has become a paramount concern for parents. This is where the Norton parental controls come into play. It offers concerned parents a way to monitor and manage their children's online activities.
In this detailed guide, we will dive into the realm of Norton Family, examining its features and capabilities. Most crucially, We will address the pivotal question: Is Norton Family genuinely safe and reliable in shaping a secure online environment for your children?
Join us as we embark on a journey to uncover the truth about Norton Family's effectiveness and its commitment to online safety.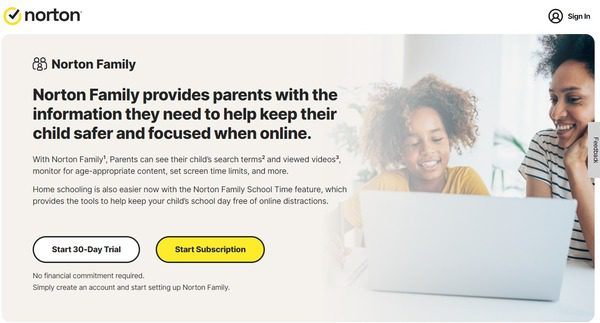 Key features of Norton parental controls
Norton Parental Controls provides a robust suite of features designed to empower parents in managing their children's online activities. Here's a closer look at some of its key features:
Time Management: Parents can set screen time limits, helping children strike a healthy balance between online and offline activities.
Web Filtering: Norton allows parents to block inappropriate websites and content, ensuring a safer browsing experience for children.
Search Monitoring: Norton Family monitors and reports on your child's online search queries, offering insights into their interests and potential risks.
App Supervision: Keep tabs on the apps your child downloads and uses, with the ability to block or allow specific applications.
Location Tracking: Norton Family provides location tracking features, helping parents ensure their child's safety when they're out and about.
Social Media Monitoring: Although more limited compared to some specialized solutions, Norton Family offers basic social media activity monitoring, alerting parents to potential issues.
Email Alerts: Receive email notifications about suspicious online activity or breaches of preset rules, allowing for prompt intervention.
Instant Lock: In case of emergencies or the need for immediate attention, parents can remotely lock a child's device.
Weekly and Monthly Reports: Detailed reports are generated to provide insights into your child's online habits, making it easier to identify and address any concerns.
Compatibility: Norton Parental Controls are compatible with Windows, Android, and iOS devices, allowing parents to extend their protection across various platforms.
These features collectively form a powerful toolkit for parents to help create a safer online environment for their children, fostering responsible digital citizenship while addressing potential risks and dangers.
Can Norton Family see text messages?
One of the common concerns parents have when using Norton Family parental controls is whether it can monitor text messages on their child's mobile devices. To address this question comprehensively, we'll examine the key features, pros and cons, compatibility, and pricing of Norton Family subscription.
We will have a particular focus on its capability to monitor text messages and the performance of Norton parental control iOS, Android, and Windows.
✔️ Pros
Good control features: It provides many parental control features, as we discussed above.
Ease of use: Using Norton Family Controls doesn't require you to be tech-savvy. You can set it up in a few clicks.
Unlimited devices: You can attach unlimited devices to have better access to monitoring features.
Free trial provided: You don't need to pay anything in advance to check its performance.
❌ Cons
Limited social media monitoring: Norton Family provides basic social media monitoring and may not capture all social media activities.
Limited text message monitoring: Norton Family does not have the capability to monitor text messages on mobile devices, including SMS and messaging apps.
Limited compatibility: It doesn't have universal compatibility. It is not compatible with Mac, Huawei, Chromebook, and Amazon devices (Kindle/Fire.)
Browser restrictions: You may encounter multiple restrictions on web browsers. For example, Edge and Metro browsers are not supported.
Weak protection: This app uses extensions for protection. Children may disable browser extensions easily.
Compatibility
Norton Family is compatible with Windows, Android, and iOS devices. However, its feature set may vary slightly across different platforms, and as mentioned earlier, text message monitoring is not supported.
Pricing
The pricing of Norton Family may vary depending on the number of devices you wish to protect and the duration of your subscription. The current subscription costs $49.99 per year with a free trial of 30 days.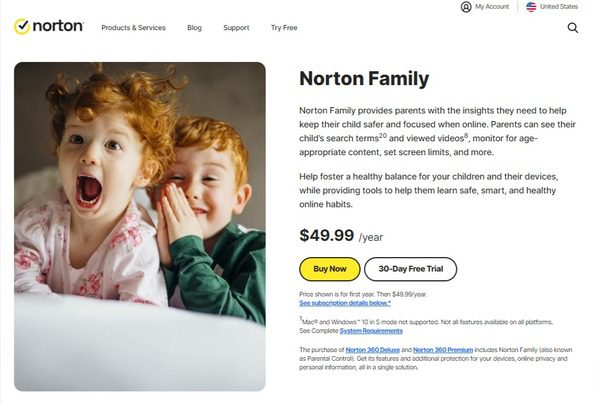 Is Norton parental control safe?
Norton Parental Control is a tool designed to enhance online safety for children, But it's natural for parents to wonder if it is a safe and reliable solution.
Let's discuss the safety aspects of Norton Parental Control below:
Norton places a strong emphasis on the security and privacy of its users. Norton Parental Control operates with the following security measures:
Secure data encryption: Norton uses robust encryption methods to protect the data transmitted between your child's device and the parental control dashboard, ensuring that sensitive information remains private.
Account security: Norton Family requires you to create an account with a secure password, preventing unauthorized access to parental controls.
Regular updates: Norton keeps its software up to date to patch any potential vulnerabilities and enhance security.
Parental monitoring: Parents are granted access to their child's online activity, allowing them to identify and address any security concerns promptly.
Effectiveness in online safety: Norton Parental Control offers various features designed to keep children safe online, including web filtering, app supervision, and screen time management. However, its effectiveness depends on how well parents configure and use these features.
Can kids get around Norton Family?
It's important to note that while kids may try to bypass Norton Family parental controls or similar monitoring software, these tools are designed to make it challenging for them to do so. However, tech-savvy children might still attempt various methods.
Here are some ways kids might try to get around Norton Family, along with steps to counter these efforts:
Uninstalling or disabling Norton Family: Set up a PIN or password for Norton Family settings to prevent unauthorized changes. Regularly check the list of installed apps on your child's device to ensure Norton Family remains active.
Using alternative devices: Extend Norton Family controls to all devices your child uses, including smartphones, tablets, and computers. Monitor the list of devices connected to your Norton Family account.
Utilizing proxy servers or VPNs: Norton Family allows you to block known proxy and VPN websites. Educate your child about the importance of responsible internet use and the potential consequences of bypassing parental controls.
Resetting router or network settings: Protect your router settings with a strong password. Keep the router in a common area of the house where you can monitor its physical access.
Accessing guest Wi-Fi networks: Ensure that your child is not connecting to unsecured guest Wi-Fi networks that may bypass Norton Family controls. Discuss the importance of using your home network for internet access.
Accessing offline content: Norton Family primarily monitors online activity. To address offline content access, consider discussing responsible media consumption and the types of content your child can access.
Browser privacy settings: Keep browsers updated and use browser extensions or settings to block inappropriate content. Set up browser profiles with restricted settings.
Open communication: Foster open and honest communication with your child about online safety. Educate them about responsible internet use and the potential risks involved.
Differences Between Norton 360 and Norton Family
Norton 360 and Norton Family serve distinct purposes in the realm of cybersecurity and online safety.
Norton 360 is a comprehensive security suite offering antivirus protection, web filtering, and other cybersecurity features. It provides all-around protection for your devices and data but does not include the advanced parental control features found in Norton Family, such as screen time management and location tracking.
On the other hand, Norton Family is dedicated parental control software focused on helping parents monitor and manage their children's online activities. It includes features like web filtering, app supervision, screen time management, and location tracking, making it an excellent choice for parents concerned about their child's online safety.
Alternatives to Norton 360 and Norton Family with comparison
There are other apps for parental controls, like Qustodio and FlashGet Parental Control.
To give you a clear idea of the differences and similarities, below is a comparison table outlining the key differences between these apps:
| Feature | Norton 360 | Norton Family | Qustodio | FlashGet Parental Control |
| --- | --- | --- | --- | --- |
| Purpose | Comprehensive Security Suite | Parental Control Software | Parental Control Software | Parental Control Software |
| Antivirus Protection | Yes | No | Yes | No |
| App Supervision | Yes | Yes | Yes | Yes |
| Screen Time Management | No | Yes | Yes | Yes |
| Location Tracking | No | Yes | Yes | Yes |
| Social Media Monitoring | No | Limited | Yes | Yes |
| Text Message Monitoring | No | No | Limited | Yes |
| Device Compatibility | Windows, macOS, Android, iOS | Windows, Android, iOS | Windows, macOS, Android, iOS | Android, iOS |
| Live Monitoring | No | No | No | Yes |
| Geofencing | No | Limited | Limited | Comprehensive and predefined |
| One-way Audio | No | No | No | Yes |
| Price | $99.99/year | $49.99/year | $54.95/year to $99.95/year | 3-10 free trials, $8.99/month |
Norton 360 is primarily an antivirus and internet security suite. While it offers some basic parental control features, it may not be as comprehensive as dedicated parental control software.
Norton Family is Norton's dedicated parental control software. However, it has limited monitoring features and compatibility issues. It also doesn't offer important features like live monitoring.
Qustodio is also a good parental control software with decent features, like website filtering, time limits, and social media monitoring. But it has difficult text motoring and high costs.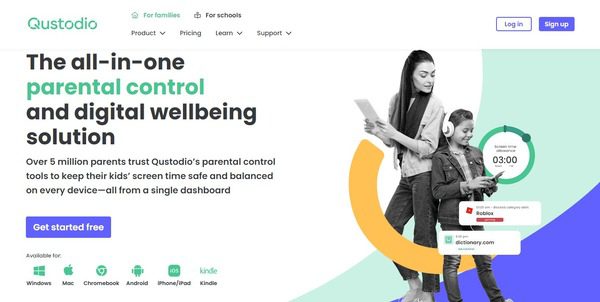 Keeping in view all the parameters required for satisfactory child monitoring. FlashGet Parental Control emerges as the best alternative to all of these apps. Its amazing features, like live monitoring, geofencing, and one-way audio, are ideal for any parents to control their child's activities.
It also offers compatibility with the most devices and operating systems. You can also limit your child's daily usage and get alerts and notifications to keep yourself updated. Plus, it is very much cost-effective. You can get all of these features for just $8.99 per month. It also has a free version too.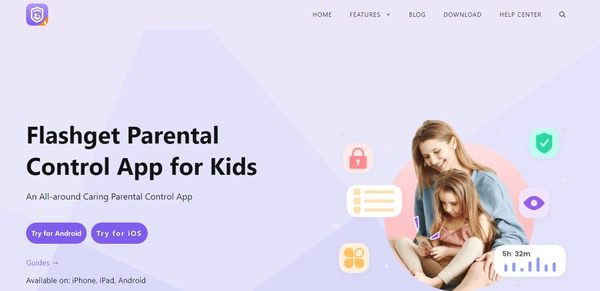 Bottom line
In evaluating parental control solutions, it's crucial to consider your specific needs and preferences. While Norton Family, Qustodio, and other options offer robust features, FlashGet Parental Control can indeed be a viable choice as the best parental control solution, especially if you're seeking a free and affordable alternative with all the amazing features.
FlashGet Parental Control is the only app that provides all the modern parental control features at an affordable cost. It is the complete package to ensure the safety and security of your children in today's online landscape.
With its universal compatibility, you can be worry-free about your children's online activities on any device. You can download FlashGet Parental Controlt for free from the Google Play Store and Apple App Store. You can always upgrade your subscription if you want to keep a close eye on your children.
FAQs
If Norton Parental Controls are not working as expected, you can try the following steps:

-Update Norton: Ensure that your Norton antivirus or security software is up to date. If the software is showing compatibility issues, updating may resolve it.
-Restart the computer: A simple restart can sometimes fix issues with software functionality.
-Check Parental Control settings: Review the parental control settings in your Norton software. Ensure that the settings are configured correctly to block websites or restrict access as per your requirements.
-Reinstall Norton: If the issue persists, consider reinstalling Norton to repair any potential software corruption.
-Contact Norton support: If none of the above steps work, reach out to Norton's customer support for assistance with resolving the issue.

If you continue to face issues with Norton Parental Controls and are seeking an alternative solution, you can explore FlashGet Parental Control. Evaluate its features. It will surely meet your requirements for parental control and content filtering.
To uninstall Norton Parental Control, follow these general steps:

Windows: Open the Control Panel > Programs or Programs and Features > Norton Parental Control > Uninstall.
Mac: Go to the Applications folder and find Norton Parental Control. Drag the application icon to the Trash.
Android: Open the Settings > Application Manager > Norton Parental Control > Uninstall.
iOS: Press and hold the Norton Parental Control app icon on your iOS device's home screen. When the icons start to jiggle, tap the "X" on the Norton app icon to uninstall it.

Once you have uninstalled Norton Parental Control, consider using FlashGet Parental Control as an alternative. Be sure to install and configure it according to your parental control needs and preferences.