Geo Tracker is one of the best free GPS tracking apps that you can use on either an Android or iPhone device to track your traveling speed, location, and distance traveled. The app also allows users to create routes that can be shared with others in real time. The app is useful in a variety of ways, such as road trips, hiking, and daily navigation. Geo Tracker review will help you find out more about this app.
It has pinpoint accuracy allows you to know your exact position in real-time. Besides, the app is easy to customize and its offline capabilities are what make this app a top choice for any outdoor activity. Today, the app has over 10 million downloads
What is Geo Tracker – GPS tracker used for?
There are various outdoor activities that require you to track your location, your kids' location, your vehicle's location, your assets' location, or your pet's location. To do so, you need a reliable GPS tracker app, such as Geo Tracker – GPS tracker.

Geo Tracker is a multipurpose app that you can use in a variety of ways to save time, stay safe, and get the most out of your outdoor activities. Here are some of the activities that you may need to use Geo Tracker – GPS Tracer for:
Hiking and other outdoor activities: You can use the Geo Tracker-GPS tracker to track your real-time location, distance covered, and speed while on an outdoor activity. This is exceptionally useful as it helps you stay safe and ensure that you're on the right route.
Road trips: Use Geo Tracker to track the route you're on during a road trip. This is helpful as it can save you gas and time by helping you avoid unnecessary detours and traffic jams.
Pet tracking: Geo Tracker is a great app that you can use to locate your pet anywhere in the compound, or if it gets lost during an outdoor activity or if it runs away.
Fleet management: Geo Tracker – GPS tracker is a great app for tracking the location of your vehicles in a fleet. This is especially helpful if your business requires you to track vehicles such as taxis or delivery vehicles.
Security and surveillance purposes: Geo Tracker helps you track the exact location of objects or people for your surveillance purposes. So, if you need to monitor your employees or properties, Geo Tracker-GPS tracker app is a great option for you.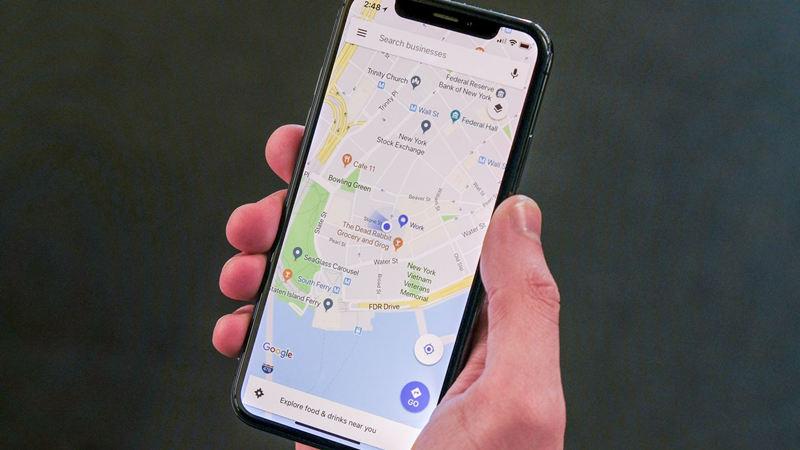 Is Geo Tracker app free to use?
Geo Tracker is an easy to use and a free to download app. So, if you love traveling or outdoor activities, then this app is what you need. It has amazing features that work exceptionally well with Google or Open Street Maps and with excellent results. Besides, the standard subscription is quite affordable with as little as $ 19.99 per month.

Geo Tracker app features

GPS tracking: The Geo Tracker app uses GPS to accurately track your distance, speed and the location you've traveled so far. You can use this data to track your progress on a hike, road trip or any other outdoor activity.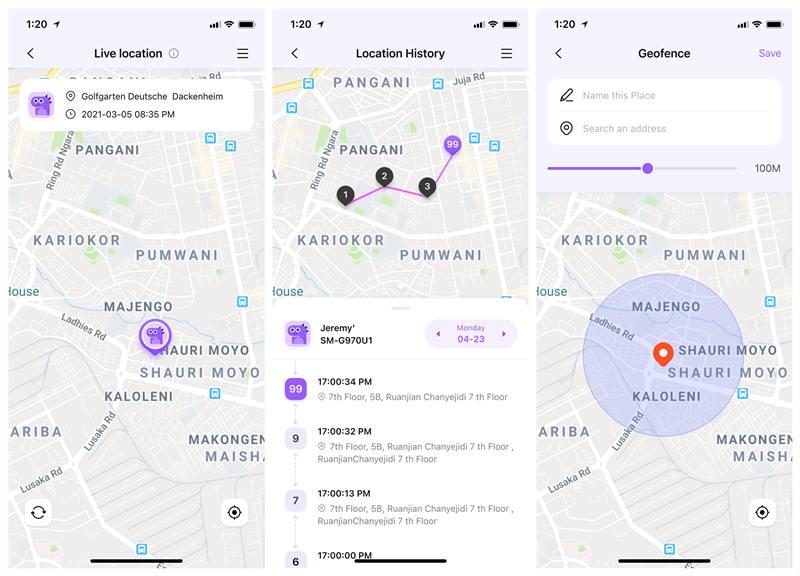 Route recording: Use this app to track and record your routes so you can keep your progress and share it with your friends or other people. Besides, you can create waypoints along your route that can be your reference points in the future.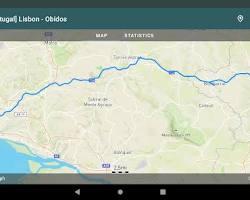 Waypoints: These are points of interest that you come across on your route. You can mark these points on the map and act as the reference points for planning future trips.
Besides, the app allows you to add notes to a particular location and hence record your observations and thoughts. This helps in keeping a record of your outdoor activity or even when you want to share with others.
Photos: Why not attach photos to your waypoints or routes that can help create a visual record for your outdoors.
Data export: This app allows you to export the data you've captured in past adventures. You can share such data with your friends, among others.
Offline maps: You can easily download maps while you're online and later use them offline. Besides, you can navigate even though you're offline
Customization: Geo Tracker includes a wide variety of customization features such that you can fine tune the app based on your tracking needs. For instance, you can adjust your map view and also your tracking settings among others.
Pros and cons of Geo Tracker
Pros:
Real-time tracking: Use Geo Tracker to track your assets in real time. This can help you to know your child's safety.
Geofencing: You can up alerts that notifies you when your asset or vehicle leaves a certain area.
Accurate GPS tracking: The Geo Tracker app uses GPS to track in real time and with pinpoint accuracy your location. This can help you identify your correct position especially when you\re in remote areas.
Compressive route recordings: The app allows you to keep the recording of your routes in a detailed way. You can use such data for future reference.
Customizable tracking: This app grants you full control over what and how to track your activities. This can help in future to remember your memorable spots on your trips
History and reports. The feature allows you to view the travel history of your vehicle
Fuel savings. It alerts you when your vehicle fuel consumption is inefficient.
SOS button. You can reach for emergency help in case of a situation.
Data Export: GeoTracker app allows you to download data in various ways hence sharing is easy.
Cons:
High Battery usage: Using Geo Tracker for quite some time can drain your phone battery relatively fast although you can mitigate it by using a portable charger.
Requires a cellular connection.
Can be difficult to set up and use.
Does Geo tracker – GPS tracker work well?
Yes! The Geo tracker- GPS tracker app offers highly accurate tracking information. For instance, its accuracy range is quite narrow with a range of 3 to 15 meters (9.8 to 49.2 feet.)
The app can virtually work anywhere on Earth as long as you're connected to the internet. It ensures reliable and consistent tracking outcomes regardless of your current geographical location. Scaling the app is quite easy which allows you to track several entities at the same time without compromising performance or accuracy.
How accurate is Geo Tracker – GPS tracker?
Geo Tracker-GPS tracker includes various amazing features that help you in your tracking endeavors. For instance, the app allows you to;
Track your vehicles, assets, or someone in real-time. This is one of the most outstanding features of the Geo Tracker-GPS tracker. So, if you're a parent looking to track your child whenever they're or a businessperson trying to track the movement of your assets, then Geo Tracker GPS-tracker is definitely your best tracking app.
Get History and reports. The app allows you to view the historical data of your assets or vehicle movement. This can be particularly useful in tracking down your lost device or analyzing its movement patterns for a decision-making.
Set up Geofences. Geofencing is a feature by Geo Tracker GPS-tracker that allows you to set up a virtual boundary that restricts movement around specific areas. If your vehicle or child leaves or enters the restricted area, you'll receive an alert in real-time for you to take action.
SOS button. This emergency button helps you to receive an alert in case you're in a danger zone or getting lost.
What should I need to know before using Geo Tracker app?
So, if you're looking forward to downloading and installing Geo Tracker app, there are a few things that you should keep in mind;
You need an internet connection/ cellular connection for the app to work. This goes without saying that you need to pay for cellular data.
If you're considering using this app for quite a long time, it might be expensive, especially depending on your subscription plan. The basic plan is $19.99 per month.
Setting up the app for the first time can be difficult. The app has a relatively steep learning curve, but over time, it becomes very easy to master its features.
The app can be used to track someone without their consent. The issue of privacy is a concern to some people, so kindly do not track people for fun without their consent.
Conclusion
Geo Tracker –GPS Tracker is certainly one of the best apps you can install on your devices to help you track the movement of your assets, pets, vehicles, and kids. The amazing features include real-time tracking, very accurate tracking results, and is easy to use. The app is quite affordable, with as little as $19.99 per month, you can have it running on your device. Besides, the app respects your privacy so your data is well protected. Moreover, you can use FlashGet Parental Controls to reinforce Geo Tracker -GPS tracker in areas such as setting screen time limits, blocking inappropriate websites and tracking your child's online activities and more. This makes FlashGet Parental Control location tracker an even more useful tool for keeping your children safe and secure.