Identifying the best gps phone tracker for iPhone and Android can come in handy if you want to know your kids or loved ones' location. In today's digital age, smartphones have become integral to our lives, serving as communication devices, entertainment hubs, and navigation tools.
With the advancement of technology, GPS phone trackers have emerged as a popular solution for various purposes, such as ensuring the safety of loved ones, locating lost devices, or monitoring the movements of employees or children. Keep reading to get more insight best GPS tracker.
What can the best GPS tracker app do?
If you're looking to track someone's location, you need a powerful GPS tracker that is easy to use. Here are a few things to expect from a powerful GPS tracker.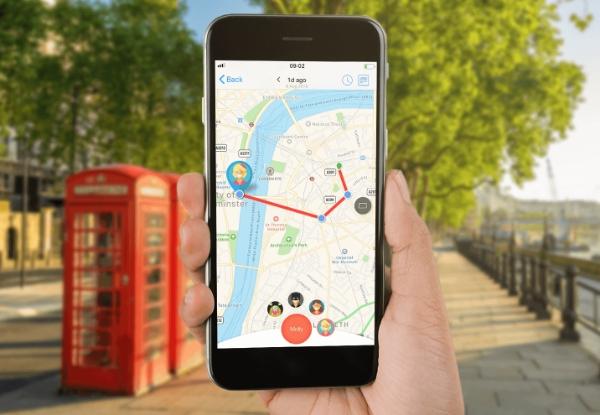 Real-Time Tracking: Some of the best GPS trackers in the market will help you identify your kid's real-time location. This will be useful if you want to know your kid's whereabouts and protect them from danger.
Geofencing: One of the most appreciated features of a quality gps tracker is its ability to set up geofencing. This is where you mark certain regions kids should not pass and receive alerts if they do.
Location History: Accessing your kid's location history will help you know their daily activity. However, to have this information, you need a quality GPS tracker.
Panic Button: A good GPS tracker ensures kids access the panic button to send location details in an emergency. This helps to guarantee your kid's safety.
Compatibility: A good GPS tracker's other quality is compatibility with both iOS and Android devices. Getting a GPS that works well with most devices will make your work easier.
10 best GPS phone tracker
For parents looking to track their kids' location, you need to have the right technique and method. In this section, we'll go over 10 best ways you can use to ensure you track your kid's phone effectively: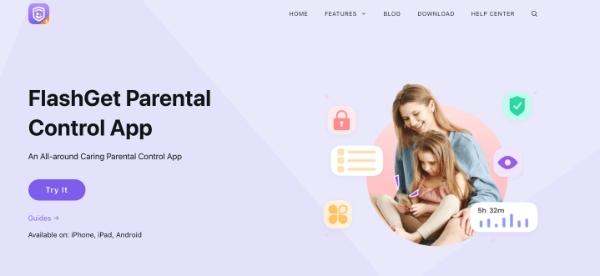 One of the best tracking apps in the market right now is FlashGet Parental Control which has incredible features. Its control features will give parents an easier job managing their kids. Besides the tracking option, this app offers the geofencing feature, which ensures parents set regions kids should not pass.
Its GPS tracking feature enables you to access the location data of your kid's phone remotely. All you need to do is install the FlashGet kids apps and link them to your phone's Flashget Parental Control app.
Features
It has an incredible GPS phone tracker feature to monitor kids location.
You can track your kid's real-time location.
Block inappropriate apps on your kid's devices.
It can restrict your kid's online presence.
It helps kids focus on schoolwork at the right time.
Compatibility
It works with both iOS and Android phones.
GPS Phone Tracker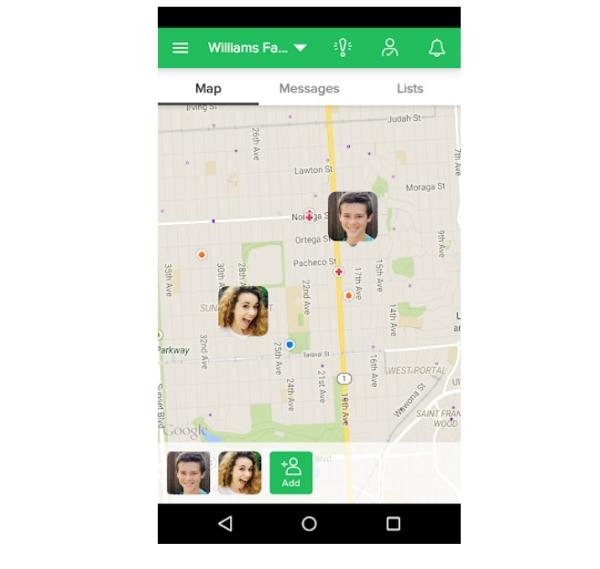 The GPS Phone Tracker is the top Android app for tracking someone's location. It's highly dependable and incredibly user-friendly, making it one of Android's best GPS tracking options.
Install the app on your phone and your child's, and you'll be able to track their whereabouts in real-time, ensuring you stay informed at all times.
Features
You can effortlessly retrieve the location of your kids using the GPS Phone Tracker feature in this app.
Set up alerts to receive notifications when your kids arrive at specific locations, providing you with peace of mind and ensuring their safety.
Utilize the Android phone tracker app to locate your misplaced device, helping you find it quickly and easily.
Compatibility
It works with Android and iOS.
Find My Kids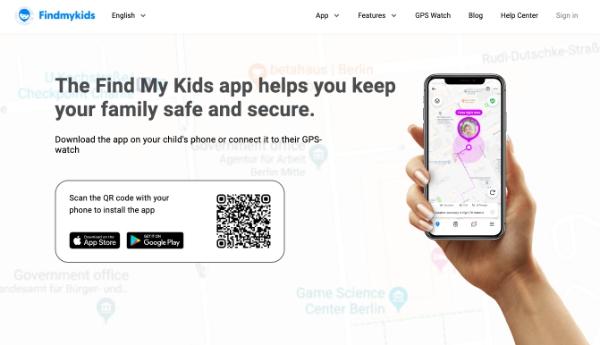 Experience the incredible functionality of Find My Kids, an all-encompassing Android tracking app designed to help you closely monitor your children's whereabouts.
Thanks to its advanced GPS features, this powerful app truly shines when tracking lost or wandering kids. With Find My Kids, you can rest assured knowing that you have a reliable tool to ensure the safety and security of your little ones.
To use the GPS tracking feature, you must download the Pingo Chat with your parents' app on your kid's phone or buy them a GPS watch. This way, you'll know the exact location of your kid at any time and even listen to their surroundings from your phone.
Features
Automatic alerts for your kid's arrival at specific locations.
Easy-to-use and reliable tracking.
Battery level monitoring on your child's device.
No registration is required.
Compatibility
It works with both iOS and Android phones.
Google Maps
Another fantastic way to track anyone's phone is using Google Maps. This free tool will save you money with its incredible free features.
It offers a unique real-time GPS location tracking feature that will blow your mind away. Once you have permission to tack a phone, the app will display the device's location on a map. This way, you'll get real-time or historical data on the device's movements.
Features
Offers incredible verbal directions compared to other trackers.
Have impeccable visual features that will blow your mind.
Offers users the opportunity to check battery life.
Compatibility
It works with both iOS and Android phones.
Find my Phone – Family Locator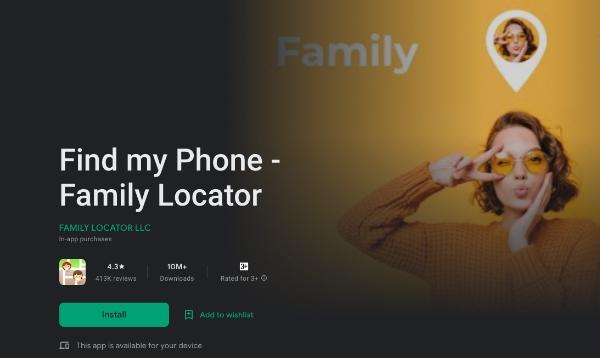 Find My Phone – Family Locator is an exceptional tool that combines convenience and peace of mind by allowing you to effortlessly locate your misplaced phone and keep track of your family members.
With this app, you can quickly pinpoint the exact location of your phone when it goes missing, providing a sense of relief and saving valuable time. Using its built-in GPS receiver, the Find My Phone – Family Locator app uses GPS tracking technology to obtain the target device's latitude and longitude coordinates.
Moreover, its Family Locator feature lets you stay connected with your loved ones by tracking their real-time locations, ensuring their safety, and enabling efficient communication.
Features
Easily find your misplaced phone.
Receive notifications when family members arrive at specific places.
Enjoy a simple and intuitive interface.
Stay connected and ensure the safety of your family.
Compatibility
It works with Android and iOS.
Life 360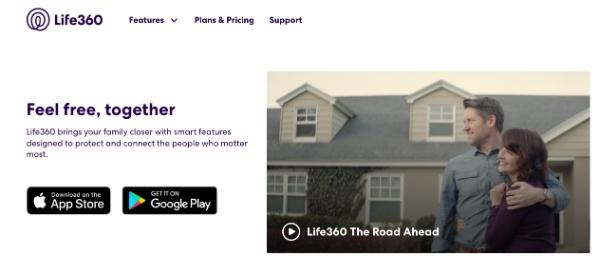 Life 360 is an incredible tool you can use to ensure you know your kids or loved ones' real-time location. This tool also allows you to access location history, making it easier to track your kids every move.
The GPS location tracking feature of this app displays the location of your loved one's phone once they once you download it on both phones. You'll quickly notice when your kid is getting into a dangerous zone.
Features
It helps parents access kids' location history.
Has incredible real-time GPS location tracking.
Sends alerts to help track location.
Compatibility
It works with both iOS and Android phones.
Glympse – Share GPS location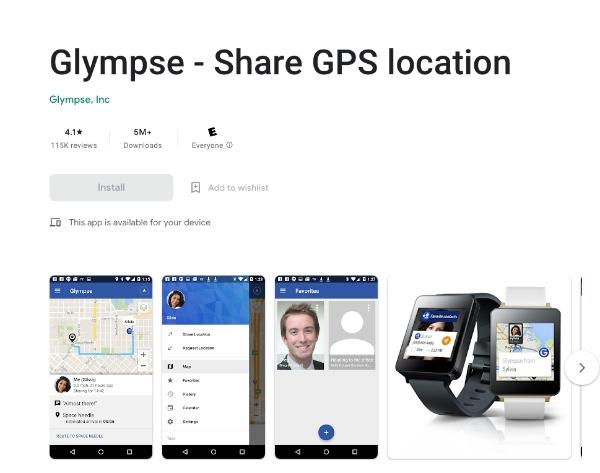 Glympse – Share GPS location is an exceptional app that allows you to effortlessly share your real-time GPS location with friends, family, or colleagues. With Glympse, you can share your GPS location for a specified duration, ensuring privacy and control over your personal information.
Whether you're meeting up with friends, coordinating with coworkers, or simply letting loved ones know you're on your way, Glympse provides a seamless and convenient solution for sharing your whereabouts.
Features
Real-time GPS location sharing with friends and family.
Control the duration of location sharing for privacy.
Choose specific individuals or groups to share your location with.
User-friendly interface for seamless location sharing.
Share location updates with contacts in your list.
Compatibility
Only works with Android OS.
Family Locator – GPS Tracker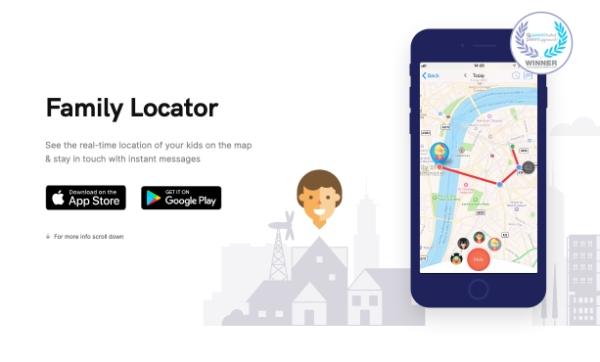 The Family locator is all you need if you're looking for a powerful GPS location tracker. Its robust features and capabilities will help you know your kid's whereabouts in seconds.
However, the Family locator's powerful features will drain your battery. So before choosing this app, be sure to consider the battery aspect. Otherwise, it's a functional tool you can implement for tracking.
Features
It helps users monitor loved ones remotely.
Enables custom text alerts to provide information when someone arrives.
It has a straightforward setup, which makes it easier to use.
Compatibility
It works with both iOS and Android phones.
Famisafe – Location Tracker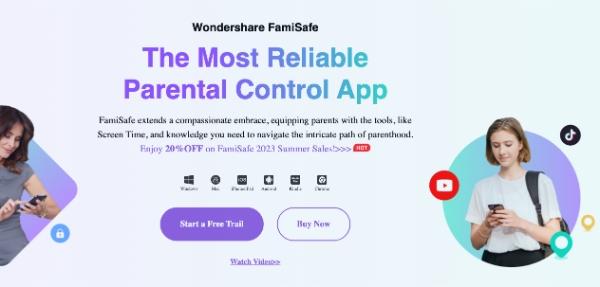 Famisafe location tracker is another tool helpful if you're looking to keep your kids safe. This app has GPS location tracking technology that allows you to access your kid's location history. So it will be easier to know where they've been.
That means you can manage your kid's destination remotely without them knowing what's happening. Furthermore, it's easy to access and use, making it more convenient than other apps.
Features
Detects explicit content easily using the GPS location tracking feature.
Ability to block websites and inappropriate apps.
Has an effective system that tracks app usage.
You can set up geofencing to help you know when your kids approach or exit a certain region.
It can track real-time location in seconds.
Compatibility
It works with both iOS and Android phones.
Find My Device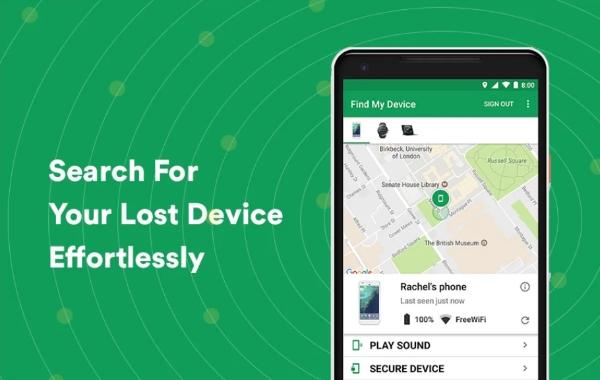 Discover the remarkable Find My Device by Google, an innovative and free GPS tracking app for Android. With this app, locating your lost device becomes a breeze.
If the phone is connected to the internet and you can access its Google account, you can effortlessly track its whereabouts. This powerful app ensures you never have to worry about losing your device again.
Simply activate Find My Device and enjoy the peace of mind that comes with knowing you can always locate your Android phone whenever needed.
Features
Restores and save personal data effectively based on GDPR policies.
It ensures devices are paired using a private network, meaning you can track them anytime.
You can delete everything on the device using this method.
Enables users to play sound from closeby gadgets.
Users can remotely lock the target phone.
It can instantly locate your phone's location using its accurate GPS tracking feature.
Compatibility
It works with Android phones.
Closing thoughts
As a parent, knowing kids' real-time location is critical as they are young. Using a GPS phone tracker enables them to see if they are in danger or a safe place in seconds.
We hope you found the right GPS phone tracker to check on your loved ones from the list above. We prefer you go with FlashGet Parental Control app because it has unique features you will find helpful. Its GPS location tracking feature enables you to see your kid's live location and create a geofence within which your kid is safe.
You can also see the location history of your kid. This way, you'll see where they frequent and determine if they are in safe hands.
FAQs
Using a GPS phone tracker can bring several benefits and peace of mind. Firstly, it allows you to ensure the safety of your loved ones. Whether tracking your children's whereabouts or watching elderly family members, a GPS phone tracker provides real-time location updates, allowing you to know their exact positions at any time. This can be especially crucial in emergencies or when you simply want to keep tabs on their well-being.
GPS phone trackers come equipped with a range of useful features. One of the key features is real-time location tracking, which allows you to monitor the precise location of the tracked device or person in real time. Geofencing is another essential feature, enabling you to set virtual boundaries or safe zones. You receive alerts whenever the tracked device enters or leaves these designated areas. Historical location tracking is also standard, allowing you to view past movements and track location history.
Yes, there are free GPS phone tracker apps available like FlashGet Parental Control. These apps offer basic tracking functionalities. These apps typically provide real-time location tracking and may include features like geofencing and alerts.