If you're looking for ways to put parental controls on computer, this guide is right for you. As technology advances rapidly, many parents believe regulating children's digital content consumption is necessary.
Lack of regulation will lead to kids interacting with inappropriate material resulting in the degradation of morals. Unregulated access to online content may also result in reduced concentration and the inability to complete assigned tasks due to laziness.
While ways of setting up phone controls are widely known, little has been discussed regarding parental computer controls. So, this piece will help you know how to set up parental controls on a computer using different methods to ensure you're in control of the content your kids interact with.
What features do parental controls on computer have?
Microsoft offers exciting and useful parental control features for your device. Its unique ability to implement restriction and monitoring features often goes a long way in protecting kids. To understand Microsoft parental control better, here are some of its features:
Limit web browsing
Managing your kid's web browsing habits isn't easy as they're constantly checking different content on the internet. That said, Microsoft parental control has an incredible feature where you can access your kid's browsing history and limit its use to ensure they're not overly on the internet. Kids' online activities must be monitored keenly as they often interact with aggressive or inappropriate content.
Filter mature content from search results
Microsoft parental control also ensures you filter mature content from your kid's search results. This will help prevent your kids from being exposed to sexual and aggressive content that might damage their morals and overall development. You'll only need to mark all the inappropriate websites and restrict their use to ensure kids cannot access them.
Set age restrictions on apps, games, and media
Microsoft also has a system that ensures parents manage apps, media, and games by setting age restrictions to content deemed age-inappropriate for kids. Moreover, parents can ensure their kids don't make unregulated online purchases and restrict constant downloads.
Screen time limits
Computers often have games that might be enticing for kids. This may make kids play for hours while neglecting their daily tasks or assignments.
So, you need Microsoft parental control features to help you deal with screen time to ensure kids only spend a certain amount of time daily on their devices.
Limit spending
Another awful kid's behavior that might be irritating is unregulated spending. You need to regulate their spending habits on Microsoft stores or consoles. This means parents can have a certain budget that kids cannot exceed monthly. This is a great idea to ensure youngsters become more responsible and spend cautiously.
Location tracking
One of the most appreciated features you get with Microsoft parental control is location tracking which opens the door to knowing your children's whereabouts. Moreover, parents will get notifications about their kids' location history, which will help them identify their whereabouts to ensure they are safe.
How to set up parental controls on computer?
Microsoft offers some of the most appreciated features you cannot find in most parental control tools. However, the most important part is learning how to access and use it. Below are ways to use Microsoft parental control to manage your kid's online presence:
How to set up Microsoft parental control on Windows 10?
If you're considering setting up Microsoft parental control on Windows 10, this section has the necessary steps. This method might be ideal for kids using Windows devices. The best part is that you can implement it in minutes.
Tap the Start button on the Windows Home Page, then click on Settings to access Windows Settings app.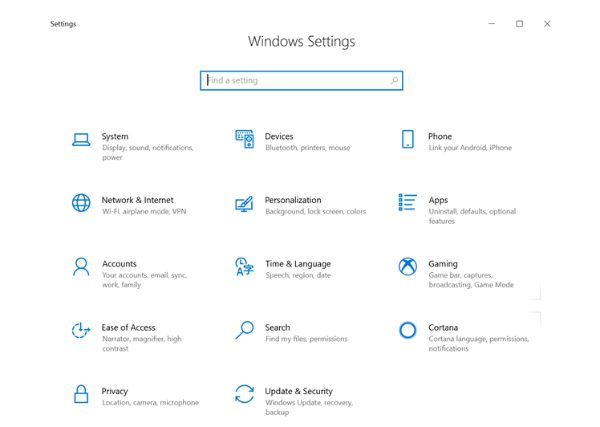 Now you need to click on the accounts section to proceed.
Then, you'll notice family and other users tab on the left. Click on it.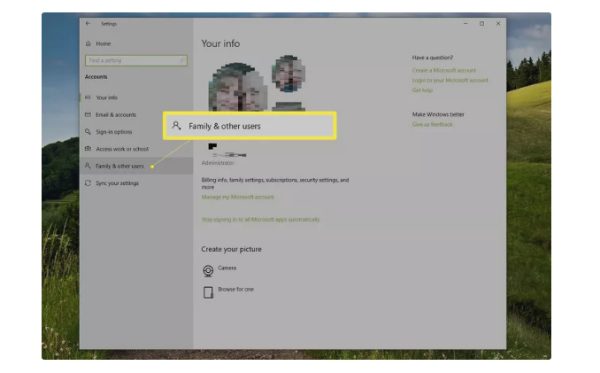 Once that's done, it's time to use the "Add my family member" feature to implement the Microsoft account wizard.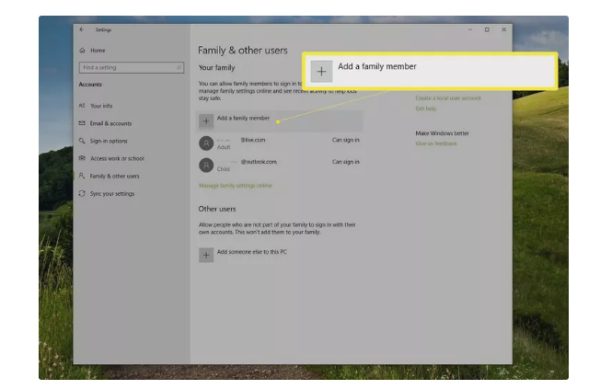 Now click "Add a child" by entering your kid's email address. You can click on the alternative option if your kids don't have an email.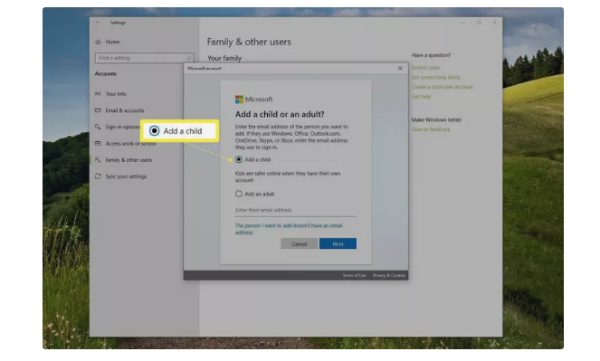 From there, you can review the available options to implement the settings you need.
How to set screen time limits on Microsoft parental control?
Microsoft also has a valuable screen time limit feature that ensures parents place restrictions on usage. This helps streamline kids' overuse of computers. This will also help kids allocate their free time to homework or cleaning their rooms. Here's how to do it:
Move to Microsoft Family Safety and log into your account.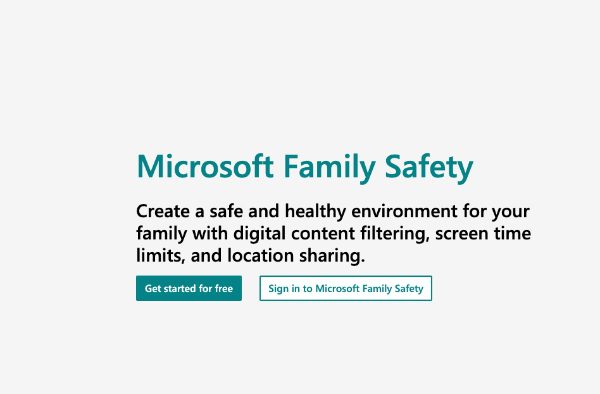 Once that's done, you must click on your child's profile.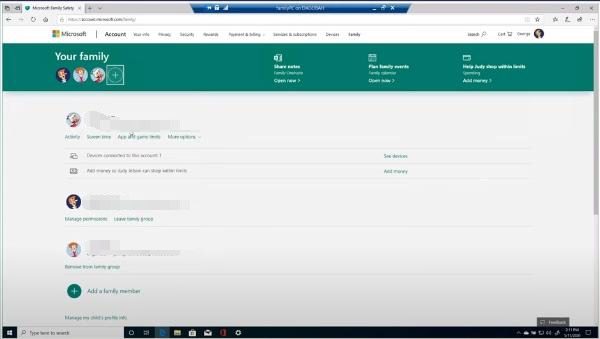 From there, click on "Screen Time" to access time options.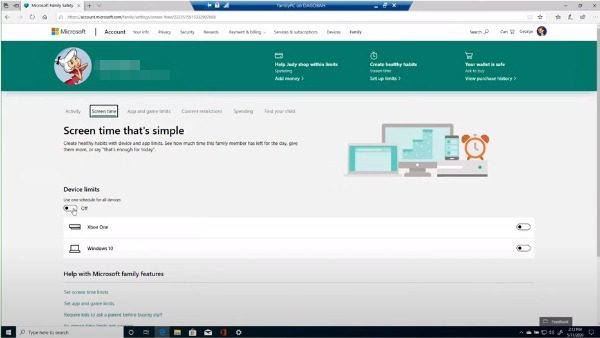 Now you can customize the time limit to your preferred days and hours.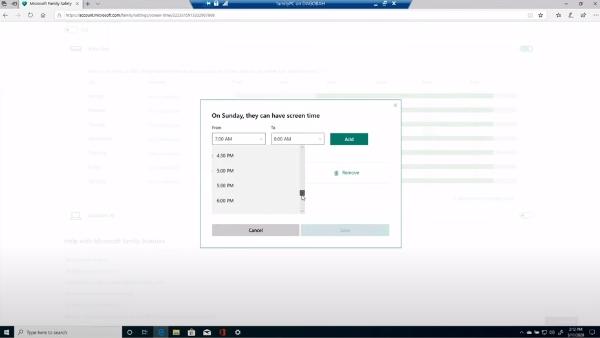 You'll have successfully managed to implement screen time limits.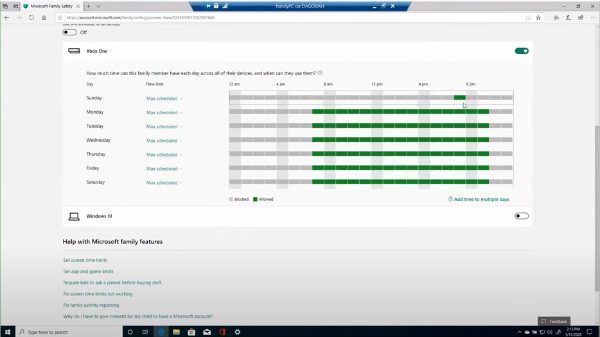 How to set app and game limits on Microsoft parental control?
To effectively set game and app limits on your kid's device, you must know the right steps to complete this process. Here are quick steps to guide you through this process:
Launch the Microsoft family safety app and log into your account to proceed.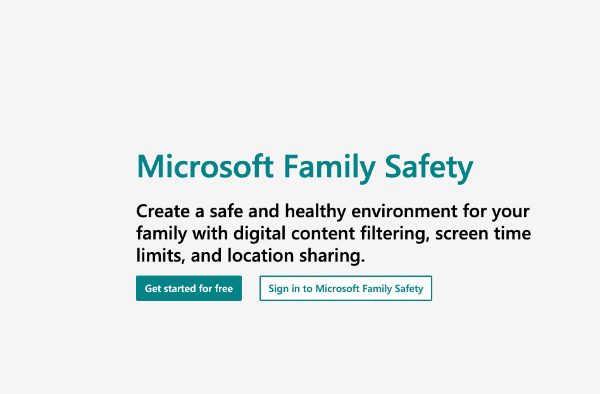 Next, click on the kid's profile on who you wish to implement these settings.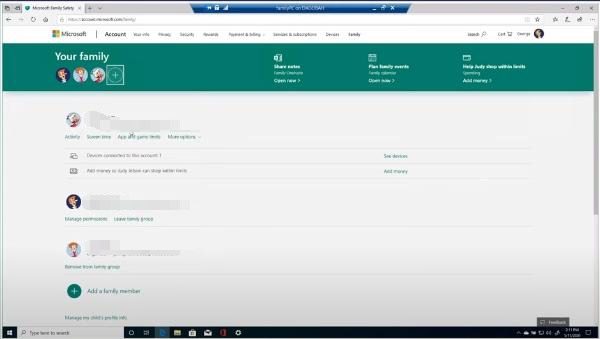 Now move to the top section on the kid's profile to access all the needed options.
Once you see the "App and game limits," click on it. From there, you can select add an app or a game by choosing the right choices.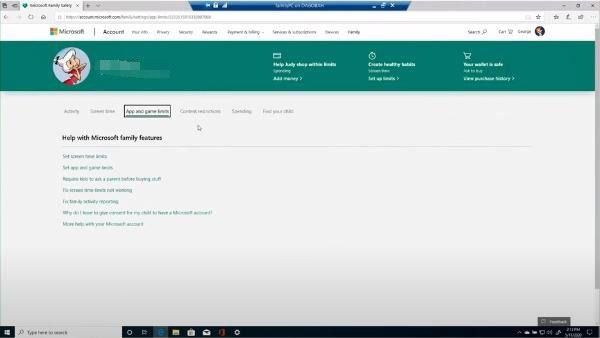 Once you have identified the games or apps you need to manage, you can set the limits and save.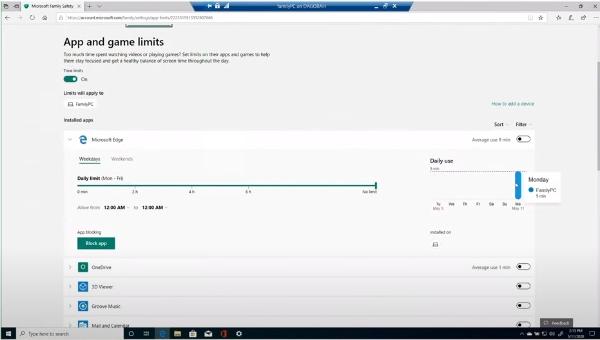 How to set content restrictions on Microsoft parental controls?
If you want to impose content restrictions on your kid's device, you need the right steps. Setting content restrictions will ensure your kids don't interact with inappropriate or aggressive content as they surf online. Use these steps below:
Head over to your device and launch Microsoft Family Safety app by login into your account.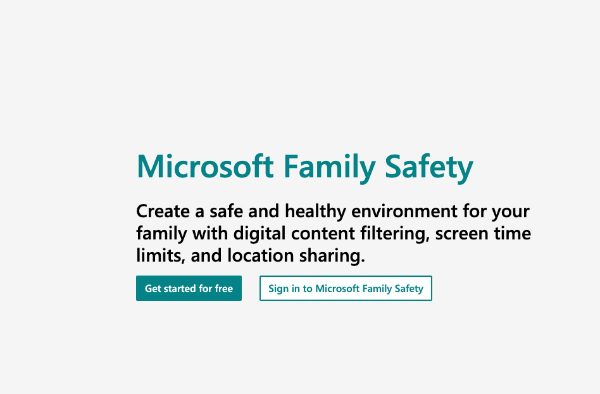 From there, click on the kid's account you need to implement the content restrictions.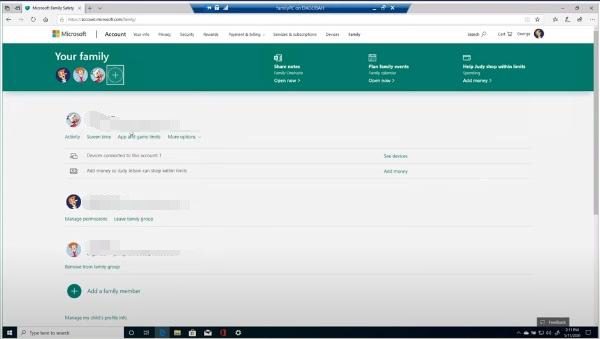 Now move to content filters and click on the regulation level you wish to implement.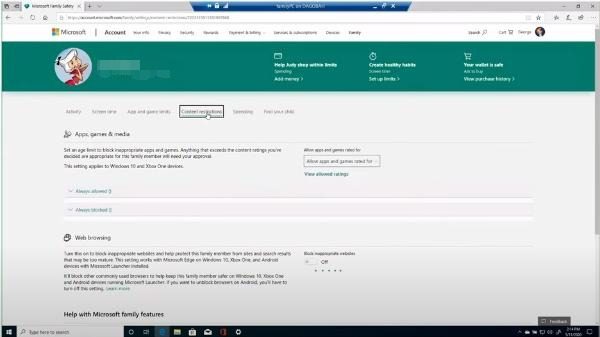 If you select a custom section, you'll access everything you need to implement content restrictions.
You can set the age restrictions for your content, you can save them to complete the process.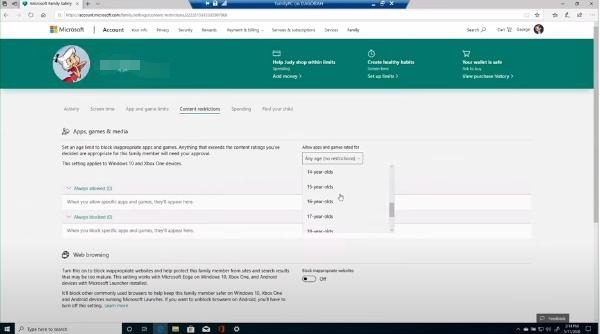 How to set spending restrictions on Microsoft parental controls?
It can be extremely frustrating dealing with kids' overspending habits. This problem needs a strategy or great method to help impose regulations that will only allow kids to make a certain amount of purchases monthly. Here are the steps Microsoft parental controls have for you:
You'll need to form a Microsoft Family Group if you already don't have one to manage accounts and settings.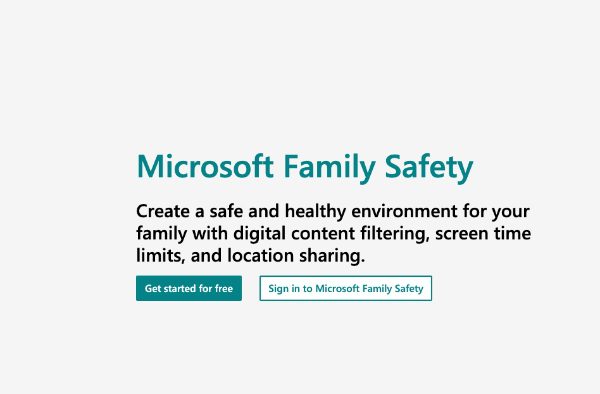 Now include your kid's account in the group. This should be for kids you wish to limit their spending.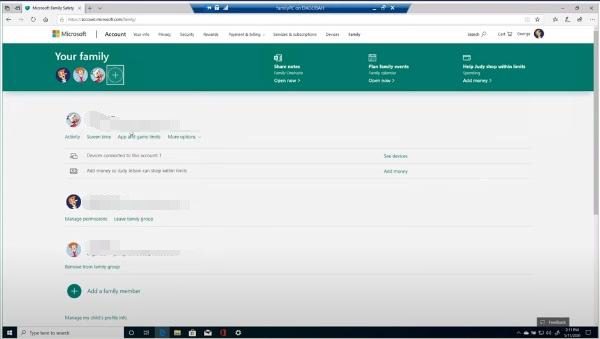 Now move to the account settings > Spending to manage payments or restrict purchases.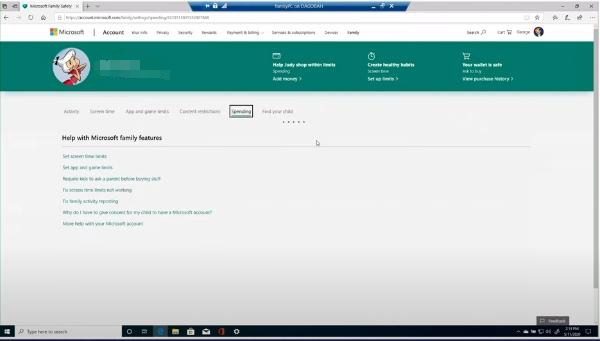 From there, you can ensure your kid's spending is regulated, and they can't independently make purchases worth a certain amount.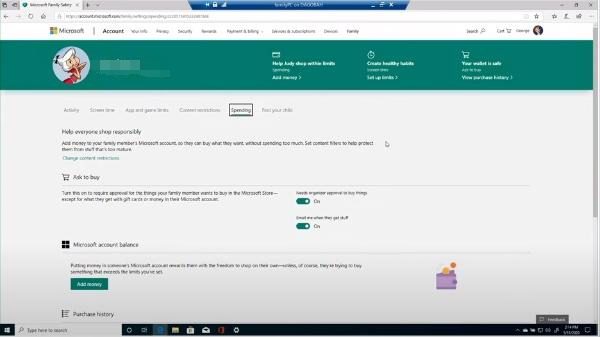 Once you have set the restrictions, you can frequently check the kid's account to monitor their spending.
How to set up find your child using Microsoft parental control?
Find your child is an important feature Microsoft parental control provides. This can be of great help when you've lost track of your kid's whereabouts, especially if they have a habit of not informing. Here is how to go about it:
You'll need a Microsoft family account, which is available for free.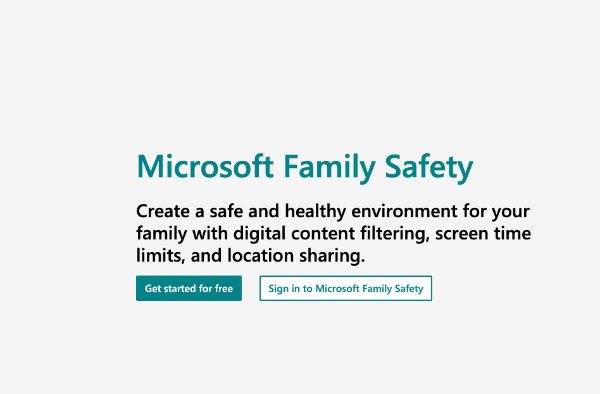 Once you have that, log into your account and move to your kid's profile.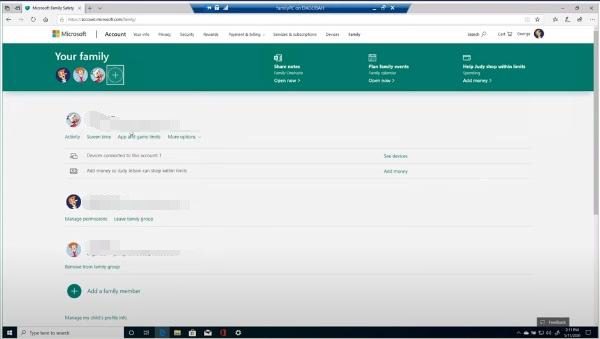 Click "Find your child" to access the feature from there.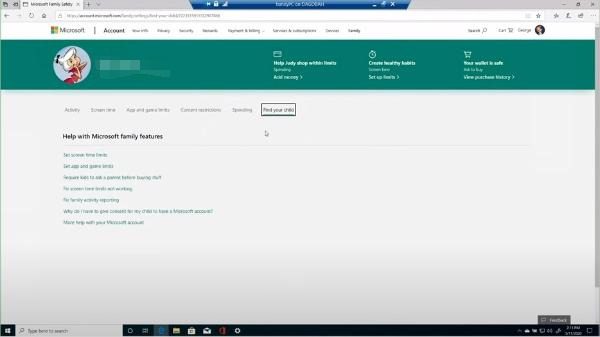 It will help you find your kid if you install the Microsoft launcher app on the kid's Android device.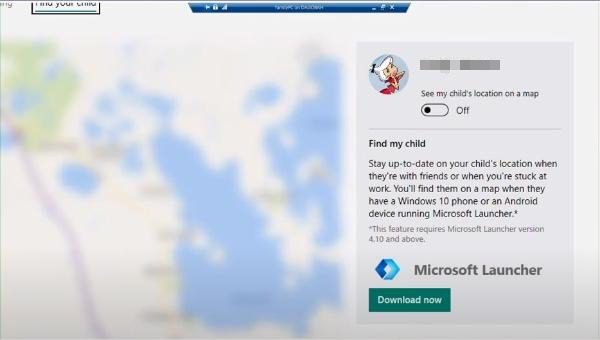 This will enable you to locate the device, whether it's lost or misplaced. Once you've found your kid's location, you can sigh in relief.
How to remove parental control on computer?
While implementing parental controls on computers often comes in handy to help manage kids, it might reach a point when you have to let go of the restrictions. So, if you've got this level of trust with your kids, here's how to disable the parental controls on computer:
Settings > Accounts.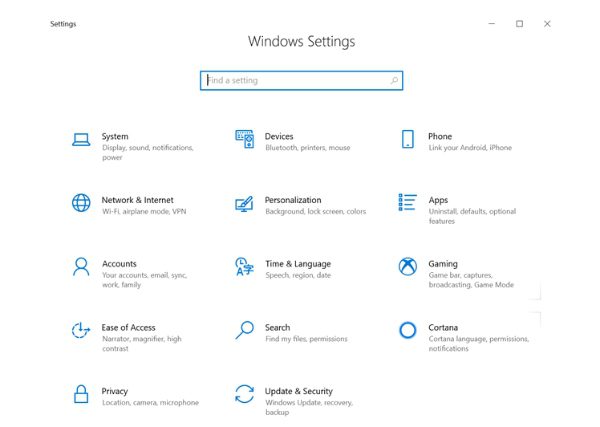 Now click on family and other users to proceed.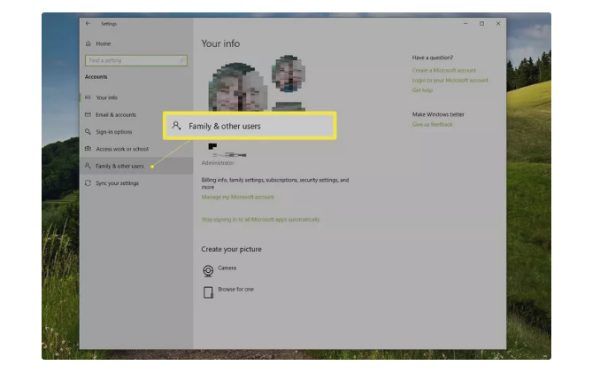 Once that's done, you can click on the manage family setting.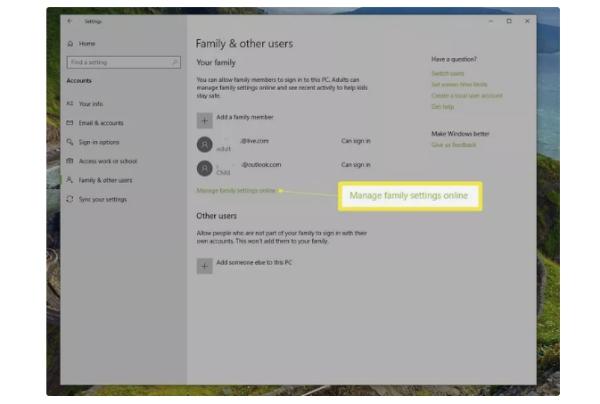 Alternatively, you click on the remove the account option for the kid.
After that, click on the kid's account you wish to disable the controls to effect the changes.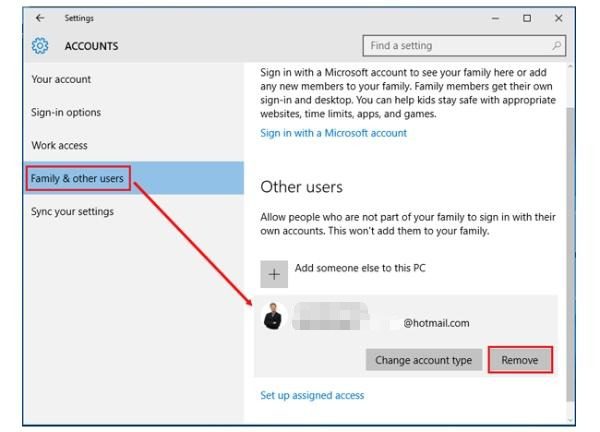 How could FlashGet Parental Control help you?
Even though Microsoft parental controls have great features to manage your kids, FlashGet Parental Control app has more unique and simple-to-use features. From geofencing to remotely monitoring your kids, FlashGet has something for all parents. To help you understand FlashGet better, here are some of its benefits to parents:
Daily Usage Report
FlashGet Parental Control app offers parents an exciting opportunity where they receive their kid's daily or weekly computer usage reports. This helps parents effectively assess their kid's online habits to restrict certain behaviors easily.
App and Screen Time Management
FlashGet Parental Control allows parents to have policies on how long kids are allowed online. While you can set an overall timeframe, it's possible to point out the most used apps and implement the screen time management rule. Alternatively, you can disable all apps, especially during exam periods when they need to focus.
Location Tracker is another incredible feature parents enjoy when regulating their kid's online presence and real-time location. The tracker helps you identify your kid's whereabouts making it easier to know whether they're safe. You can also use geofencing to determine regions kids can't pass.
Another incredible feature of FlashGet Parental Control app offers are the remote monitor, which grants you one-way audio and a camera to help you listen to your kid's background surroundings. Moreover, you can opt for the screen mirroring option, which provides exclusive remote access to your kid's device. So, this is a great way to monitor your kid's activities and guarantee their safety.
If you want access to app notifications on your kid's gadget, then FlashGet's Alerts and Notifications features are all you need. This feature ensures you receive timely notifications on youngsters' phones, whether for Whatsapp, Facebook, Instagram, or Twitter, thus helping you have control to decide who they should interact with and which content is good for them.
Conclusion
Microsoft Parental Control and FlashGet Parental Control provides parents with the tools to manage their kids' online presence. While Microsoft gives access to location tracking, FlashGet has more unique features, such as Live Monitoring and Geo-fencing and viewing daily usage reports.
With these features, you can protect your kids and restrict them from accessing inappropriate content. Therefore, with FlashGet Parental Control, you can better control your kid's digital life. Take control of your kid's online presence and keep them safe with FlashGet Parental Control.
FAQs
Microsoft Family is a collection of services and tools to control and safeguard your family's online activity on various platforms and technologies. It offers resources and options to help you restrict screen time and kids' online movement.

This grants you the opportunity to streamline certain behavior. However, you can use FlashGet Parental Control for the same purpose. FlashGet Parental Control has an additional geofencing feature that enables parents to set regions kids shouldn't pass.
Yes, it's possible for Family Safety on more than one PC. The software has been optimized for various gadgets, including tablets, mobile devices, desktops, and laptops. As a result, you can extend the Family Safety settings and capabilities to all of the gadgets your loved ones use, assuring continuous surveillance and security.
You may add as many as six members to the account with Microsoft Family Safety. This covers you and up to five more individuals, such as your spouse, kids, or other family members. Each family member may have unique settings and limitations depending on their age and requirements. Alternatively, you can use FlashGet Parental Control and enjoy its great features for a better parental control experience.