If you're looking for the most efficient and effective way to manage your kids through an efficient monitoring program, then the Spyine app is the best solution.
Monitoring your family members or kids can be a daunting task if you're caught up in the hustle and bustle of the day. It can be even more frustrating if you have kids or loved ones who are up and down and often conceal the truth. But all that can change with a quality spying app that will give you peace of mind to know everything is excellent even when you're at work.
In this piece, you will learn all the relevant points about monitoring apps, from features, prices, and whether they're good for you.
What is Spyine app?
Spyine app is the ultimate control tool that operates in stealth mode while you check what your loved ones are up to. It's an app with multiple features like Geofencing, which sets up regions your kids should not bypass and lets you know whenever they're in and out of the area.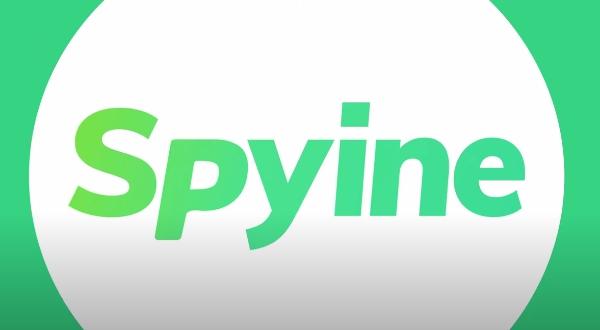 The best part about using this app is that it has an easy-to-use interface, which makes it easier for you to maneuver through its excellent features.
To top it off, it has a robust system in place that ensures there's no room for any form of jailbreak. One of its most appreciated features is its compatibility with many devices; you can use it on your iOS or Android device. But what are some of its features?
Features of Spyne app:
Real-time location tracking capabilities.
Geofencing for restricted boundaries.
Can access and read messages.
Presents all call logs and checks contacts.
Avails browsing history.
Operates in stealth mode.
Pros:
It has an easy-to-use Interface.
Tracks actual location effectively.
Gives reports on your loved ones' location history.
Hard to detect while in use.
Spy on social media apps like WhatsApp, Snapchat, and so on.
Cons:
Overuse can lead to strained relationships between you and your loved ones.
Compatibility: Android and iOS devices
Spyine app location tracker
Spyine app has one of the most comprehensive and sophisticated location tracking features that allows you to track your loved ones through Wi-Fi, GPS, and SIM.
It ensures that anyone being tracked cannot be suspicious about what's happening through the stealth mode feature.
The icing on the cake has to be its ability to unveil geographical coordinates, addresses, and neighborhoods, which gives you accurate information about where your kids are at any given time.
Additionally, you can also access real-time locations through the newly introduced 3D street view from Google, which has immense location unveiling capabilities. And you can do all this without having to make any downloads on the recipient's device.
Spyine cost and price
When it comes to Spyine app pricing, there are three plans you need to know about: the basic plan, the premium, and the family plan. All these subscriptions have different features you can choose from based on your demands.
To start, the basic plan will require you to pay $49.99 a month, mainly meant to be used by one device. However, you can secure the premium plan, which has been reduced to $16.99 a month and has more features (the reason is that it's the most used, so they are kind enough to offer you a bargain)
But if you need even more features and support of up to 3 devices and you're not worried about breaking the bank, then you can secure a Family plan. Of course, this plan comes with many features but costs $99.99 per month. While it may seem much, it is worth it based on the numerous features and apps it tracks.
Does Spyine really work?
Yes, Spyine is an effective app that works efficiently to track and monitor loved ones. It also comes in three plans with different or additional features to help you know your loved ones' whereabouts and what they're up to on their devices. What will blow your mind away is that you can use it on both iOS and Android devices, which makes it even more convenient for any user.
It even has a Tinder tracking system so you can know if any of your kids or loved ones have signed up for the app. And you can do all this without having to jailbreak.
How does Spyine work
Now that you know what the Spyine app provides, it's also essential to dig a little bit into how you can make it work. To help you understand, we've broken this into two categories: steps for setting it up on your iOS device and that for Android users.
But first, how do you download the Spyine app?
How to download Spyine?
Downloading the Spyine app isn't rocket science; it only requires the right steps and an internet or WiFi connection. Here is how you can download the Spyine app:
Ensure you have an active data or WiFi connection.
Head over to Spyine's official website.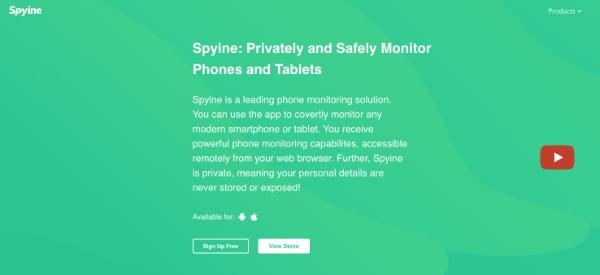 Sign up to create an account.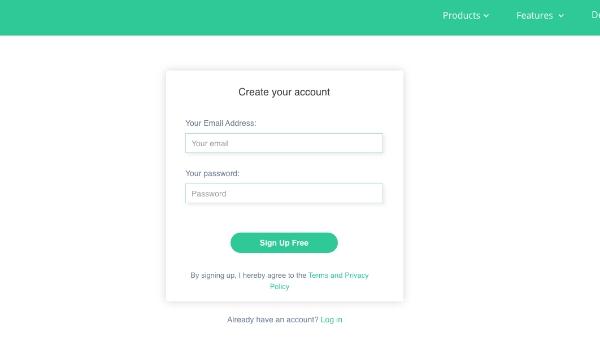 Access the download feature based on the device (iOS or Android)
Click on the visible download button.
Now install it to get started.
Android
Securing the Spyine app on your Android device is as easy as it sounds. You only need to have the proper steps and techniques to start. Here is what you need to know about downloading this app on your device:
Register and prepare the account from Spyine's official website.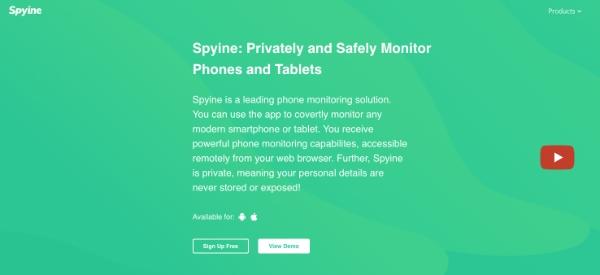 Move to settings on your device and access "Lock Screen and Security," then activate "Unknown Sources."
Now, install the app on your Android device.
Use the setup process provided and sign up for a payment plan.
Now, you can begin to monitor loved ones from any web browser.
iPhone
If you're an iOS user, don't worry; you haven't been left behind. Spyine has a system that allows iOS users to access their apps using a few simple steps and clicks. Follow these steps to have Spyine app on your iOS device:
Access the Spyine official website and register an account.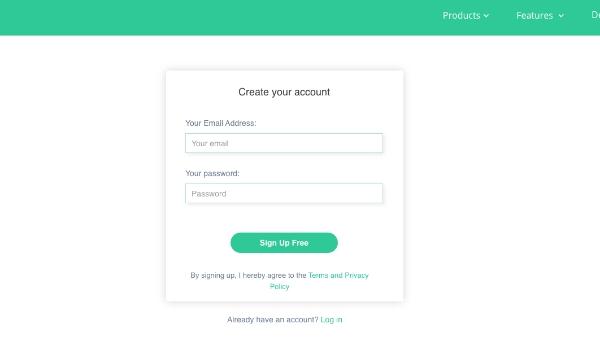 Go through the wizard setup process, which doesn't require a download.
Once you receive an email, click on "Start Monitoring."
Now, enter your iCloud details.
From there, select the device you're going to monitor.
Your account will be ready to go.
Is Spyine app any good?
Yes, spine has excellent features that are useful to guarantee child safety and a secure online presence. Its numerous features are well-designed to make it easier for you to navigate the system quickly.
Below are some of Spyine app benefits:
Kid's safety
For parents who want to ensure their kids are safe online, Spyine is a priceless resource. With the help of this multipurpose tool, parents can keep an eye on their children's online activities in every way, including text messages, phone records, and interactions on different social networking sites.
Parents who carefully supervise their children's online activities can create a barrier that protects them from possible risks, including exposure to unsuitable information, cyberbullying, and unwelcome encounters with strangers.
Spyine's intuitive interface facilitates parents' ability to remain aware of their children's digital activities, hence encouraging a safer and more secure online environment for the younger demographic.
Real time location tracking
Spyine provides flexible GPS tracking features that may be used in various situations. This feature is handy when trying to find missing family members or retrieve a stolen or lost mobile device.
In addition, it is an invaluable instrument for monitoring the locations of cherished ones, guaranteeing their safety and protection. The GPS tracking function of Spyine helps monitor employee movements in a work environment, which improves productivity and safety.
Spyine is a dependable partner for various monitoring requirements because of its intuitive UI and real-time tracking features.
Data backup
Among surveillance systems, Spyine stands out because of its robust data recovery and backup features. When a device fails, or accidental data loss occurs, this functionality is handy. By quickly backing up their contacts, text messages, photographs, and various other vital data, users can proactively secure critical data.
This provides a trustworthy safety net and gives comfort in knowing that important data may be quickly recovered in the case of an unforeseen emergency. Anyone with little technological experience can utilize Spyine's user-friendly data backup capability.
Social media monitoring
Spyine makes it possible to watch activities on well-known social media sites like Instagram, Snapchat, and Facebook.
Employers who need to keep an eye on how staff members are using company-provided devices or parents who want to make sure their kids are using social media responsibly may find this helpful option.
Keylogger
Spyine's built-in keylogger is an effective tool that records each keystroke on the assigned device. Tracking text messages, passwords, and other text-based material are all included in this. Although there are valid applications for this function, it is crucial to understand that using it without the proper authority may violate someone's privacy and even have legal repercussions, depending on the jurisdiction.
When thinking about using this feature, users should use caution and moral responsibility, get informed consent, and make sure local laws and regulations are followed.
Is Spyine legit
Yes, the Spyine app is legit and reliable in its tracking and monitoring features. It is also legal to use in most instances and can be a great way to manage your loved ones.
However, you need to note that you have to check the local laws within your region so that you don't violate any terms and conditions.
But when used for the right reasons, it is one of the most proactive tools you can find that protects you and your kids from the cruel realities of the digital world.
Conclusion
Monitoring and keeping tabs on your loved ones is one of the most important skills of parenting. As such, it requires the right skills and tools to make this a reality. Using the Spyine app is one of the most appreciated ways to curb this situation, as it has the right features to make this happen. The only downside associated with Spyine is that you'll have to break the bank to access even its essential features.
On the contrary, you can get all the features and more that Spyine offers by using a more comprehensive tool like the FlashGet Kids app.This app has incredible features such as live monitoring, notifications, location tracking, one-way audio, and a remote camera. So, if you want a better monitoring experience, FlashGet Kids is the answer to all your parental problems.
FAQs
Yes, if you can access the right spying tools like FlashGet Kids, then you can monitor your loved ones for free. However, you can also access some features from other apps, but that would mean you have to break the bank to enjoy the app's full potential.