With the popularity of social media, messaging apps, and mobile games, it has become more challenging for parents to keep their children safe and protect them from the potential dangers of the digital world. This is where the best parental control apps come in to help parents. These apps monitor and manage your children's smartphone activities and provide features such as blocking inappropriate content, limiting screen time, tracking the child's location, and monitoring phone usage. If you are looking for the best parental control app for iPhone& Android phones, hopefully, this article will help you find the best parental control app. In this blog, 6 best parental control apps for iPhone will be listed, as well as their main features.
Top 9 features for choosing a parental controls app for iPhone
Parenting is not easy, especially when the harm can not only come from the outside world, but your child can get psychologically trapped in the lures of the digital world.
You can never keep a child away from danger 100%, but you can use below best parental control app for iPhone features to avoid potential risks.
Blocker app
These days the web is filled with adultery, crime, and religious groups, which can sway your child easily into their trap. And the worst part is all these lures pop up as ads even if your child is not looking for them.
If your child is overly exposed to adultery or crime at a young age, these bad habits will become a norm, and they will follow the same wrong path.
So, whatever parental control app you use, it must have a filter feature that should block access to all the sensational videos, images, ads, and other content from all the apps or social media.
App management
We have all played games in our childhood, but our games are not all digital. These days kids waste all of their time on mobile games and get weaker & weaker in the physical world.
And that's not all. Kids are addicted to mobile games, live in a fantasy world, and become shy. Moreover, they lose all interest in their studies, and even if they try to study, they have no stamina left.
So, it's best to save your child by blocking addicting games and saving their stamina, which they can spend building their confidence, physique, and real friends. Ensure that your parental control app has app blocking feature so your kids can't download/play the games even if they want to.
Location tracking
Suppose you leave your child in the park or at their friend's home, but you are worried that they may get lost, somebody will try to kidnap them, or they go someplace else with their friends.
In that case, you can install a parental control App on your child's phone and keep active track of their location 24/7. Not all parental control apps have this advanced feature, so make sure yours has one. Plus, make sure this tracking feature is hidden and your kid can't turn it off, even if they want to.
Social media monitoring
According to a report, "70% of kids in the US accept friend requests from strangers, and 82% of child sex crime start on social media."
Most Abductors choose social media as their main trapping ground because of its low traceability and ease of use. So, watching whom your child chat with is very important.
When choosing a social media parental app, it's essential to select one which allows you to watch, control, and may even block your kid's activities on Facebook, WhatsApp, WeChat, and other websites. And this control app must allow you to control everything from your phone.
Screen time management
According to a report, "Most persons spent 2 hours and 31 minutes using social media every day."
And most kids these days spend 3 ~ 10 hours per day watching Facebook, YouTube, and playing games. This much time destroys mental and physical health.
So, the best way to limit the mobile usage of your kids is to install parental control apps which turn off the phone screen after a limited time. Most parental control apps don't have this feature, so choose the one with it.
Remote audio & camera
Remote audio and camera access may seem a little too much, but it helps you keep an eye on your child's activities and the people they meet with. If you are suspicious of something or your child is in danger, you can access your kid's microphone and camera from anywhere around the world and see the actual situation.
But it is suggested to only use this feature with young kids or with teenagers when absolutely necessary because it is a little over the privacy limit.
Easy-to-use interface
Every other parental control app has its own app theme and settings location. Some developers understand parents' mind and develop apps that are not just easy to understand but also requires fewer steps to activate or customize features.
While other developers think at their level and make apps that are very hard to use, make sure that your apps enlist all its feature in one location, and it does not require an hours-long process to customize every time.
SOS button
Only some apps have this feature, and it's helpful for your kid if they are in danger and can't call or text you quickly. For example, in situations like someone is following them, they had an accident, someone is bullying them, and so on.
History details
Last but not least, the most important feature of any parental control app is to save the history of all activities on your kid's phones, such as text messages, social media chats, app usage history, location history, and so on.
A person always tries to delete the proof because of guilt, so you may never know with whom your kids chat, where they were, and for how long they used a specific app unless you have a history featured parental control app.
6 best parental control apps for iPhone
If you're an iOS-using parent concerned about your child's online safety, numerous parental control apps are available to monitor and manage your child's smartphone activities. Here are the top 6 parental control app, with their main features.
FlashGet Parental Control app is one of the best parental control apps that offer a range of features to help you monitor and manage your child's smartphone usage. The app is available on Android and iOS devices, making it versatile.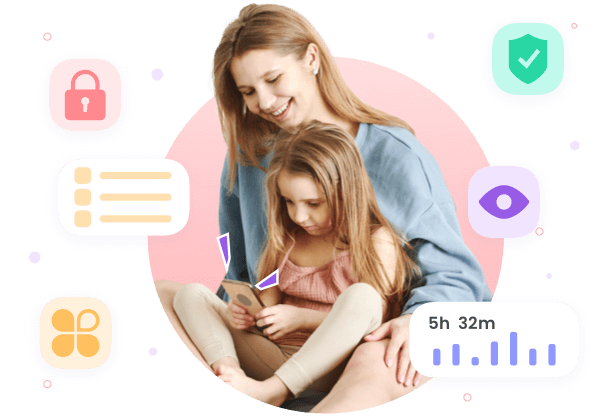 Features
Live monitoring. Parents can use Live Monitoring to see what their kid is doing and feel and listen to the environment where their kid is.
Screen time. Parents can manage their kid's phone use remotely, thus cultivating and developing healthy habits in the digital world.
App blocker. Parents can block inappropriate apps their kids are accessing.
Location tracker. Parents can set Geofence to reduce potential dangers by location tracker and get their kid's location anytime.
Tracking app. Parents can restrict their kids from accessing inappropriate apps.
Alerts and notifications. By using this feature, parents are able to stay updated with their kids and know their kids situation more.
Daily usage. Parents can keep track of how much time their kids spend on their phones.
Norton Family
"Norton Family is a parental control app with minimum features to give your child more privacy. It is compatible with iOS, Android, and Windows devices."
Features
App manager. Using this feature, you can monitor apps' download history.
GPS tracking. Norton Family also includes location tracking, which can give you peace of mind knowing where your child is.
Website filter. The app can automatically block access to websites that contain adult content, gambling sites, and other potentially harmful websites. It also allows you to set up custom web filters to block specific websites or categories of content. You can also get a notification of every website and keywords your kid used.
School/Study mode. The special school time feature ensures your child only focuses on work by allowing access to a few apps/websites which are opted for by the school.
Screen time limiter. Another great feature of the Norton Family is its time management tools. With the app, you can set limits on how much time your child can spend on their devices, and you can even set specific times when devices are off-limits, such as during homework or bedtime.
Screen Time
Features
Screen time parental control app can help you monitor your children's digital activities and develop healthy screen time habits. Screen Time is secure and safe, preventing kids from uninstalling this app, and you can also block access to settings.
This app provides various advanced features, including;
Limit screen time. You can set daily usage time on your kid's phone using this function and increase their creativity, mental, & physical health.
Filter websites. This part gives you access to browser history and blocks adultery & other websites if needed on your kid's phone.
History report. The Screen Time app provides a daily summary and shows you which websites and apps your kids use and for how long.
App manager. This function also permits you to set usage limits for each app and block any downloaded apps you see as harmful. You can also pause or lock the phone, which is perfect for getting them to dinner, study, etc.
Track family location. Screen Time allows parents to watch their kids' real-time location. The location feature also allows you to set the Geo-Fence limit, and parents will be notified if their kids leave this area.
Remote access. You can see chats and calls logs of apps like WhatsApp, Viber, etc., and even see the photos taken on your kid's phone.
Reward points. You can prize your kid's extra usage time if they have done their study and other chores on time.
Net Nanny
Net Nanny has been the leading Internet filter and porn-blocking software since 1996. Now, it has added many other advanced parental control features compatible with iOS, Android, Windows, Kindle & Chromebook.
Features
AI filter. One of the benefits of Net Nanny that separates it from other apps is that it has an advanced AI filtering function that blocks all pornography, suicide, murder, and other inappropriate content. And it works with all installed apps and online websites.
App manager. This feature allows you to monitor the installed apps and decide whether to block or allow the usage of these apps at any time.
Location Track. The app's location tracking feature lets you see your child's real-time location, access location history, and receive arrival and departure alerts for added peace of mind.
Website blocker. Using this feature, you can block any website that is harmful to your family. You can also select a few websites to be allowed and block all others at all times.
Real-time alerts. If your child tries to access 14 categories of inappropriate content, including suicide, weapons, pornography, etc., you will get a quick notification. You can also block this content or even terminate your internet connection altogether.
Screen time management. Net Nanny also allows you to limit device usage by hours and minutes, so your child doesn't waste any study, playing, or family time.
History reports. The "family feed" section of the dashboard provides a quick overview of your children's online activity, including apps used, online searches, and YouTube usage.
Qustodio
"Qustodio is a powerful parental control app for iPhone that allows you to monitor and manage your child's mobile activity across multiple devices."
Features
See location. You can see real-time location, set geo-fencing limits, and get a complete history of where your child visits.
Manage calls & SMS. You can access sim calls and messages in real-time and block certain contacts if you think them unnecessary.
Panic button/SOS. If your kids are in danger, then they can press a single button, and you will get a quick notification about their location.
Set screen time limit. You can customize a daily usage time for your kids with breaks so they can use mobile with healthy limits and don't waste study time.
Daily reports. Using this feature, you can get browser history, YouTube views, social media apps use, location history, and much more. You can see who they're talking to on social media. This can help you identify potential risks and address any issues before they become problems.
Filter content & apps. You can automatically block all the harmful websites, apps, and games on your kid's phone and even prevent new apps from being downloaded which are rated 18+. You can use a custom filter or enable a child-friendly feature to allow your kids to discover the internet safely.
Alerts. You will get daily reports of all the apps, website, and search terms your kid use. You can set some search terms apart and get an alert if your child wants to visit them again.
OurPact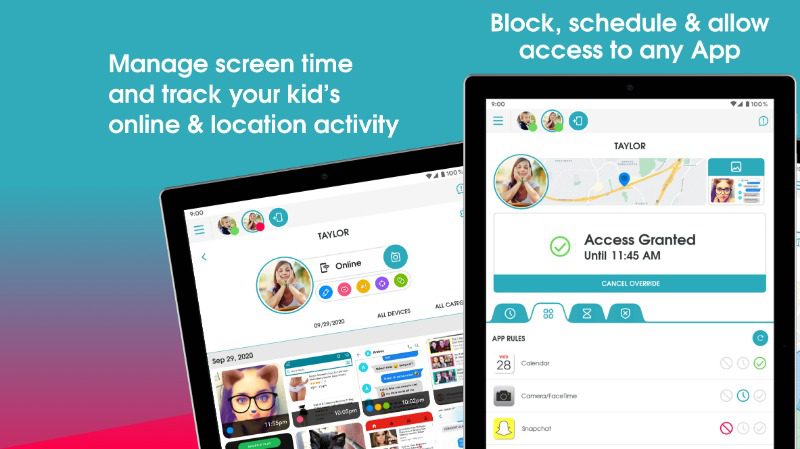 "OurPact is an advance parental control app compatible with both iOS and Android devices."
What sets OurPact apart is its flexibility. You can set up different rules and schedules for each child and even create custom schedules to fit your family's needs. Plus, it works across both iOS and Android devices so that you can manage everything in one place.
Features
History. You can view daily browsers, screen time, app usage, and other histories remotely.
Gallery view. You can set periodic or on-demand views of your kid's gallery to keep them on the right path.
Family locator. Last but not least, you can track their location, set geo distance limits, and get alerts using this feature.
App & website blocker. If you think some apps and websites are harmful, you can block them right away from your phone in real-time.
Text block. You can monitor and block text messages on your kid's phone using the function. This function is helpful to concentrate kids on study time or block suspicious persons.
Screen time management. You can set the limit of daily hour usage of mobile and even set time limits for which part of the day kid can use the mobile and which doesn't. This feature helps separate mobile use time from study & family time.
Comparison between the above 6 best parental controls for iPhone
| | FlashGet Parental Control | Norton Family | Screen Time | Net Nanny | Qustodio | OurPact |
| --- | --- | --- | --- | --- | --- | --- |
| Location tracking | ✓ | ✓ | ✓ | ✓ | ✓ | ✓ |
| Screen time limit | ✓ | ✓ | ✓ | ✓ | ✓ | ✓ |
| App & website block | ✓ | ✓ | ✓ | ✓ | ✓ | ✓ |
| Remote audio access | ✓ | X | X | X | X | X |
| Remote camera access | ✓ | X | X | X | X | X |
| History details | ✓ | ✓ | ✓ | ✓ | ✓ | ✓ |
| Require subscription | ✓ | ✓ | ✓ | ✓ | ✓ | ✓ |
Conclusion
After reading this article, you should probably know all the important features when looking for the best parental control app for iPhone, from content monitoring to Location tracking of your kid's phone. Compared with each software feature, the one with the most is the winner. From the above software, FlashGet Parental Control is the only one with remote camera & microphone access and a bundle of other features. It will be one of the best parental control apps for iPhone.